Sports
Tamera Young Salary, Net Worth, Parents, Girlfriend
Tamera Young is best known for being the forward of...managed to set a career-high...Tamera Young is...she is in a relationship with reality TV star...parents a daughter from her girlfriends previous...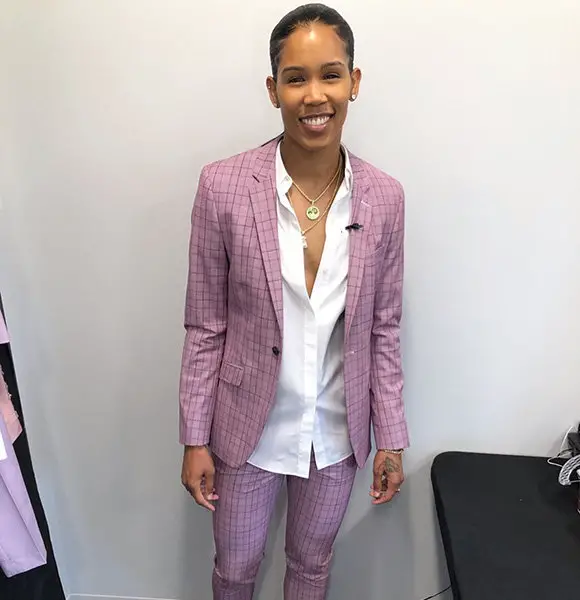 With a height of 6 feet 2 inches (1.88 m) and a weight of 79 Kgs, Tamera Young is a perfect basketball player.
She is best known for being the forward of Chicago Sky. During her time with the team, the ace player managed to set a career-high 15 rebounds and seven steals in August 2011.
Tamera Young's Bio, Parents, Siblings
32-year-old NBA star, Tamera Young was born on the 30th of October 1986. She hails from the city of Wilmington in North Carolina, the United States.
Tamera grew up in the household of Greg Young and Lynda Nichols-Brown. Her father died at the age of 59 because of pancreatic cancer. Her mother later married a man named John Brown.
Another WNBA Star:- Kristi Toliver Husband, Gay, Net Worth, Parents
As for siblings, Tamera is the youngest of the bunch. She has two older sisters named Nikia and Valerie and an older brother named A.J.
She walked in the same high school halls as Micheal Jordan did - Laney High School in Wilmington, N.C. Then, the NBA star went on to enroll at James Madison University for her college-level education.
Details On The Lesbian WNBA's Relationship
Just as her professional career, Tamera also has had the same level of success in her personal life. She is in a relationship with Mimi Faust (real name: Oluremi Fela James). Mimi is a reality TV personality.
Having rumored to be a couple for some time, the duo came out to the public in March of 2017. Mimi confirmed the status of their relationship in an exclusive with HollywoodLife.com.
If Mimi and Tamera's social media is any hint, the couple are having the best time of their life. They regularly feature on each other's Instagram. On the 11th of July 2019, Tamera posted a photo of herself, her girlfriend and their daughter enjoying time with each other.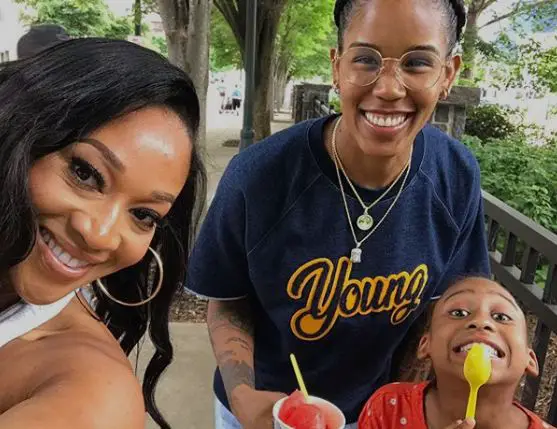 Tamera Young with her Mimi Faust and her daughter (Photo: Tamera Young's Instagram)
Previously, Mimi was dating former American football placekicker, Chris Gould. And before Chris, she was romantically linked with American DJ, record producer, and TV personality, Stevie J.
During their relationship, Mimi and Stevie gave birth to a daughter named Eva Giselle. Eva was born on the 13th of December 2009.
Professional Basketball's Career & Salary
Tamera began her journey in the WNBA in 2008 when the Atlanta Dream drafted her. During her first season, the athlete set career-high stats. In 2008, she scored a career-high 26 points at Detroit and recorded a season-high five steals at Washington.
In 2009, Tamera was exchanged by the Dream for Armintie Price to the Chicago Sky. The WNBA star played for the Chicago Sky eight years up until 2017 and later moved to Las Vegas Aces.
Also A Lesbian:- Lady Sovereign Girlfriend, Lesbian, Net Worth, Family
She was signed by the Las Vegas Aces as a free agent on the 1st of February 2018 for a 10-year contract. From the very start, she has proved her worth to the team.
In her very first season, Tamera scored the first regular-season points in Aces' history. On the 12th of June 2018, she handed out a career-high nine assists at Indiana.
Out of her career on the court, the WNBA star has been able to garner a net worth of $500 thousand. And, with nine more years left with the Las Vegas Aces, Tamera is sure to enrich the figure of her net worth.