Sports
Dallas Cowboys Tavon Austin Contract Detail, Stats & Trade News All Here
American football wide receiver, Tavon Austin has been the talk of the town since joining the Dallas Cowboys, and he has not taken his selection for granted. Tavon's appointment has been more than fruitful for the team as the athlete is showing some great potentials in the field.
Despite having a below average performance in the 2017 season for his departed team, the Maryland native showed great initiation during the 2018 league representing Dallas.
Tavon, who has achieved some significant victories for both his current and former clubs, is also doing well this season with his previous team possibly regretting their decisions to trade him off.
Although he may not be considered the greatest of all time, Tavon has displayed some immense talents and is definitely a valuable player for the Cowboys.
Played Football In High School, College Career At West Virginia University
An athletic child while growing up, Tavon was involved in different sporting activities during his high school years at Dunbar High School in Baltimore, Maryland. 
High School Graduates:- Jordan Spieth's High School Girlfriend & Wife To Be, Fascinating Love & Dating Affair
After graduating high school, he attended the West Virginia University located in Morgantown, West Virginia. While in college, Tavon was a regular player for the West Virginia Mountaineers football team and played for nearly three years from 2009 to 2012.
His overall college football career's stats showed a total of 288 receptions, 29 receiving touchdowns, 110 rush attempts, and six rushing touchdowns in 52 games.
In 2013, Tavon was drafted by the Los Angeles Rams with the footballer beginning his career in the National Football League (NFL).
NFL: Career And Season Stats; Salary, Net Worth, And More
Tavon, who ages 28 as of January 2019, signed a four-year contract with LA Rams in 2013, which marked the beginning of his NFL career. His contract was extended in 2016 with a new one for another four years, and he was set to receive a salary of $42 million during the tenure. 
However, he was traded off to Dallas Cowboys in the 2018 NFL Draft and has been playing for the team ever since.
Stats of NFL Player:- Dante Fowler Stats & New Contract | Shipped To The Rams For Draft Picks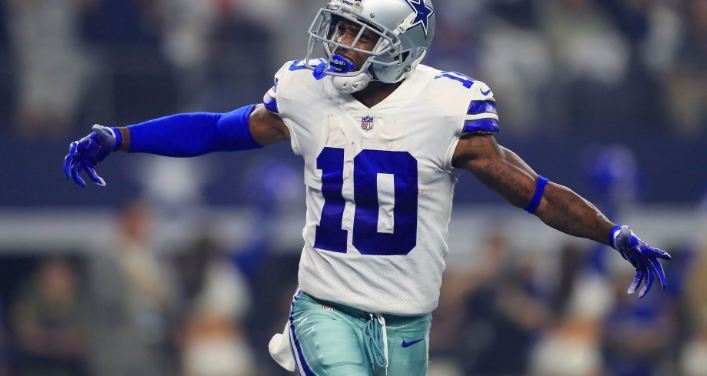 Tavon Austin plays for the Dallas Cowboys in 2018 (Photo:CNBC.com)
Tavon, who has been dating his girlfriend for a few years now, performed well during the 2018 season and the season stats displayed some great potentials of the player with eight receptions, 13 receiving targets, two receiving touchdowns, 64 long receptions, five receiving first downs, six rushing attempts, and 18 long rushings. 

Tavon Austin 2018 season and career stats (Photo: Espn.com)
In October 2018, Tavon, who stands at the height of 5' 8", suffered a groin injury but didn't have to undergo surgery. Still, he missed several weeks and games which was a massive loss to the Cowboys.
His career stats also prove the talent of Tavon which consists of 202 receptions, 341 receiving targets, 14 receiving touchdowns, 81 long receptions, 82 receiving first downs, 190 rushing attempts, nine rushing touchdowns, 65 long rushing, five fumbles, and four fumbles lost.  
More Dallas Players:- Dallas Cowboys Randy Gregory; Wife-Like Girlfriend, Good Rep - Still In Trouble
Tavon's entire NFL career sums up to 82 games during his he has run a total of 3122 yards: 1829 yards while receiving and 1293 yards while rushing. 
He currently earns a salary amounting to $3 million per season with $1 million guaranteed salary and $2 million in a roster bonus. Tavon is yet to reveal his net worth, but it is supposed to be a few million.