Sports
Dante Fowler Stats & New Contract | Shipped To The Rams For Draft Picks
Jacksonville Jaguars have announced that they agreed to trade Dante Flower, age 24, with the fellow NFL outfit Los Angeles Rams in exchange for a fifth-round selection in the 2020 NFL Draft and a third-round pick in the 2019 NFL Draft.
The news of the said trade comes eight months after the Florida-based NFL franchise revealed that they wouldn't pick up Dante's 5th-year option despite the St. Petersburg-Florida native staying relatively off the headline for his off-field antics and improving on his on-field stats.
Here, we break down the Los Angeles Rams' newest defensive end and outside linebacker's NFL stats as well as his new contract.
2015 NFL Draft's 3rd Overall Pick's College & NFL Stats
Playing his college football for the University of Florida, the former Jacksonville Jaguars registered an impressive stats of 30 tackles and 2.5 sacks in his freshman year.
Similar:- Ryan Nassib, NFL Quarterback Stats, Salary & New Contract
In his sophomore year, Dante showed a remarkable improving by registering 50 tackles and 3.5 sacks in 13 games. By the end of his college football career, the Lakewood High School Alum had recorded over 140 tackles and 14.5 sacks.
With a year still left in his University education, Dante opted to enter the 2015 NFL Draft. Later, he would get drafted by the Jacksonville Jaguars as its third overall pick.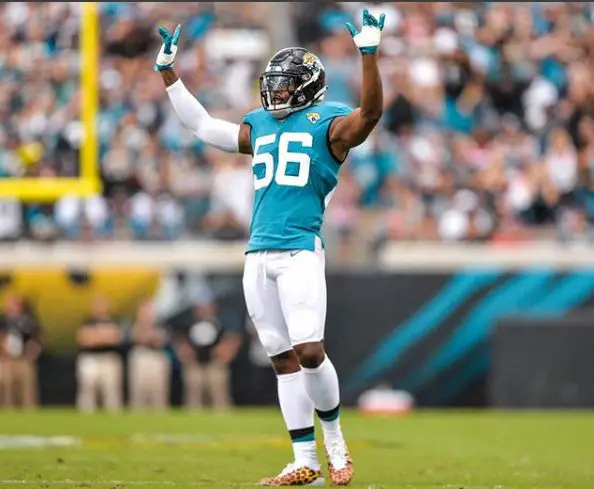 Dante Flower playing for his former Jacksonville side (Photo:- Dante Flower's Instagram)
His aspirations to replicate his college stats suffered a hiccup after he tore his ACL and missed the whole of his rookie season. On 11 September 2016, the 24-year-old made his NFL debut at last against Green Bay Packers.
Discover:- Piers Morgan, Massive Net Worth Holder Fired By CNN? Here's The Truth
Although he showed stellar performance on the day with three tackle, his team lost eventually the game 27-23. Dante played all the games for Jaguars that season and boasted a respectable stats of 32 tackles and 4.0 sacks.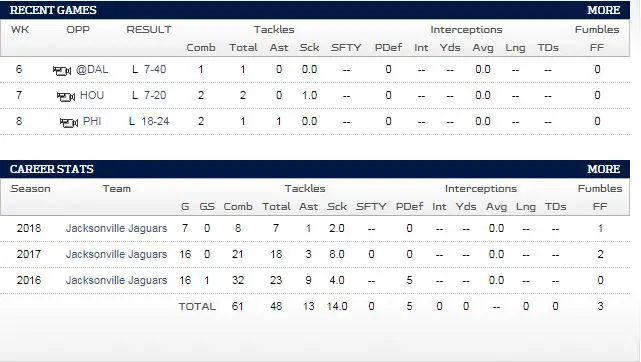 Dante Flower's NFL stats (Photo:- nfl.com)
In 2017 season, he clinched 8.0 sacks and 21 tackles. While his season may have ended in a high now, the start indeed wasn't. Dante got suspended for the season opener for pleading guilty to criminal mischief, charges of battery, and petit theft stemming from a July 2017 arrest.
A year earlier, he was caught refereeing a fight between his baby mother and girlfriend in an Instagram video.
According to some NFL insiders, Dante's off-stage antics could have played a significant role behind Jaguars not taking upon his fifth-year option.
Athlete In Our Vault:- Record Holder Saul Alvarez With Badass Net Worth! Training Reflects Career Success
Behind Dante Flower's New Contract & Salary
At the time when Dante got drafted by Jaguars in 2015, he signed a four-year contract with fifth as optional.
His $23.5 million contracts with the Florida-based NFL outfit guaranteed a $15.3 million in signing bonuses and an average salary $5.8 million per annum. With one year still under his four-year contract, he got shipped to Los Angeles Rams.
At Jaguars, Dante carried a salary cap of $7.3 million in 2018, Rams - however - will have to have to pay him only $1.9 million as salary.
Before securing his acquisition, the LA-based NFL outfit offloaded their guard Jamon Brown in an attempt to accommodate the 24-year-old Florida native.
If pundits were to be believed, between Jaguars and Rams, Dante's current team avoided drawing the short end of the stick.