Sports
Tennis Player Coco Vandeweghe Dethrones Australian Open Defending Champion Angelique Kerber!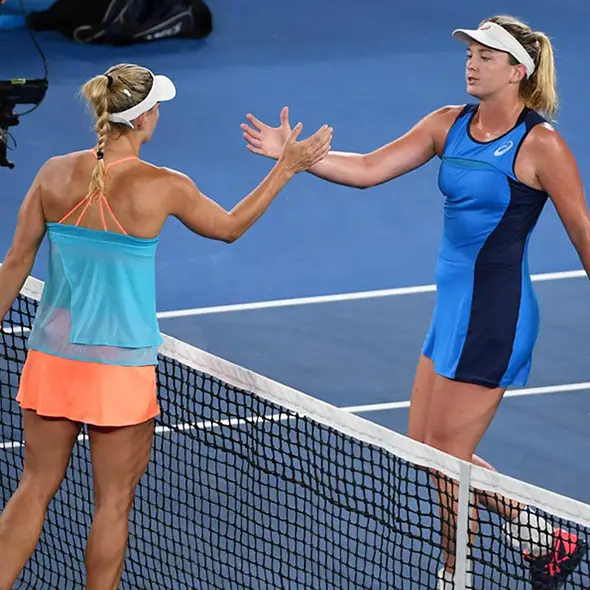 Tennis Player Coco Vandeweghe Dethrones Australian Open Defending Champion Angelique Kerber!
Sports
Angelique Kerber might be Champ that runs the Camp but it wasn't meant to be on this occasion as world no.1, and top seed was left in the cold by the unseeded CoCo Vandeweghe. It was quite an upset as defending Australian Open champion Angelique Kerber was upset by American CoCo Vandeweghe in the fourth round at the Australian Open on Sunday.
Coco Vandeweghe produced one of the shocks of the Australian Open when she knocked defending champion Angelique Kerber out of the Australian Open. Although considering the American's background, maybe it wasn't such a shock as America has quite a dominance in women tennis from Serena Williams to Venus Williams.
Angelique Kerber was certainly second best and had been shaky since the beginning against CoCo Vandeweghe. There was an added responsibility of the No. 1 ranking, but her recent results don't agree with Kerber. A naturally private person, Kerber has been thrown into various extra commitments since winning the US open in September. In fact, she also changed her agent in the off-season and hoped of achieving a quieter life.
Vandeweghe is a tremendous hitter, and her serve and groundstrokes have been particularly effective at Wimbledon. But on Sunday it was at best where more than half the 57 points she won in her 6-2, 6-3 victory were earned through clear winners.
World No. 35 Vandeweghe won in clean sets, 6-2, 6-3 in just an hour and eight minutes, packing home World No. 1 Kerber and advancing to her first quarterfinal in Melbourne which is only her second Grand Slam quarterfinal of her career (Wimbledon, 2015). With the loss, Kerber became the second World no 1 to crash out in the fourth round, as fellow No. 1  world seed Andy Murray lost to Mischa Zverev in four sets earlier in the day on January 22, 2017.
 Kerber said after the game:
 "She had, for sure, a good day. But, yeah, I make a lot of mistakes. I think that was not my game I play normally."
On the other hand, Vandeweghe said after the match on the court:
"I think it's my first win over a world No. 1 I guess. I'll take it. I faked it a lot, because I was feeling a bit crap out there. You have to fake it until you make it. I just had to pick my spots and trust my game."
Vandeweghe will face No. 7-seed Garbine Muguruza in next round and it already looks to be one of her best-ever performance at a Grand Slam.