Sports
Tyus Battle NBA Draft, Career, Injury, Parents
The runaway match-winner, Tyus Battle was fighting to regain his spot in Syracuse Orange's roster after a back injury. The situation was the guard missed his second consecutive match in the 2019 ACC tournament in March.
Averaging at 17.2, Tyus was the leading top scorer for his college team in the tournament. Things looked very rough for the number eight jersey man, but he battled for fitness and went onto return in training fully fit in late March 2019.
Now with experience and game time on his side, the Orange guard is looking to seal a spot in the NBA and make his decision to drop out from the previous years NBA draft worthwhile.
Parents & Age
At the age of five, Tyus Battle was interested in playing baseball. His father, Gary Battle - New Haven Chargers Hall of Fame basketball player- on the other hand, wanted him to be a basketball player just like him.
Stepped Out Of Comfort Zone:- Morgan Rielly Girlfriend, Family, Contract, Salary
Gary would often bribe little Tyus for basketball practice with an ice cream which started his journey towards a career in basketball. He was living a balanced childhood with his parents and siblings; brother Khalif Battle and sister Gigi Gibbons.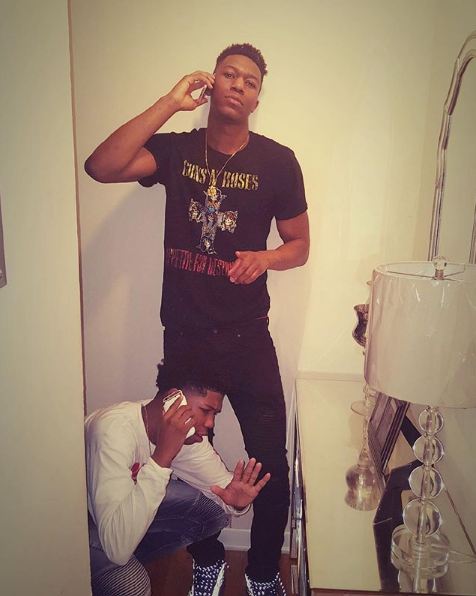 Tyus Battler with younger brother Khalif Battle on April 2017 (Photo: Tyus Battle's Instagram)
However, post his parent's divorce in 2004, Tyus separated from his mother, Daniella Battle, and began living with his father. His old man would take him to practice basketball. Soon, Tyus joined to play high school basketball at Gill St.Brenard. During his stay there, he excelled in the position of a guard in the team, and the rest was history.
Now, many years down the line the 22-year-old is gearing up for the 2019 NBA Draft as the most exceptional young prospect in the sport.
High School, NBA Draft, Injury
The point guard - height 6 feet 5 inch (1.85m) and weight 90 kg -started playing high school basketball at the age of sixteen. During his time in St.Bernard's School, he was named MaxPreps Freshmanall-America, Courier News Boys Basketball Player of the Year and MSG Varsity All-Metro honorable mention.
All these personal milestones opened up new opportunities for the point guard. He was picked for the 2013 Development National Team camp and called up for his first international duty in the 2014 USA U17 World Championship in Dubai.
In that period, he averaged 3.7 points with 1.4 rebounds per game and brought the gold playing for his country. Again, the glory days returned for him in 2015 as he trained to play for the USA Junior National Team in the October minicamp.
Leaving NBA:- Jeremy Lin Wife, Dating, Parents, Now
Soon, the Orange guard graduated from high school and joined the University of Syracuse to pursue a degree in Information Management and Technology. There he struggled with a small toe injury in 2014, which he carried during his World Championship. Due to the injury, he missed almost all games in his junior year.
However, he returned healthily and showcased a much improved overall performance averaging at 17.2 points per game in the NCCA in 2018. Similarly, following a successful college career, the youngster opted to withdraw his name from the 2018 NBA Draft and wait for the next season.
Well, his decision worked out. Now, he is the most exciting young prospect going into the 2019 NBA season.