If you are a Jeremy Lin fan, things are not going in your favor in 2019.
The veteran guard went unsold in the August free transfer agent market after a championship-winning season with the Toronto Raptors in NBA.
Moving into the Raptors roster with an offseason move from Brooklyn Nets, Jeremy looked off with his shooting and played few games as a sub in the 2019 season.
With the new season kicking off soon, the free agent remained unpicked by any teams and called the lonely period an adamant time in his life.
Dating, Girlfriend Or Wife
Jeremy Lin was once surrounded by a significant confusion when his die-hard fans named Kristina Wong posted a video claiming she married the basketball star.
The video saw the lady wearing a wedding dress and fully prepared to attend a wedding ceremony. While many of the fans watched in anticipation of the big wedding, there was no groom in the end.
Another Legend:- Martin Truex Jr. Girlfriend, Family, Net Worth
Jeremy later confirmed that he was neither married nor had a wife. Further, he even admitted that he didn't recognize the lady.
Apart from the stalker fan, Jeremy has also been linked to numerous dating affairs. However, the California native has not confirmed to dating a girlfriend.
Brother, Parents, Age
Jeremy Lin comes from a family of four with two brothers named Josh and Joseph.
The athlete - age 31 - was born in California, but he has Chinese roots. Both of his parents were born & raised in Taiwan. They later moved to the US and settled in Torrance.
Jeremy's parents wanted him to excel in basketball and academics as well. As a result, he went on to play school level basketball for Palo Alto High School and besides that, worked as an editor for the college's daily newspaper.
As he started moving higher in basketball, the legend permanently shifted his focus towards the sport. He had a splendid NCAA performance at Harvard University, but things were not going well for him as no NBA team drafted him.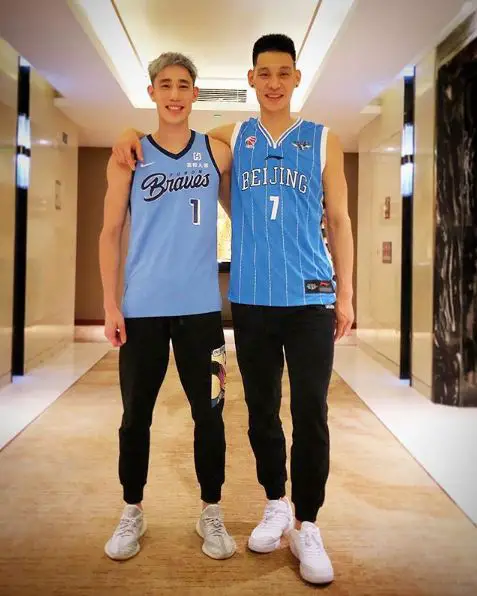 Jeremy Lin with brother Joseph Lin in August 2019 (Photo: Jeremy Lin's Instagram)
Finally, in 2010, Jeremy appeared for the Dallas Mavericks in NBA Summer League and continued to play in the NBA for the next nine seasons. As of now, he plays alongside his younger brother Joseph Lin in the Chinese basketball league.
Whereabouts Now In 2019
Things are getting bad to worse for Jeremy Jin going into the new 2019 NBA season. The Raptors point guard acted as a bench warmer most of his time with the 2019 champs appearing in the court only on a few occasions.
In his nine seasons in the NBA, Jeremy was part of nine different teams including the likes of Houston Rockets, Los Angeles Lakers and New York Knicks.
High Caliber Player:- Shawn Kemp Kids, Wife, Net Worth, Now
Even being in such reputed teams, the veteran athlete never lasted for more than two years in a specific club. Though he has a net worth of $36 million, it is always hard for a player to not get a chance to play in the basketball court.
However, now, after nine years of playing in the NBA, Jeremy has decided to leave America and play for the Beijing Ducks. On 27 August 2019, he made the news official via his Twitter.