Sports
Vasyl Lomachenko Suffered Loss In A Fight! Something That Later Made His Records Super Solid
It isn't a good thing to feel despondent with a loss; it would be wise rather prepare to savor a victory the next time, as the taste of success that comes after a failure is probably the most pre-eminent feeling one can have!
The Ukrainian supremo, Vasyl Lomachenko apparently knows the feeling, because he is someone who accepted his failures to convert them into victories.
The first loss for Vasyl came when he fought as an amateur in the featherweight finals of the AIBA World Boxing Championships, playing against Russia's Albert Selimovin in 2007. The second one came seven years later in his second pro fight against veteran Orlando Salido.
While the single loss in his amateur career led him to record an impressive 396 wins avenging Albert twice, he is holding 90% win record in his professional games with 7 KOs. Today, let's see what the career of Vasyl has to say about him.
The Super Solid Career Of A Supremo Vasyl Lomachenko:
The 29-year-old boxer, Vasyl surpassed most levels of boxing to establish him ahead of others; an outrageously successful amateur record with two Olympic gold medals and two World Championship titles.
He then moved to the professional ranks, which resulted in a convincing victory for him fighting against Jose Ramirez on October 12, 2013. It was then a bitter loss for him in his second fight against Orlando, as this opponent attempted every dirty trick to win the world title.
However, Vasyl dominated every other boxer who have followed since, to record a total of 9 wins in 10 matches. His remarkable professional career record can also be viewed below: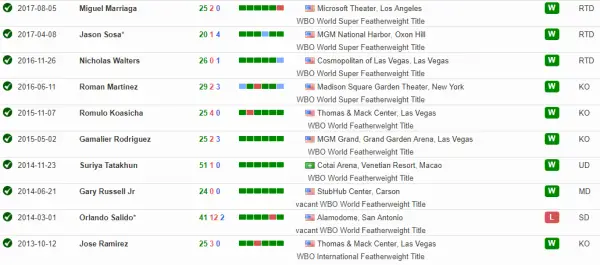 Caption: The professional career record of Vasyl.
Photo Credit: boxrec.com
Regarding the future match of this boxing star, his next fight is against Guillermo Rigondeaux on 9th of December this year. He will be facing the unbeaten Guillermo at The Theatre at Madison Square Garden in New York.
The December's fight is indeed the first in boxing history between fighters who have each won two Olympic gold medals, where Vasyl will be defending his WBO 130-pound title against one of the best defensive fighters, the 36-year-old, Guillermo.
The craze for the match has begun from last few months, which indeed has taken the social media by storm.
Well, if you are interested in watching the training session of Vasyl, who, according to boxrec.com, is globally ranked No.1 player; you can view how hard he gets into things to be what he is currently.
Caption: The highlights of Vasyl training session (Published on Jul 10, 2016).
However, this tough guy has never been in a mood to display his assets. But it's known to everyone that he makes his earning in millions which probably have now summed up to conclude a grand net worth for him.
Keep visiting for further updates on the life of Vasyl Lomachenko!