Sports
WWE Hardcore Champion "Trish Stratus" Famous For Sexually Themed Storylines
Patricia Anne "Trish" Strategies, under the ring name of Trish Stratus, is often dubbed as "The Greatest Diva Ever' for her untiring contributions in professional wrestling. Oozing with immense sex appeal and charming beauty, in Stratus's tenure with WWE, we saw her being portrayed the most in storylines which were sexually themed.
By the time she called time on her WWE career in 2006, she had already been one-time WWE Hardcore Champion, three-time "WWE Babe of the year," seven-time WWE Women's Champion and also "Diva of the Decade." Apart from her dominance in the wrestling ring, she has gained a unique reputation for being in the sexually themed storylines which are usually concentrated in her initial phase of career.
Here, I have mentioned few of them:
Managing the team T & A
Who doesn't remember the team of Test and Albert raising havoc in the ring during 2000-2001?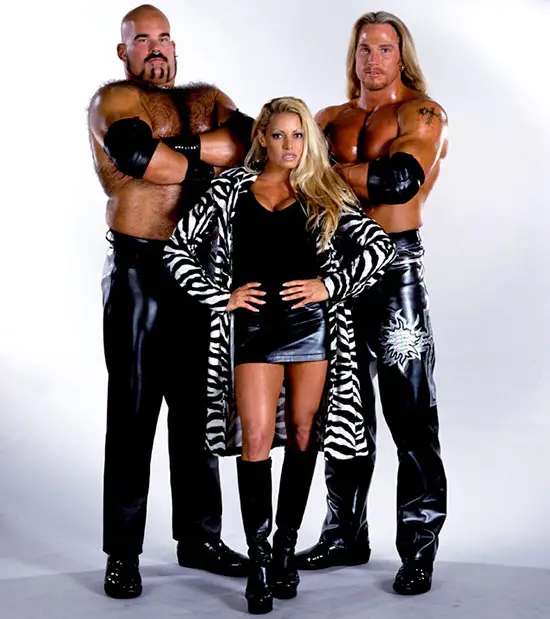 Source: nocookie.net
The combination of this men tag team was managed by the sexy diva herself. It was her first step in the course of embarking her career. The name T & A comes as the pun on the initials of the two wrestlers and also the slang expression referring to Tits and Ass. Her wrestling skills were barely exercised at that moment. Her sexuality was widely into the play instead of her wrestling traits during the storyline. It was also famous for coarse jokes written in fan's signs. Commentator Jerry Lawler frequently referred her as "a buxom". The storyline eventually ended with Test being injured and Stratus involving with Vince McMahon as next storyline.
Watch T&A in action:
The affair with Vince McMahon:
Stratus's portrayal as Mr. McMahon's love interest is cited as one of the finest storylines that WWE boasts of. The WWF Chairman Vince McMahon was assigned to the Mr. McMahon character to ignite the affair with Trish.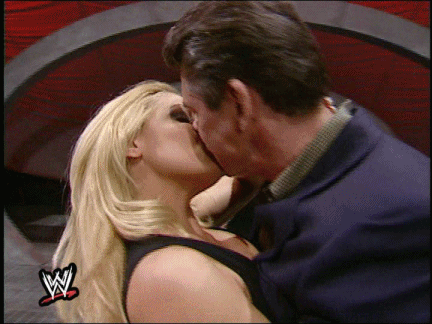 Source: whatculture.com
Stephanie Mcmahon, Vince's daughter, was engaged in a fierce feud with Stratus and McMahon. But Vince victimized Stratus with a set up during a tag team match against William Regal and Stephanie. They even dumped sewage on her. Later, McMahon stepped on her body and addressed her as "a toy that he has grown tired of playing with". As another highlight of the storyline, Trish was compelled to strip down to her black bra and panties in the ring barking like a dog.
Watch this short clip of storyline where Vince and Trish are getting sexual and are intruded by Shane, Vince's son.
Lesbian relationship with Mickie James
The odd storyline of Mickie James and Trish in a relation is still regarded as the sexiest storyline that WWE has ever witnessed.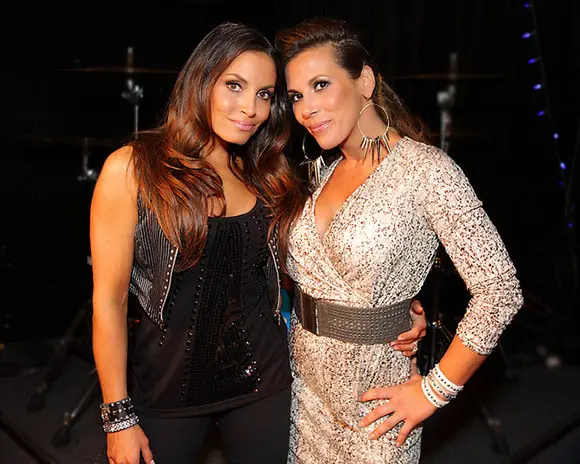 Source: staticflickr.com
In the storyline, James got obsessed with Trish introducing herself as the biggest fan of her. It was on RAW episode of December 26, 2005, that world came to know about their lesbian relation when Jamie got engaged in an intimate kiss with Stratus. The association, famous, however, turned sour over the period, with Stratus seemingly uninterested. This steamy storyline finally came to an end after nine months on June 26 when they fought in Women's Championship for the final time.
This is only some story lines that exploited her sexuality and also acted as career changing act.
Her post-retirement phase has been a happy one as she has tried her hand on other field coming up with flying colors in each of them. Trish continued as a television personality featuring in numbers of shows, including Arme Famous. Having starred in Bail Enforcers and Gridlocked, she also have established herself as a renowned actress. She also owns Stratusphere, Canada's largest eco-friendly yoga studio.
However, she feels the storylines assigned to her were biased but evolved eventually. While talking to Fighters.com in an interview, she said,
"We had the same thing in wrestling where we'd have the crowd chanting 'puppies' but once we brought it and delivered some solid action in the ring those chants stopped and fans began chanting for us and what we were doing in the ring. WWE productions noticed that and ended up giving us more time and more devotion to our storylines and character development."