Entertainment
Did Adrianne Palicki Get Married To Her Boyfriend? Reveals Dating Status Explicitly
Very few relationships successfully reach the level of marriage, and very few marriages sustain themselves through the tumultuous period. Actress Adrianne Palicki eventually got into a long-term relationship with a man, and now the fans are craving to know about her relationship whereabouts, i.e., is she married to her man or has she separated and found a new love to rejoice?
So, without any further delay, we bring in answers to the questions raised followed by her prior dating history.
Love turned into marriage or separated?
Well, the love story of Adrianne and stuntman Jackson Spidell is said to have flourished in the set of John Wick in 2014. The relation grew when Adrianne worked as an actress in the movie while Jackson was a stuntman.
The relationship immediately reached the next level when Jackson proposed Adrianne for marriage in September 2014. The entire event of the proposal was kept confined by Jackson and Adrianne. However, the news of her getting engaged was revealed by their representative to the sources.
The relationship was taking its pace, and the couple was giving relationship goals to the audience.
But in the year 2015, the actress called off her engagement before getting hitched with the stunt man. However, the official confirmation of the break-up was made in 2017 through an interview with Katie Krause on FB live, where Adrianne confessed about having some serious issues in her relationship.
Caption: Adrianne speaks about her broken engagement on FB live.(2017)
As reported by ET online, when asked about her engagement with Jackson, she said:
"No longer engaged.Things happen. I called off the wedding in 2015. There were some major issues in our relationship that I ignored. I realized only a couple months before the wedding that sometimes people aren't meant to be together, and it's OK to walk away."
With no further disclosure of issue between the pair, Adrianne confessed being single at present and enjoying her single life by fully focusing on her career. She said:
"I've taken the time since just really to be on my own.You know, take care of myself. So, if Mr. Prince Charming comes walking to my life, high, but I'm not on a mission."
As the actress is enjoying her single life with no husband with her friends and colleagues, her ex-fiancé is also possibly reported to be single.
Before getting hooked with a stuntman boyfriend, Adriana was in a relationship with D.J. Cotrona in 2011. As always she has not disclosed her meeting events with the man, but the duo worked together in G.I Joe: Retaliation in 2013.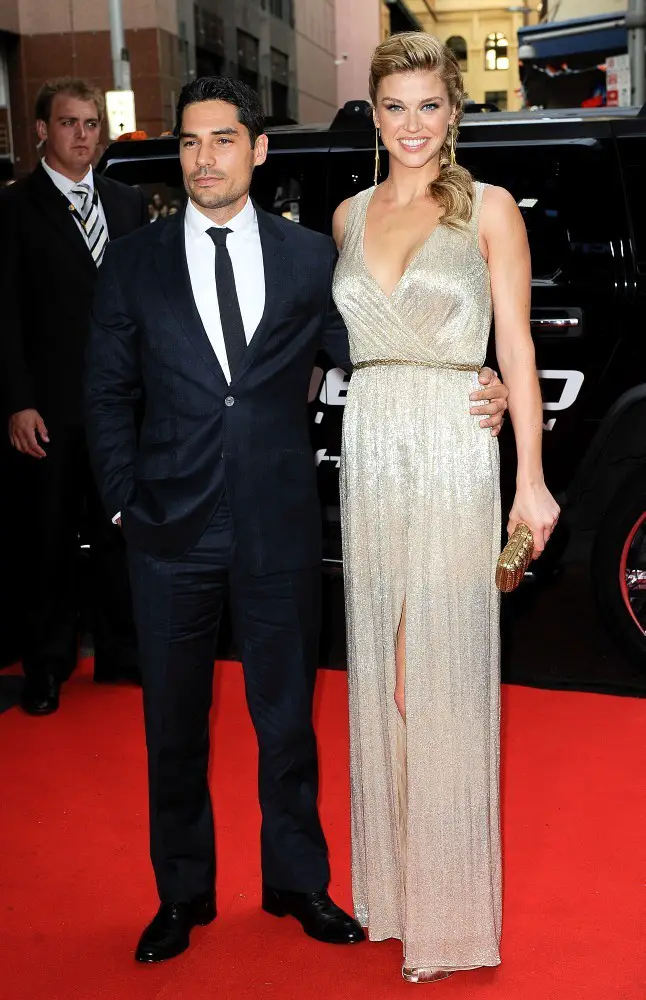 Caption: Adrianne Palicki with D.J Cotrona at the G.I Joe: Retaliation premiere (2013).
Photo Credit:zimbio.com
The pair got separated in the year 2013 while primary reasons for the break up has got well tucked in. For now, D.J Cotrona is reported to be possibly single.
Even with a broken engagement and relationship, Adriana has not slacked back. Instead, she has become more precise to her career and has been working on several television programs like Agents of S.H.I.E.L.D.(2016), Most Wanted(2016) and Orville(2017). So, we are sure with a focused career, Adriana will bloom in the Hollywood industry while in the process she'd meet her man or so-called prince charming who'd love her unconditionally and get married eventually.