Entertainment
American Beauty's Mena Suvari Age 39 Secretly Got Married, Third Times A Charm?
Best known for her portrayal of the character Angela Heyes in the 1999 film American Beauty, actress Mena Suvari didn't let her horrible experience from two failed marriages cloud her judgment when her then-boyfriend, Micheal Hope, asked her to marry him.
Interestingly enough, the American Pie actress has opted to remain as lowkey as possible this time around -- so much so that she even hid the news of them getting married from the public for months.
But when the time came, she couldn't stop gushing about her married life with relatively unknown Micheal Hope.
American Beauty Actress' Third Marriage: Secretly Married Michael Hope
If anyone knows how to break the news in style, it's Mena. 
Read Also:- Tyler The Creator Dated Both Girlfriend & Boyfriend, Does That Make Him Gay?
The Newport native stole the headlines when she walked down the red carpet - flaunting the wedding ring - at the Last Chance for Animals' Annual Celebrity Benefit on 20 October 2018.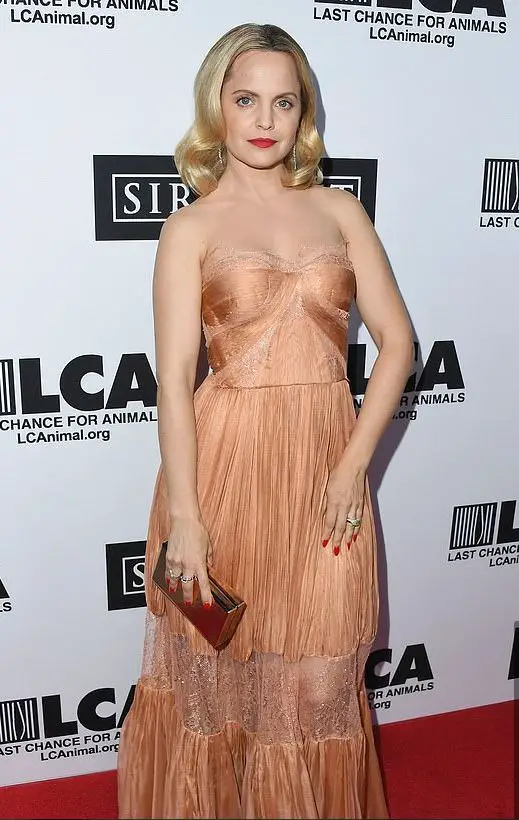 Mena flaunts her wedding ring at the Last Chance for Animals' Annual Celebrity Benefit (Photo:- dailymail.co.uk)
Speaking to US Weekly at the said event, the Rumor Has It star expressed happiness with her decision to tie the knots with her partner of two years. She then added:
"We're happy. Third time's a charm!"
With those remarks, Mena was referencing her two failed marriages. She separated from her first husband, a cinematographer named Robert Brinkman in 2005. They were together for five years, having got married at the turn of the century.
Interesting:- Rob Huebel's Wife Talks About Their Wedding; Welcomed A Beautiful Daughter Despite Complications
Likewise, she divorced concert promoter Simone Sestito in 2012 after two years as a married couple. After the divorce, the 39-year-old suggested that she might never marry again. Mena once said:
"I feel like I'm really, finally, content at this point in my life. I'm accepting of who I am and how diverse I am and honoring that. All of it."
Whatever happened to Mena's claims of being content? What changed?
Wedding Talks Including Wedding Dress; Baby On The Way?
Michael Hope is what happened to the American Beauty actress!
The newly married pair - who started dating each other in 2016 - met on the set of the 1998 movie I'll Be Home for Christmas. In the film, Mena was cast to play a role whereas her husband, Michael worked in the project's art department.
Don't Miss:- Jamey Johnson Age 43 Really Divorced Wife For Sake Of New Album?
Besides the fact that Michael has worked on movies such as Lead With Your Heart and Indian Horse, Mena has kept fans and public alike in the dark with regards to her significant other's identity. In the US Weekly interview, she briefly mentioned her husband. She quipped: 
"He's a really great guy. I got me a Canadian: Old school, really considerate, old-fashioned."
As for their wedding, Mena again opted to remain discreet. Without going much into the details of their wedding ceremony, she merely said:
"It was very intimate. It was very beautiful. I had my closest friends with me. It was very meaningful.
Later, in the interview, the American Pie star suggested that she's open to the prospect of mothering a baby one day. According to her, she has "a few years left."
Interestingly enough, Mena's admission comes months after she sent Internet on a frenzy by putting up an Instagram post with a cryptic caption.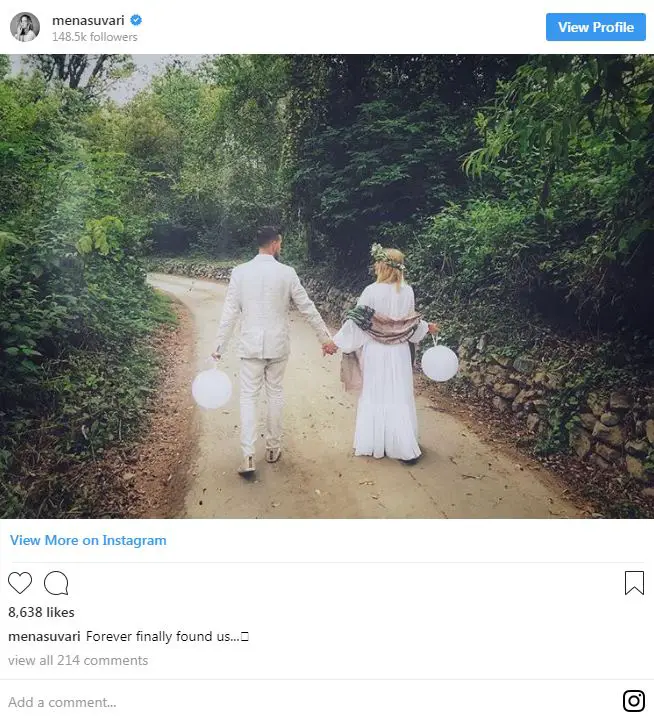 Mena shares a cryptic post on Instagram (Photo:- Mena Suvari's Instagram)
As expected, Mena's post sparked wedding rumors but lost its momentum when neither the woman in the wedding dress nor the man wearing the tuxedo spoke on the viral post.
Discover:- Jai Brooks Has A Girlfriend After Past Dating Affair Went Sideways?
Retrospectively speaking, the woman in the wedding dress could be none other than Mena herself on the day of their wedding.