Entertainment
'Dan Patrick Show' Host and His Journalist Wife: Is It Just His Salary That Contributes to His Net Worth?
In today's time every next day you get to hear about falling relationship and crumbling marriages. And in contrast when one gets to hear about a couple's marital bliss and years and years of togetherness, then people are pleasantly surprised. Also, it always feels good to see our favorite celebrity couple enjoying their happy married life.
Similarly, popular Dan Patrick Show's host Dan Partick has a satisfying career and is blessed with a happy family. And what else does sportscaster Dan Patrick possess to boasts? Let's find out.
Dan's Married, Wife, and Children?
Dan Patrick met Susan White while working at CNN. Patrick was a reporter/presenter, and his then to-be-wife was the producer of Inside Politics. We don't know if it was love at first sight, but they sure did hit it off well. For the first date, Dan took Susan to a bar in Manhattan and sat there talking and drinking all night long. He had to walk 30 blocks home since he spent all his money on the date and was too embarrassed to admit it.
Even more interesting than Dan and Susan's first date was the way Dan proposed Susan. He shared the story of his proposal on Ohio Magazine back in 1999.
While returning back to New York after visiting Dan's family for Thanksgiving, the two of them traveled back in different planes. Dan gave the engagement ring to his sister and told her to give it to Sue with a note. When the two landed back home the tears in Susan's eyes made it clear that the answer was yes. Later, the two got married and has been together ever since. Together, the husband and wife have four beautiful children, daughters Georgia, Molly and Grace and a son Jack.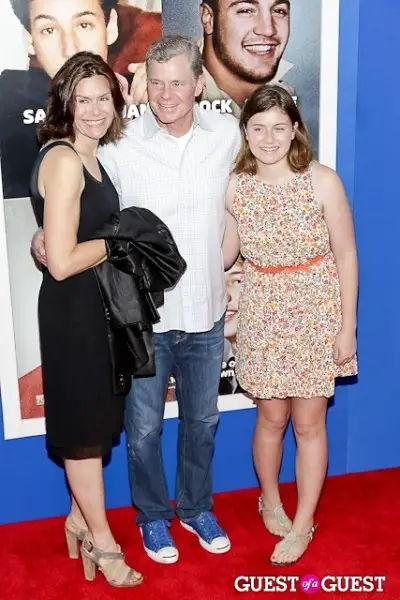 Caption: Dan Premier at the premiere of Grown Ups2 with his family in NYC on July 10, 2013.
Photo Credit: guestofaguest.com
Today social media platforms have become a platform to voice one's opinion, and Dan tweeted about the strong privacy protection policy for women and children recently on June 9, 2017.
His tweet shows the concern of a husband and father of three daughters towards the growing necessity of strong privacy policies.
Career Highlights and Net Worth:
Dan Patrick has been able to establish himself as one of America's most famous and respected sports journalist.
Dan attended Eastern Kentucky University and was later transferred to the University of Dayton. He graduated with a major in broadcast journalism.
Apart from being a sportscaster, he also has a radio and television show named "The Dan Patrick Show," which is aired on Premiere Radio Networks, NBCSN, and Audience Network. He also works as a senior writer for Sports Illustrated and co-hosts Football Night in America on NBC. He worked for ESPN for about 18 years as an anchor of SportsCenter.
Apart from being a sports news hero, Dan has appeared in many films, music videos, and television series. He is seen doing cameos in movies like The Longest Yard, Benchwarmers, Grown Ups 1 and 2, The Do-Over and others. He is a good friend of Adam Sandler because of which he has done cameos in most of his films.
Caption: Dan Patrick: Attending "The Do-Over" premiere at LA. (Video published on May 16, 2016)
With so many feathers in his cap, there is no doubt that Patrick has been able to provide for his family all very well. From radio and television shows to films and magazines, Dan Patrick has been a very busy man earning enough to feed the family of 6. His annual salary leads up to $5 million. With all his hard work, passion and dedication he has accumulated a net worth of $25 million
Along with Dan Patrick sports journalist including Jay Crawford, Kenny Mayne and Rich Eisen are setting new standards to achieve, for the upcoming new journalists.
A Short Bio on Daniel:
Daniel Patrick Pugh, aka Dan Patrick, was born on May 15, 1956, in Zanesville, Ohio. He has five siblings all together. He attended Eastern Kentucky University and was later transferred to the University of Dayton. He graduated with a major in broadcast journalism.
He is a sportscaster who used to be the anchor of SportsCenter. Currently, he has a radio and television show, "The Dan Patrick Show". He also contributes as a writer for Sports Illustrated magazine.
He has made cameo appearances in a number of films; "The Do-Over" being the latest one. He is very active on social media. You can find him on Facebook,Instagram, and Twitter under the name Dan Patrick.