Entertainment
After Dating Loads Of Girlfriends, Kellan Lutz Finally Got Married And Has A Wife?
Compatibility, trust, and love are the factors which are required to convert love into marriage successfully. Actor Kellan Lutz might have missed any one of the factors while dating women in his life because of which he has a long dating list, but looks like the man has finally found his right woman and got immediately married.
For now, we shall get hold of his married life followed by his dating history.
Found A Perfect Partner Or Still Seeking One?
With all of the handsome looks Kellan Lutz has managed to stuff within himself, it's no wonder why women have surrendered their heart and are always on the tip of their toes to know every detail, especially his personal life. To everybody's relief, a couple of years back the actor hinted on his single status and also poured a bit on what kind of woman he looks forward to getting married to.
In a brief conversation with the "On Air with Ryan Seacrest" on June 5, 2015, Lutz describes the qualities he'd like to see in his future wife. As posted by mtv.com Lutz expressed his desire to settle down with a woman outside the Hollywood territory who would also give him little Kellans. He said:
"I'm looking for that wifey, Ryan, Man, I want to find my potential wife that I can make those memories with and be engaged with for a couple of years and start that life. I'm 30! I know it's young in Hollywood standard, but my mom is in need for some grandkids."
He added,
"I'm in no rush, Ry, but I want to meet that non-crazy girl that are kind of plentiful here in L.A. I'm running in some great circles. I'm a man of faith, so I've been trying to put a lot of my time in those circles versus the Hollywood crowd, My values are at the top of my life so might as well find someone who shares in those. I've been searching. It's so hard to find a woman who is career driven with an enthusiastic attitude, someone who is proactive."
While in another interview with InTouch Weekly, Kellan added the qualities of genuineness and adventurous he is seeking in his wife.
"I want marriage, who's kind and genuine and loves life and is willing to be adventurous."
Well, we apologize if we raised hopes of some of the girls out there because it seems like Kellan has found his way to the perfect 'wife,' as suggested by his Instagram pictures.
Kellan mentioned 2016 to be his best year for he found his wife fulfilling all his stated quality, and has thanked the Almighty for fulfilling all his desires and blessing him with a real woman cum best friend.
Kellen has not bothered to share any possible wedding pictures with the lovely lady and anything remotely related to their special day is not revealed by any of his family or friends.
The actor not only has kept his wedding confined but also has kept his better half's details out of the limelight as well. This fact alone has raised questions if he married her or not. After all, he did say that he wants to be engaged for a couple of years before starting a whole new life.
Like every protective partner, Kellan is protecting his perfect relationship and is keeping her away from the unwanted paparazzi and scandals. Who knows, he might just be waiting to get married and introduce his future wife with a big bang. So till then let's wait and see!
Failure Despite Multiple Dating, Was He Gay?
Before getting married in 2006, Lutz got linked up the American actress Kayla Ewell. Though the actual event of their love life has been kept private, the link up proved to be true after they were spotted together in vacations and events.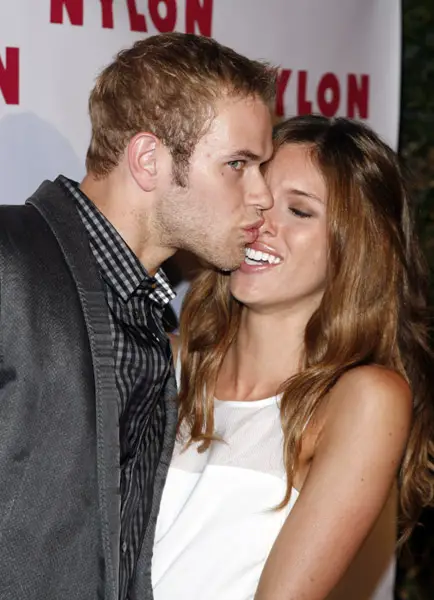 Caption: Kayla Ewell and Kellan Lutz together at the NYLON Magazine Party, California (2008)
Photo Credit: chatterbusy.blogspot.com
Lutz and Kayla were doing fine and were brushing their career respectively by working in Blockbusters series " The Vampire Dairies" and "The Twilight," but the relationship is said to have collapsed in 2008, after two years of affairs without specifying any particular reasons. Kayla is currently married to American actor Tanner Novlan since November 12, 2015.
Immediately after break up with Kayla, Lutz is said to have dated the American actress, AnnaLynne McCord. The relationship lasted for nearly about four years and collapsed in 2011.
The reason for the failure in the relationship got considered due to the past sexual assault faced by AnnaLynne. At present, the actress is in an on and off relationship with Dominic Purcell since June 2011.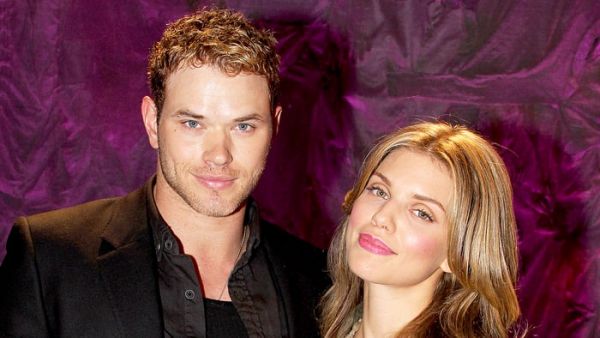 Caption: AnnaLynne McCord with Kellan Lutz at the backstage of "Love, Loss, and What I Wore" (2011).
Photo Credit:.usmagazine.com
While in 2011, Lutz dated another American actress Kelly Thiebaud in 2011. The pair separated for Kelly got engaged to Bryan Craig on June 28, 2015.
Caption: Kellan Lutz and Kelly Thiebaud spotted in an event.
Photo Credit:famousfix.com
Again in 2011, Lutz got involved with American actress Sharni Vinson. The relationship between the pair lasted exactly for around three years and ended in 2013.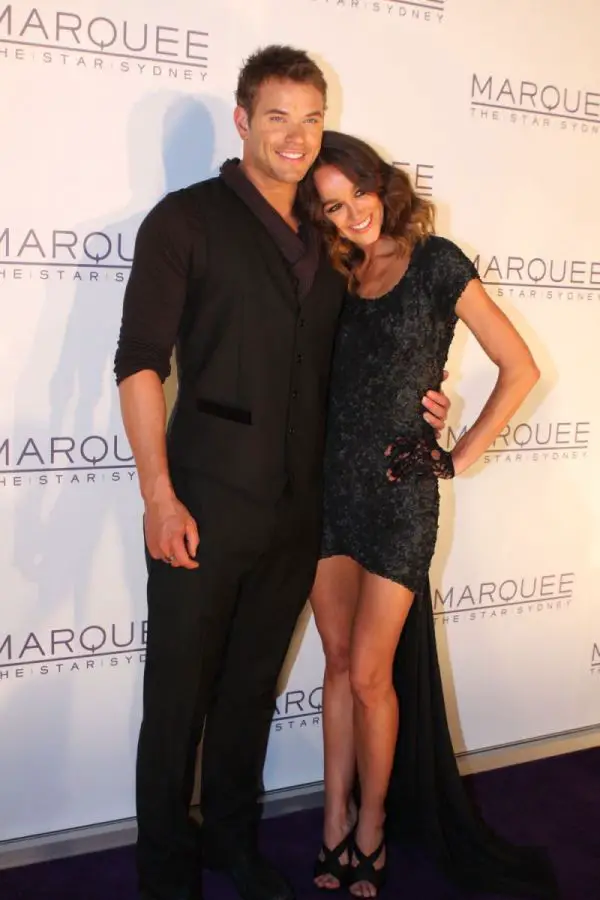 Caption: Kellan Lutz and Sharni Vinson at the event of Marquee The Star Sydne (2012)
Photo Credit: commons.wikimedia.org
It looks like after dating several actresses; Lutz tried his dating luck on an American Model Brittny Ward with whom his relationship initiated in 2014 and abruptly ended in 2015. Brittny Ward is reported to be dating Jenson Button since March 2016.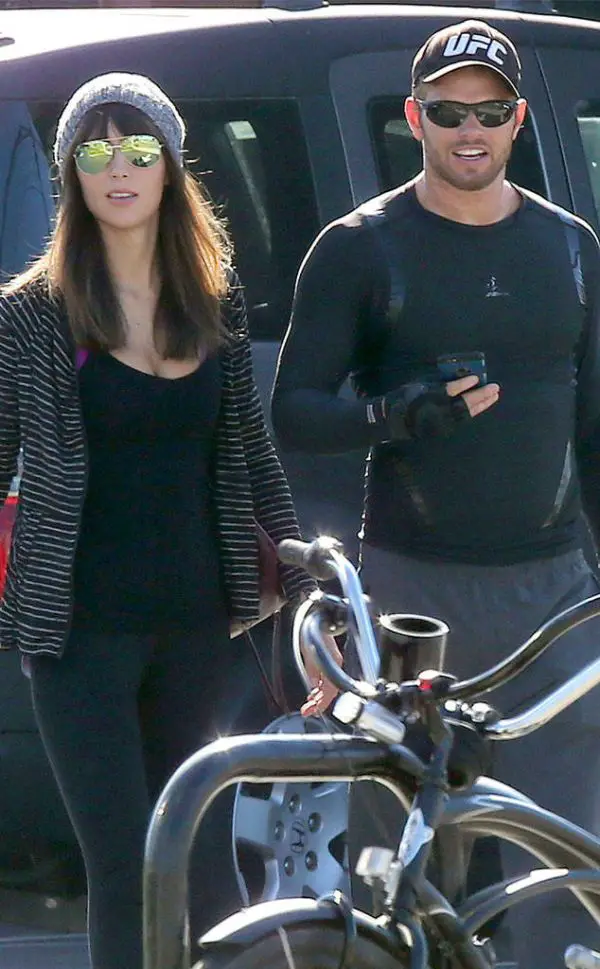 Caption: Kellan Lutz and Brittany Ward heading together at the frozen yogurt shop (2014)
Photo Credit: dailymail.co.uk
With several failures in a relationship, the media had once accused him of being gay, which the star clarified through an interview posted by Hollywood Reporter and cleared the air of gay rumors. He said:
"I don't Google myself, but I've heard that people think I'm gay. I've heard it all. See, I don't go after girls. Most of the girlfriends I've had have come after me."
Well, with so many relationships in prior dates, one can pretty much assume about the Casanova, and charismatic personality Lutz holds. Maybe in the past involvements, he did not find the qualities he was seeking in a woman, or maybe Lutz was just into a casual relationship will all the women he was involved with.
But now as he has settled in with his wife, all the allegations on his sexual orientation gets smacked down, and at a same time, with a loving wife, we are pretty sure the actor shall boon in the Hollywood industry and tremedeously work well towards a better future and a happy life.
Stay with us for more news on Kellan Lutz!