The Apprentice contestant Omarosa Manigault announces her engagement with her new found love, Dr. John Allen Newman. The Pastor, instead of being the one to marry, has now become the husband to be as they sail towards their future together.
Omarosa Manigault, now, is engaged with her fiancée. Beginning from the first when did they start dating and does the celebrity have any history behind her previous love life in the past. We will find out more.
"Hired" in engagement style:
Bling Bling goes the engagement ring. Omarosa is a bride to be, for holy man Dr. John Allen Newman. Omarosa, 42, tweeted on the 28th of July 2016 that she had said yes to the proposal. Both were dating for only less than a year before they got engaged and according to TMZ Pastor John had got done on one knee and in front of his congregation at The Sanctuary at Calvary Church in Jacksonville holding out a massive ring, what's not to say yes to?
The news was heard first in TMZ, husband to be
Dr. John Allen Newman
; is the pastors in the Weller Street Baptist Church in Los Angeles, and Omarosa is also the assistant pastor as there, but they first met each other when she was teaching at Howard University. Omarosa
Showing
off her massive five-carat rock Uniquely made by a jewelry designer who was a friend, in Atlanta.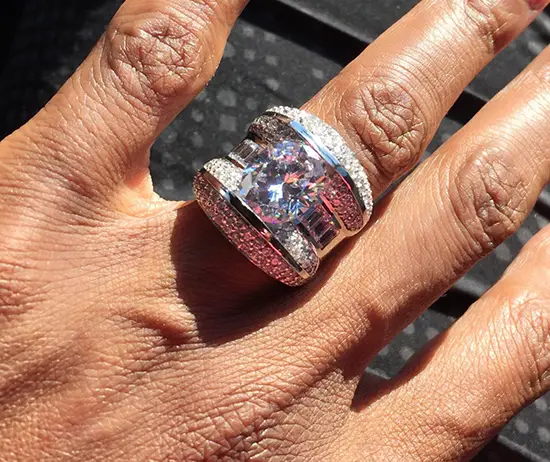 Caption: "If she likes it and put a ring on it," Omarosa Manigault flashing her big engagement ring as shown on her finger on August 11, 2016.
Picture Credit: People.com
Being a pastor means showing a good example to his herd, but since this is a celebrity relationship we can only expect the worst. Luckily his record is clean, and it seems that he was just waiting for the perfect one. With no skeletons in his closet, we can only assume he has found his true love.
A blast from the past with Omarosa Manigault:
Known to most of her co-workers as a workaholic, she is driven, and a God fearing woman, but she has a few skeletons in her relationship closet that would even reap shivers down anyone's spine.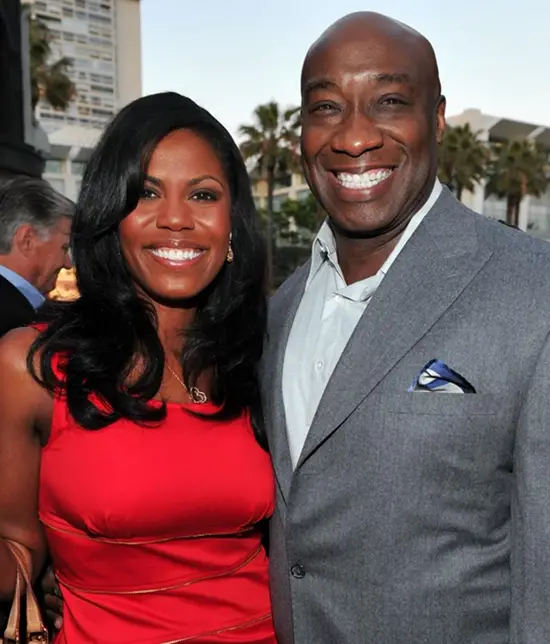 Caption: Last few picture of Michael Clarke Duncan and Omarosa Manigault back in 2011.
Photo Credit: nydailynews.com
She was previously engaged to famous actor Michael Clarke Duncan, one of America's most beloved actor. These two were supposed to get married in 2012 before his death due to a sudden heart attack in July 2012 which left Omarosa devastated. Four years after her ex-fiance death she had finally gotten over him.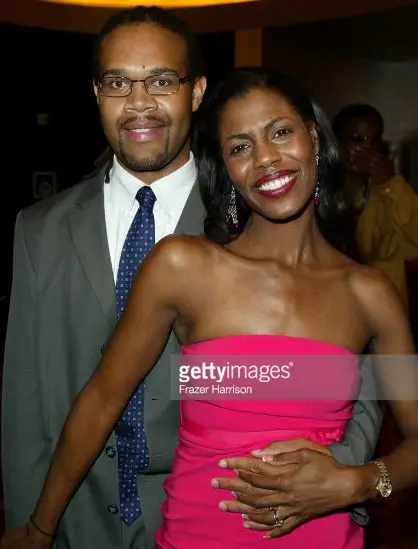 Caption: Omarosa with her first husband, Aaron in 1999.
Photo Credit: gettyimages.com
Omarosa Manigault and Aaron H. Stallworth were both married for five years. Dating first in 1999 and marrying a year later in May 2000. Omarosa being a passionate woman on her work has had issues with her then husband Aaron, she kept it low-key and away from the public but soon spilled the beans on her failing relationship, in her statement to People on July 14, 2005, she said;
"I wasn't as supportive of him as I could have been, He's home on the ranch (in Texas) and I'm in L.A. working on several projects."
They divorced on the 6th of July 2005. Aaron, since not being a celebrity, has not been seen with anyone since their divorce but they have decided to keep in touch still as good friends.
Work hard and play hard:
Omarosa Manigault has come a long way from just being a contestant in the series "The Apprentice" back in 2004 and her current wedding plans she has answered with a solid tweet.
She has at least
given hint on the wedding
venue and a few words regarding the complication concerning their receptions, she said;
"His church can hold 3,000 people and mine can hold 500, so we are trying to find a reception venue that can accommodate everyone."
Having success in work and when she was named the head director of African American Outreach by Mr. Donald Trump himself for the presidential campaign on July 18th, 2016. Giving her statement for the newly elected president as the head she says;
"I am the director of African-American outreach for Donald Trump. I am proud to serve in that role," "It is a very difficult time for our country, but the good thing I know is that I know Donald Trump at his heart … and I know what he can do in that role."
Plus having a whopping 3.5 million in her net worth, she has gained successes in her work life, but the struggle of her personal life is a given with a high position put for her by Donald Trump, the president-elect of the United States of America. We can be sure she will keep bouncing back.
#TV Personality
#John Allen Newman
---