When your expectation and visualization about your ideal partner doesn't meet the terminal point, then that will bring up some highs and lows in the relation, that may sometimes cause the end up your relationship.
Probably Rocco DiSpirito is another name fitting into this scenario as he has a history of multiple splits with his partner. Is the chef, who shows dramatic weight loss thinking of dating anyone so far? Or is better off single? Let's get updated about the personal life of Rocco DiSpirito in our story today.
Juicy Past Of Rocco DiSpirito!
Rocco DiSpirito is one of the chefs who is not only famous for his food and various shows, but also because of the controversies that surrounds him time and again. And that also includes his relationship status.
Well, not much relationship are known about the New York City-based chef, but so far the public affairs had been enough to create a lot of controversies.
The 50 years old first dated his college sweetheart Natalie David. Later, his girlfriend turned into his wife through an intimate wedding ceremony. They got married for years, but after facing some of the problems, of which the former couple hasn't spoken about much, made them choose separate ways and got officially divorced in 2000.
After the divorce, Rocco was used to being in the headlines due to his alleged dating affairs. Moving on, he dated actress Yvonne Scio. Rocco and Yvonne were also engaged, but later, Rocco was going through hard times in his life regarding "The Restaurant," NBC's show in 2004 along with his split with his then girlfriend, Yvonne. The break up was undoubtedly amicable so far, and the reason is still in the grave.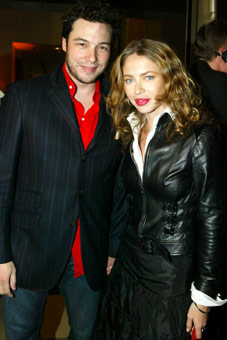 Caption: Rocco DiSiprito with his then fiance Yvonne Scio.
Photo Credit: newyorksocialdiary.com
Similarly, in 2006 Rocco DiSpirito was believed to be dating CNN host Whitney Casey. So far, the duo hasn't revealed much about their relationship, but later Rocco got linked with the American producer Tracey E. Edmonds in 2008.
Just like Rocco's previous relationship, Tracey and Rocco haven't shared enough about their dating details.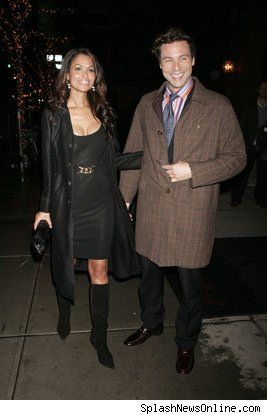 Caption: Rocco DiSpirito was rumored to be dating Tracey E. Edmonds.
Photo Credit: whosdatedwho.com
As of now, Tracey is in a relationship with Deion Sanders.
The 6 feet 1-inch tall chef has it all looks, and he can cook real. Well, that is why he is one of the best chefs in New York City, right?
So after all these past relationships, he is now single and probably ready to mingle.
I Did It! Rocco's Success Weight Loss Story:
At some point, the born and bred New Yorker went through incredible weight loss. He lost 41lbs giving up his healthy lifestyle and embracing some of the healthy tips.
Rocco followed the Mediterranean-style diet which follows diet including fruits, vegetables, whole grains and good fats which can help promote a healthy heart, as he was having some health issues causing his cholesterols and blood pressure going up.
The chef exclaimed,
"Everyone thinks I look younger. Some people think I had plastic surgery, which I take as a compliment."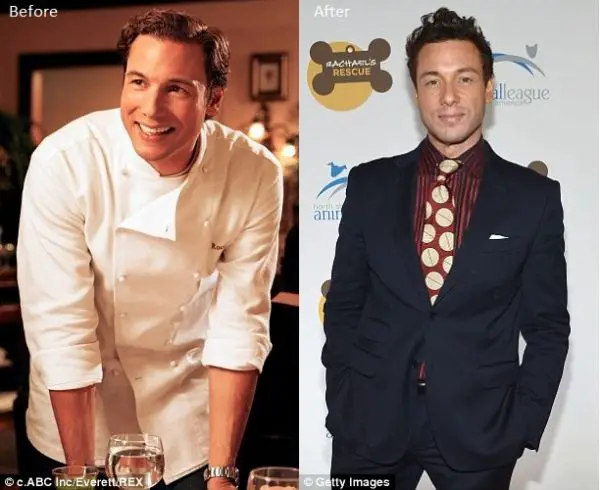 Caption: Rocco DiSpirito showed a significant transformation in his physique going through a weight loss.
Photo Credit: makemeheal.com
He once told host Piers Morgan,
"If I can do it, anyone can do it . . . I am surrounded by the most delicious food available on the planet every day of my life."
And so far, so true. He can be an inspiration too many in that case.
More About His Family And Upset Occurrence:
Born on 19th of November, 1966 to parents; Nicolina DiSpirito and Ralph DiSpirito, Rocco DiSpirito got his interest in cooking from very young age, and his mother has been of great help for him to know some of the Italian recipes.
We all have seen his mother in "The Restaurant" making meatballs. But sadly, she took her last breathe in 2013. Undoubtedly, the New York native still misses his mother and is also found sharing pictures of hers on his social account.
But after the death of the mother, there was a dispute among the three DiSpiritos. Rocco was going through a feud with his siblings regarding the mother's estate.
In 2017, Rocco's brother Michael, 54, and sister Maria, 62, are going through some legal process to divide their mother's estate for three of them just from the middle in three halves.
On that very matter, we just have to wait for the final judgment on whose side the decision will be taken whether on behalf of Rocco or his siblings.
Stay with us for the emerging updates about Rocco DiSpirito!
#American Chef
#Dancing with the Stars
#Natalie David
#Yvonne Scio
#Whitney Casey
#Tracey E. Edmonds
---