LifeStyle
Get Your Shopping List Ready To Get Essential Recipes For A Mediterranean Diet Meal Plan
Get Your Shopping List Ready To Get Essential Recipes For A Mediterranean Diet Meal Plan Summer is all about flaunting short dresses in style, munching few buckets of ice cream and diving in the pool of refreshing icy drinks. But besides going chic and walking around with a high fashion with a bottle of drink, the street also embrace experimenting new cuisine and cross-refined foods which are completely out of the comfort zone.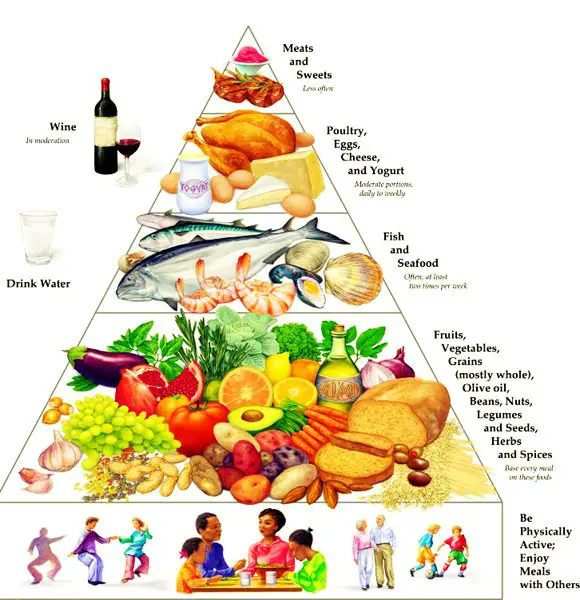 Summer is all about flaunting short dresses in style, munching few buckets of ice cream and diving in the pool of refreshing icy drinks. But besides going chic and walking around with a high fashion with a bottle of drink, the street also embrace experimenting new cuisine and cross-refined foods which are completely out of the comfort zone. No matter how grayish the winter looks, the summer spreads the exact amount of vibrancy and aura of happiness like a blooming spring.
So, for this summer especially for the ones we are giving in the best Mediterranean recipes, i.e. cuisine comprising of vegetables, fruits, fish, olive oil, and nuts. From the countries like Italy, Greece, France, and Spain to make your season exotic and to prepare a perfect diet plan, here the following are the essential recipes to prepare delicacy at your kitchen.
1.Veggie stuffed omelet, enriched with herbs:
Eggs are the economic and most liked components by chef and food lovers, so for the Mediterranean meal, this is the light meal perfect for a healthy breakfast. So, for the veggie omelet, make sure you include mushrooms in your shopping list. 
To make the vegetable stuffed food you need olive oil, sliced fresh fennel bulb, diced tomato, chopped boiled mushrooms, chopped olives, salt, pepper, crumbled goat cheese, eggs, marinated artichoke hearts and chopped parsley. This enriched breakfast contains 152 calories, 10g fat and 11g protein per servings.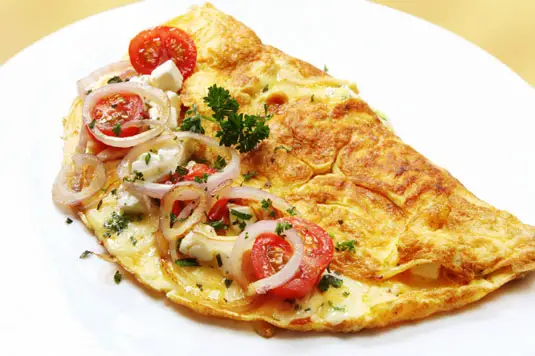 Caption: Mediterranean veggies stocked omelet perfect for your breakfast.
Photo Credit:dummies.com
Before heading to the mix and matching of the components heat your oven to 325 degrees and in a large skillet heat olive oil over a medium flame. Add fennel, mushroom and sauté for around 5 minutes.
Secondly, add tomato, artichoke hearts, olives and sauté for another three minutes till it softens itself. Take a large bowl and whisk the required number of eggs you need and sprinkle salt, herbs, and spices as per your taste.
Pour the mixed whisked eggs in the vegetable skillet prepared earlier. Then sprinkle cheese on top of the omelet and bake it for around 5 minutes till the eggs are perfectly set and cooked. At the end sprinkle some chopped parsley on top of the egg and serve it!
2.Shrimp and penne for lunch:
Mediterranean cuisine comprises of foods enriched with proteins, vitamins, and mineral which our body requires to remain healthy and in shape. The diet is not only healthy and delicious to eat but is also economical regarding grocery bills.
To prepare a penne delicacy for lunch, one must have components like penne pasta, olive oil, onion, garlic, white wine, tomatoes, shrimp, lemon grass and parmesan cheese. To prepare the lunch, you require a period of approximately 40 minutes.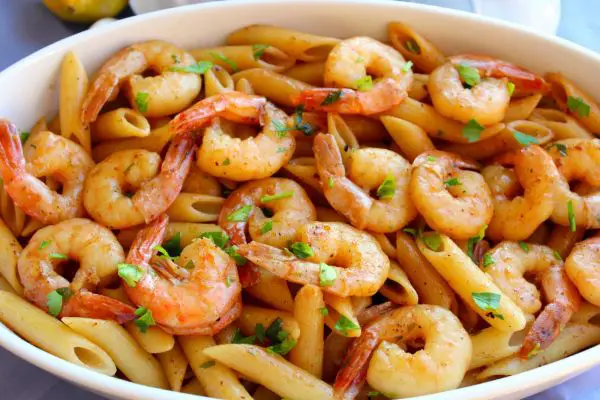 Caption: Penne with Shrimp blended with the aroma of lemon grass and cheese.
Photo Credit:thecompletesavorist.com
Firstly, in a large pot, boil water and add pasta to cook for around 7-8 minutes. Secondly, take a full pan and heat olive oil in a medium flame. Add finely chopped garlic, onion and cook it for around 3 minutes.  
After the tomatoes start spreading its red color, add white wine and continue to cook for another 10 minutes by mixing it occasionally.
Add shrimp to the combination and sauté it till the mixture and shrimp blend well. When the shrimp becomes tender, add the cooked pasta and sauté it well. Finally, garnish the parmesan cheese and lemon grass on top of it and serve it fresh.
3.Cheat on lemon cream and blueberries:
Blueberries are the only fruit served for the diabetic's patient for it is believed that it keeps the sugar level on the check and at the same time allows them to taste the sweetness of fruit. Mediterranean food is a boon for the sweet tooth people, for the desserts of France and Italy never leaves anyone disheartened.
Talking about the dessert pyramid, France has successfully stabilized on the top for its innovative and dessert art. So, lemon cream and blueberries come under the priority on your food list while it is the best combination for splurging on dessert as a mid-day snack for a low-calorie dessert.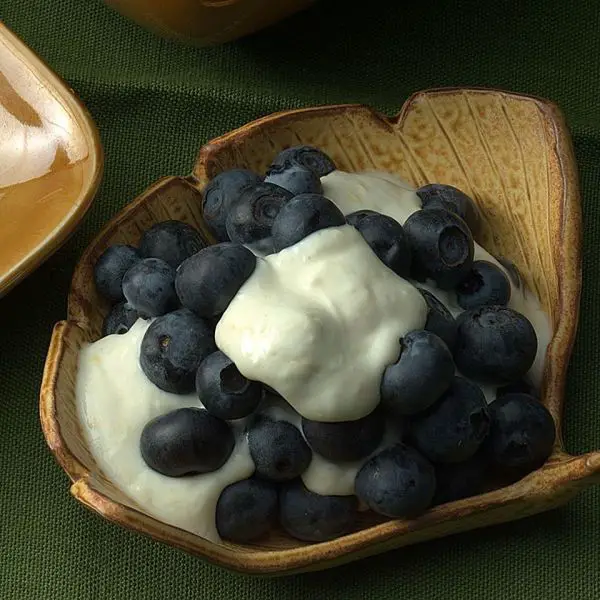 Caption: Treat your taste bud with lemon cream and blueberries.
Photo Credit:eatingwell.com
For the preparation of the dessert what you need is a reduced fat cream cheese, vanilla yogurt, honey, grated lemon zest, and blueberries. You require exactly ten minutes for the preparation of the dish. 
In a medium bowl break, the cheese adds yogurt and honey. Mix the components well either by using a hand blender or electric mixer until its creamy and light.
Add the lemon zest in the mixture and refrigerate it for about 30 minutes by covering it, if you want to consume it in a chill mode, or serve it immediately by adding blueberries in the made cream. The dessert can be served in a wine glass or dessert dish.
4.Kebabs of Mushroom and Garlic:
Kebabs are the simplest yet easiest dinner prepared with the several Mediterranean herbs like balsamic vinegar, olive oil, and basil. Though this dish is considered to be the side dish in the menu one can still take it as a dinner table menu and put a smile on your family members. At the same time, you can intake it with the salad or steaks or enjoy it in its form and can be served in a baked shape or a grilled form.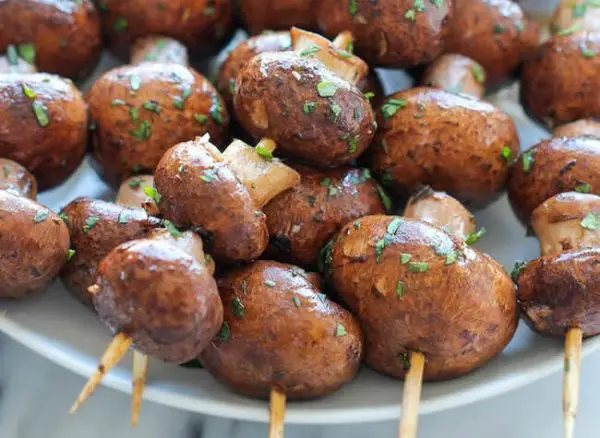 Caption: Mushroom and Garlic Kebabs.
Photo Credit: Dr. Axe
For the kebabs, you require balsamic vinegar, olive oil, pressed garlic, dried oregano, dried basil, salt, black pepper, cremini mushrooms, and chopped parsley leaves.
Heat the oven to 425 degrees and in the baking sheet, coat oil, while in a heavy bottom bowl, add balsamic vinegar, garlic, olive oil, basil, oregano, salt and prepare.
Add mushroom to the mixture and keep it aside for 15 minutes. On a skewer thread mushrooms and place it on the baking sheets inside the oven until 20 minutes. Serve the kebab by garnishing it with parsley, or you can also add the sour cream or salsa for a dip.
The Mediterranean delights mainly include a healthy eating plan and mainly emphasize on eating more of plant based and sea foods rather than red meat.  The delicacy splashes the flavor of olive oil, wines and uses the maximum amount of herbs and spices rather than salts. With the maximum uses of olive oil and canola oil, it replaces butter and fatty substances which raise cholesterol and effects the human heart. So, if you are opting for light, airy delicacy, one must choose the Mediterranean diet plan to make your health fit and sound. Thus! Enjoy the meal with your loved ones via a proper meal plan!