Entertainment
Is Russell Martin Secretly Married? Has Dating Affair With Anyone After Split From Model Girlfriend?
It's somewhat difficult for people to enter into a new relationship immediately after a breakup. Making someone who was once a part of your daily life completely stranger makes the person feel incomplete and empty, and baseball player Russell Martin might have undergone through the same scenario after he surfaced in the story of the split with the model girlfriend.
Is the player into a secretively married life or is he mourning over his broken relationship?
Married in A Private Ceremony Or grieving Over A Past Relationship?
Well, the handsome baseball player is in a relationship with a researcher Elisabeth Chicoine, who graduated from the University of Quebec in Montreal. No details regarding the commencement of relationship and meeting events have got revealed by the hunk.
But in an interview with a source on 2015, when asked about his weekend's program Martin disclosed about spending time with his girlfriend and enjoying delicacy, he said:
"I'm a foodie, and I like to try different restaurants. My girlfriend and I will wake up, grab coffee spend time with the dog, take him for a walk and then map restaurants we want to try out. Watch a movie, go to a nice dinner, have a nice glass of wine. That sounds like a good day to me."
However, Martin is not yet engaged or secretly married to his woman for if they were married he or either Elizabeth would be wearing a ring or they would even announce it officially as they have already made a public confrontation of their relationship.
Well, the relationship between the two still exists for Martin is seen posting cute pictures of his love.
It looks like Martin has met someone of his taste for the woman is seen supporting Martin during his game. So maybe by the end of 2017, Martin will propose his lady or even get married.
Before getting involved with Elisabeth, Martin was dating a model girlfriend, Gabrielle Lavoie in 2014. In November 2014, Martin was caught with his girlfriend Gabrielle in the front row of media congregation at Rogers Centre.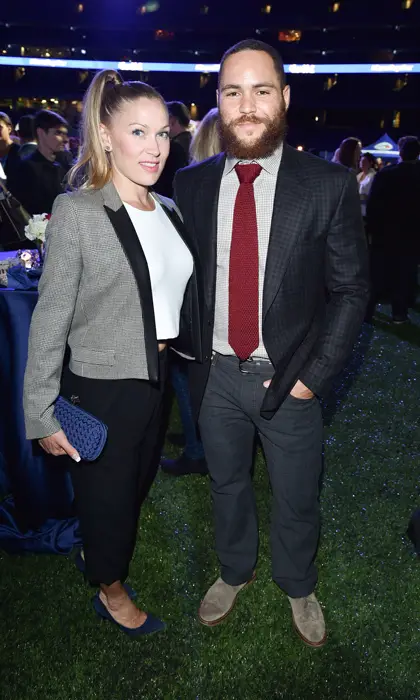 Caption: Gabrielle Lavoie with Russell Martin on an event at the Rogers Centre (2014)
Photo Credit:ca.hellomagazine.com
During an interview back in mid-April 2015, when asked about the ten things which Martin can't live without, he said about the new moisturizer introduced by Lavoie.
"My girlfriend, Gabrielle, introduced me to Dr. Hauschka face cream. My skin takes a beating on the field, and this keeps me looking young behind the beard, at least."
It seems that their relationship lasted until mid- 2015. With no disclosure of the reason for their break up, they moved on where Martin found a new love while Gabrielle has confined her relationship status.
Before Gabrielle, Martin was once in a relationship with Marikym Hervieux, the sister of Valerie Gagne. The relationship between the two initiated from the year 2009.
Caption: Marikym Hervieux and Russell Martin were once a couple
Photo Credit:bronxbaseballdaily.com
The relationship between the two was considered to be the paradise for the baseball player, as, in an interview, Martin claimed about looking good to his woman, where he said:
"I like looking good for my lady. Life is good; I'm in paradise right now because of her."
The relationship between them no longer exists. Like always neither Russell nor Marikym confessed about their break up reason. Maybe to alleviate unwanted scandal and accusation both of them have kept their differences away from the media reach.
Russell was born in Toronto, Canada to parents Russell Martin Sr and mother Suzanne Jeanson. While in 2014, Russell signed a contract worth $82,00,0000 with Toronto Blue Jay with the salary of $16,400,000.
Stay with us for more news on Russell Martin!