Entertainment
On-Screen Gay Character Darren Criss And His Slow Revelation Of His Dating Affair With Musician Girlfriend
Having gained popularity as a gay character from the series of "Glee," actor Darren Criss had precisely enclosed his relationship life, which unfortunately raised speculation on the mindset of the people regarding his sexual orientation.
But after a few years of disclosure of the current affairs with his musician girlfriend, his fans are eager to get hold of his marital life along with his family background.
So let's take a peek at their relationship and simultaneously, get hold of other aspects of his life as well!
Gay On Screen; Dating Or Married In Real Life?
While enacting a gay character and getting engaged with partner Chris Colfer(Kurt) in the third season of Glee, actor Darren Criss (Blaine) had baffled his viewers with his off-screen sexual preference.
In an interview with the Today.com, Darren pacified the rumour of his gay character by revealing his sexual preference to be straight. He affirmed,
"I think it's more empowering to everybody, including myself, if I'm articulate about identifying myself as a straight male playing a gay character, in the Hollywood. Ultimately, that's more powerful for both communities.It doesn't matter if I'm gay or straight.The real cool thing is I was inadvertently raised by the gay community.I was staying out much later than most kids after shows, going to restaurants. I was friends with older guys they were who I looked up to. It wasn't until later that I put together that they were gay."
His announcement grasped confirmation after he disclosed his ongoing romance with the musician Mia Swier in June 2013.
And in February 2019, nearly six years after publically opening about the relationship, Darren got married to his musician girlfriend-cum-fiancee. Held at a hotel in New Orleans, the wedding ceremony's guest list included many of his Glee co-stars.
The wedding was icing on the cake in the winter that saw him win his first ever Emmy for his performance on The Assassination of Gianni Versace: American Crime Story. He also bagged SAG Award & Golden Globe for the very role.
It's interesting to note that Darren after his Emmy win made a startling revelation about not wanting to portray gay roles on screen anymore. Perhaps, his now-wife Mia isn't too comfortable seeing her husband get intimate with anyone?
How Darren Criss Got Engaged To Longtime Girlfriend?
Darren and Mia were in a long distance relationship since 2010, but they revealed their affair publicly in 2013 after Mia migrated to New York from California. Since then, Mia was spotted with her man in various events, including Dancing With The Stars (2013).
Fellow Gay Glee Co-Star:- Glee Star Kevin McHale As Gay! Official Sexuality Statement Amid Dating
A year after the revelation, Mia and Darren were again identified by their fans in J.F Kennedy Airport. The casual chic attire of the pair gave a hint of their vacation. Darren got swarmed by his fan followers and lovers, while Mia was spotted waiting patiently for her man to join her.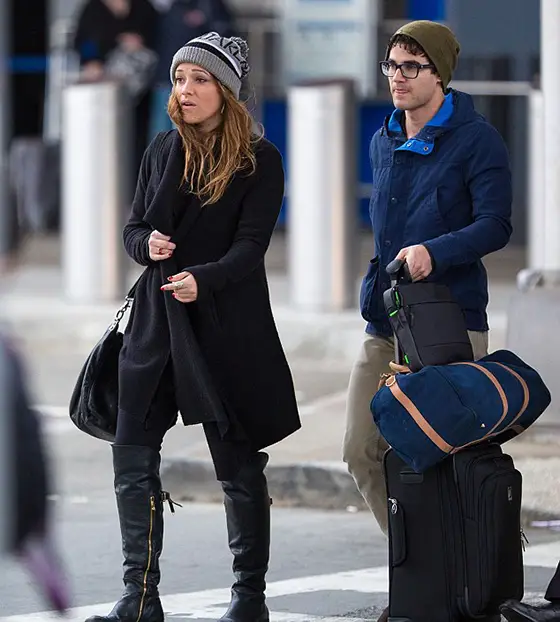 Mia and Darren at the J.F Kennedy Airport in 2014 (Photo Credit: dailymail.co.uk)
The couple did not make any announcement regarding their engagement, neither did they talk about their plans for getting married. But they were enjoying their successful career and romantic relationship in the eyes of the media, while secretly planning their relationship's future!
But then, Darren Criss and Mia Swier announced their engagement through Instagram, and Darren was the one to share the happy news of the couple. He shared an image of the couple smiling in each other's arms and announced their engagement in the caption. He wrote:
"Mia and I have had seven and a half years of fun, wacky, wonderful, CRAZY adventures together. And I'm happy to announce that we're kicking those adventures up a notch. We're goin for it. To boldly go where neither of us have gone before. Engage."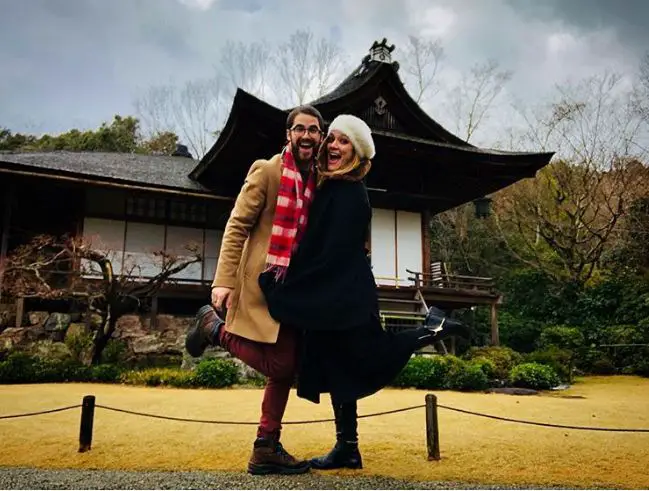 Darren Criss announces his commitment to his longtime girlfriend Mia on 19th January 2018 (Photo:- Darren Criss' Instagram)
From then, it was all smooth sailing!
Darren Criss' Bio Unveils Loving Parents
In his acceptance speech - for his sole Emmy - he may have shouted out his then-fiancee, Mia but he saved the biggest honour for his parents. Speaking to journalists following his Golden Globe win, he cited his father as an inspiration. Meanwhile, his mother shared a heartwarming post acknowledging the landmark moment.
Equally Supportive Parents:- Amanda Cerny Boyfriend, Net Worth, Parents
Darren Criss was born on 5 February 1987, in San Fransisco, California to loving parents, Philipino patron artist mother Cerina and an English investment banker father, Charles William Criss.
He shared his childhood with a sibling, an older brother named Charles Criss, who is a band member of Freelance Whales.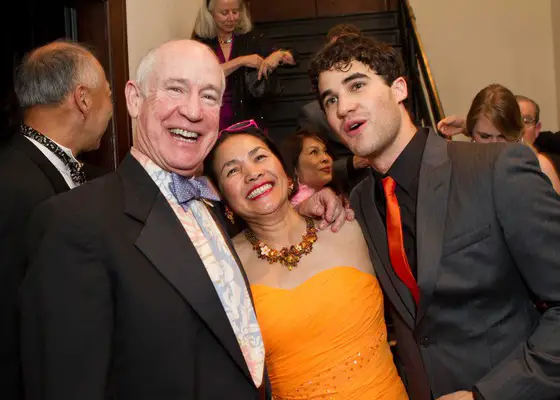 Darren Criss with his father Charles Criss and mother Cerina, San Fransisco (2012) (Photo Credit: hypable.com)
Before entering Hollywood, Darren attended Roman Catholic School and graduated from Saint Ignatius College Preparatory.
Criss started his Hollywood career from the silver screen "East Wick" since the year 2009, and after that, the actor has never turned around, but has been moving ahead and grabbing success by working on popular television shows, like Glee(2010-2015) and movie "Girl Most Likely"(2012).