Having gained popularity as a gay character from the series of "Glee" actor Darren Criss had precisely enclosed his relationship life which unfortunately raised a speculation on the mindset of the people regarding his sexual orientation. But after few months of disclosure of the current affairs with his musician girlfriend, his fans are eager to get hold of his marital life along with his family background.
Gay On Screen; Dating Or Married In Real Life?
While enacting a gay character and getting engaged with partner Chris Colfer (Kurt) in the third season of Glee, actor Darren Criss (Blaine) had baffled his viewers regarding his off-screen sexual preference.
Caption: Darren Criss shares an on-screen kiss with partner Chris Colfer in the show "Glee" (2011).
On an interview with the Today.com Darren pacified the rumor of his gay character by revealing his sexual preference to be straight and said:
"I think it's more empowering to everybody, including myself, if I'm articulate about identifying myself as a straight male playing a gay character, in the Hollywood. Ultimately, that's more powerful for both communities.It doesn't matter if I'm gay or straight.The real cool thing is I was inadvertently raised by the gay community.I was staying out much later than most kids after shows, going to restaurants. I was friends with older guys they were who I looked up to. It wasn't until later that I put together that they were gay."
His explanation further elaborated when he disclosed about his ongoing romance with the musician Mia Swier in June 2013, the speculation finally terminated. Darren and Mia began a long distance relationship since 2010 but only revealed about their affair publicly in 2013 after Mia migrated to New York from California. Since then Mia has forever clung with her man in events like Dancing With The Stars (2013)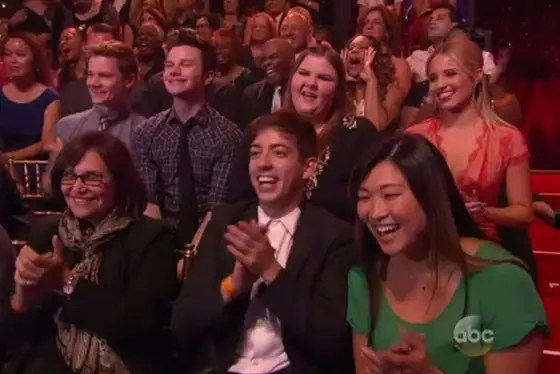 Caption: Mia Swier seated in an orange dress, at the Dancing With The Stars show (2013).
Photo Credit: newnownext.com
A year after a revelation, Mia and Darren got identified by their fans in J.F Kennedy Airport. The casual chic attire of both the paired gave a hint of their vacation while at the same time Darren got swarmed by his fan followers and lovers while Mia was spotted waiting patiently for her man to join her.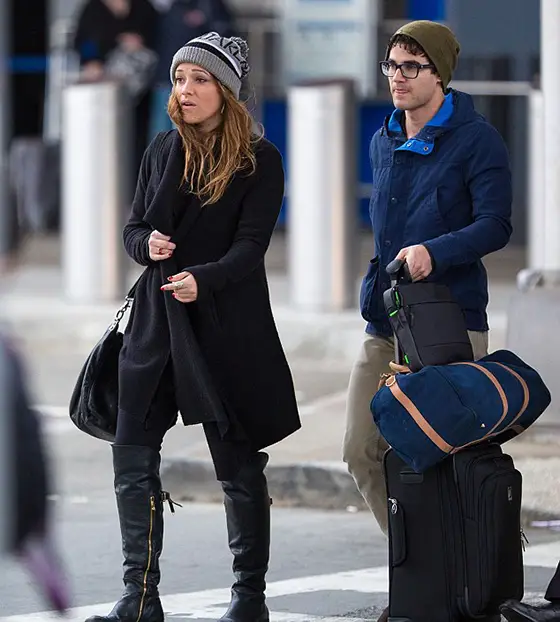 Caption: Mia and Darren at the J.F Kennedy Airport (2014).
Photo Credit: dailymail.co.uk
The relationship between the pair is surviving in its seventh year and taking a blissful leap as Darren and Mia were spotted together supporting Hilary Clinton for the historic election, in the United States of America.
The couple has not made any kind of announcement regarding their engagement nor about their plans of getting married, but they are enjoying their successful career and romantic relationship. While at the same time Darren is a family oriented man who seems to be frequently visiting his parents and was also spotted enjoying a quality time with his parents Cerina and Charles William Criss in San Fransisco at the Coventry Theater Gala.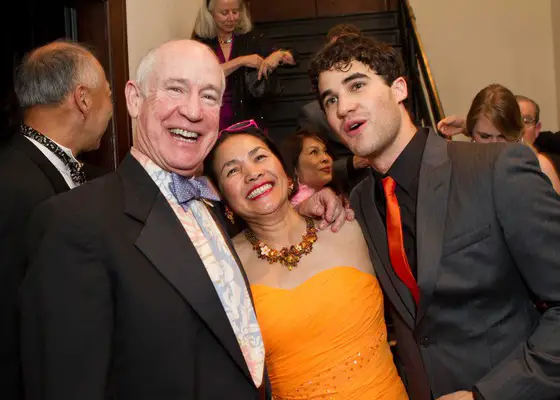 Caption: Darren Criss with his father Charles Criss and mother Cerina, San Fransisco (2012).
Photo Credit: hypable.com
Darren Criss was born on February 5, 1987, to a Philipino patron artist mother Cerina and an English investment banker father Charles William Criss at San Fransisco, California. He has one sibling, an older brother Charles Criss who is a band member of Freelance Whales. Darren before entering Hollywood attended Roman Catholic School and graduated from Saint Ignatius College Preparatory. Criss started his Hollywood career from the silver screen "East Wick" since the year 2009 and hence the actor has never turned around but has been moving ahead and grabbing success by working on popular television shows like Glee(2010-2015) and movie "Girl Most Likely"(2012).
#Mia Swier
#American actor
---