Entertainment
A Wiki-Like Bio Of Morgane Stapleton; Talks On How Her Married Life Started With Husband
Love is something that is not under our control. When we find a person perfect for us, we can't stop ourselves from loving him/her without any expectations. But we will never know whether that person shares the same feeling as we do until we express what's going inside us.
In this article, we will be discussing the gorgeous Morgane Stapleton and her blissful married life with her husband, Chris Stapleton. We will also help you to look back on the days when they met.
Morgane Stapleton's Prosperous Love Life!
Morgane met the love of her life thirteen years ago. In an interview with The Washington Post In August 2015, Morgane and her husband Chris Stapleton revealed how they met for the first time. Morgane first met her husband thirteen years ago when he was working at a Nashville publishing. During that period, she was a fellow artist and writer at a nearby publishing house. As one of the Morgane's friend worked with Chris, she visited Chris' office and waited for him to show up.
"We'd hear the jingle of his keys as he walked down the hall, and we knew he was coming to play us whatever new song he had written."
She added-
"Eventually he asked me to write a song with him, and that ended up being our first date. We didn't get much writing done that night."
Morgane and Chris, who are musical muses for each other married in 2007.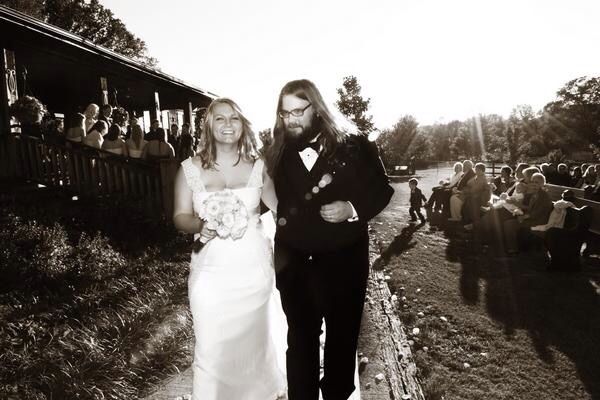 Caption: Morgane Stapleton married her lover Chris Stapleton in 2007
Photo Credit: Pinterest
The powerful couple in country music has two children together; a son and a daughter whose names and age are not yet revealed. However, in an interview with Billboard, Morgane was asked whether her kids come out on tour with her or not. She replied-
"We've started doing as much of that as we can. It's been a bit of a transition trying to figure out how to go about juggling this much work with family life because we're gone so much. But any time we can bring them out, we do."
She was also asked whether her children show the signs of being a musician or not. Responding to that, she expressed,
"[Laughs] We'll have to wait and see. I don't want to jinx it either way. Whether they want it or they don't, I want them happy. If they love to sing or drum or teach or preach or whatever they want to do, I'm all for it."
Chris had the words, "You Are My Sunshine," secretly engraved into his ring before the wedding. In an interview with The Rolling Stones, he said that it's their story. Morgane and Chris are much more than just romantic partners who draw comparisons to Johnny and June. The pair has performed many songs together on stage including "You Are My Sunshine."
Caption: Morgane Stapleton and Chris Stapleton playing "You Are My Sunshine."(Published on Nov 17, 2015)
A Short Wiki-like Bio Of Morgane Stapleton:
American singer-songwriter Morgane Stapleton is popular as the wife of Chris Stapleton. She began her career in the musical industry since 1992 and has performed in many songs with Chris and his band.
Previously, she was an instrumental in Chris' debut album Traveller. And since then she has performed harmony, background and duet vocals with her husband. Morgane has also been nominated for Country Music Association Awards in 2016 for "You Are My Sunshine." Morgane and Chris together are enjoying incredible earnings from their profession. Though their net worth is not yet revealed, it is believed to be in millions.
Stay with us for the emerging updates on Morgane Stapleton!