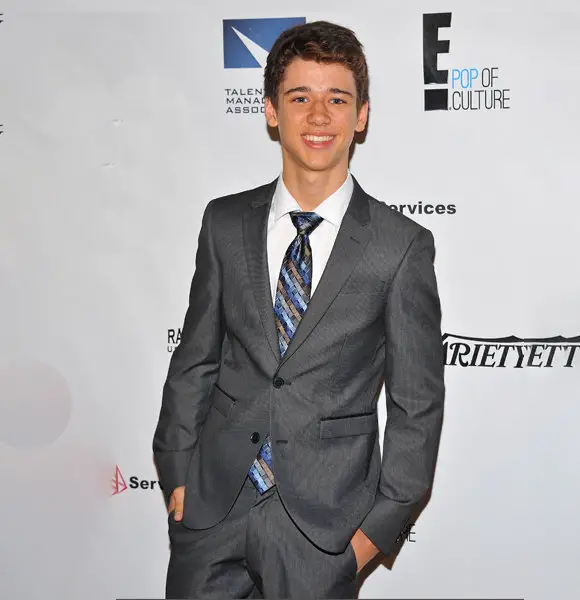 Uriah Shelton is an actor who starred in Girl Meets World as Josh, a crush-worthy character that won over the hearts of fans all around the world. 
When you have a crush on someone, you want to learn all about them. So naturally, his fans were interested in learning more about his girlfriend and dating life.
Let's find out if he is dating anyone. 
Uriah Shelton Dating Life With Girlfriend
Currently, the handsome hunk Uriah is single. However, he did have a girlfriend who he showed off to the world. 
He once was in an intimate relationship with actress-musician MacKenzie Heyman. They started dating in 2017. Even though there are no exact details about when and how they began dating, they shared quite a few lovey-dovey moments on social media.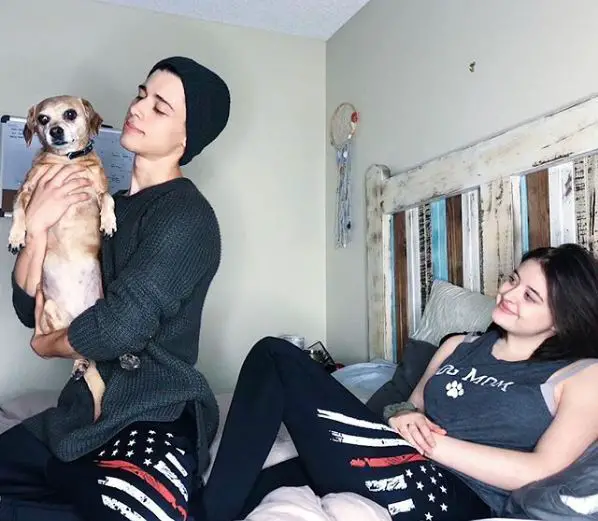 Uriah Shelton shared a moment with his lover Mackenzie Heyman and his dog on 24th November 2018 (Source: Uriah Shelton's Instagram)
Uriah was showing off his girlfriend MacKenzie to the world. But since 2018, both of them did not share any pictures, which led to suspicion that they broke up. Furthermore, if we look into both of their Instagram, we can't see their posts together, proving they broke up.
Uriah also dated another beautiful girl, Haleigh. There is very less information about how he met Haleigh, but they both met in 2016. But they only dated for a short time and broke.
However, the show Girl Meets World fans couldn't hold their excitement when news broke out that he was dating his co-star, Rowan Blanchard, who played Riley Matthews in the hit show in June 2016.
But, the affair about the on-screen uncle-niece duo turned out to be false. Instead, it was revealed that Uriah and his rumored girlfriend Rowan didn't get along. According to the 13 Reasons Why actor, he disagreed with dating Rowan. 
After sharing about not getting along with the main actor Rowan, fans quickly pointed out that Uriah had allegedly liked antifeminist posts on Instagram. On the other hand, Rowan being an outspoken feminist, their feud made sense to the general public.
Just afterward, things went downhill for The Glades actor when he was slapped with a restraining order for allegedly kicking one of his ex-girlfriends in the stomach in 2017. 
See Also:- Pooch Hall Arrested For DUI & Abuse; Drives Into Years Of Jail Sentence
According to his unidentified girlfriend, she said she was kicked in her stomach when she tried to stop him from getting into his car. 
You might think it was just a small kick, but Uriah is a trained MMA fighter, and his kick caused his ex-girlfriend to have abdominal and chest trauma, internal muscle bruising, and inflamed intestines. 
This case did not go on for long, and Uriah was reportedly ordered to stay 100 yards away from the victim.
After this incident, there have been no reports of him harming any of his partners, which shows that he has learned from his mistakes. 
More On Uriah Shelton
The American actor, Uriah Justus Shelton, age 25, was born on 10th March 1997 in Dallas, Texas. A creative kid, he took part in a talent competition. 
While actors struggled for years going from one audition to another, his performance in the competition made agencies from Los Angeles and New York City offers him roles.
Adorable Child Actor:- Jacob Tremblay Makes Parents Proud; Acting Prodigy At Age 11, More To Come
Taking up an offer, Uriah made his debut in 2007 with Without a Trace and followed it up with The Ghost Whisperer in the same year. The credit for supporting a young talent goes to his family, especially his mother, Cindy Shelton, who moved to Los Angeles with her son to help in his career.
With her support, he had roles in indie movies Alabama Moon and Blue. Uriah also acted in Kamen Rider: Dragon Knight Ring of Death, The Nanny Express, and Little Monk.
However, Girl Meets World actor Uriah Shelton's career nearly crashed when he met with an accident that caused a laceration on his face, six broken teeth, a broken femur, and the removal of a part of his large intestine.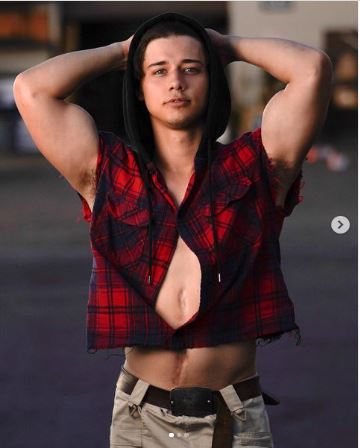 Uriah is not afraid to show his scars. (Source: Instagram)
But, the courageous actor didn't give up and bounced back from the crash with a new perspective on life. 
Courtesy of his acting jobs, the actor, a height of 5 feet 6 inches (1.68 m), boasts a net worth of $2 million. 
Currently, Uriah is focusing more on his career than his love life. But there is a slight chance he might be hiding his love from the world. 
We will surely update you guys more on Uriah Shelton in the future. Till then, stay tuned.