Entertainment
Zombieland's Abigail Breslin Happy Dating New Boyfriend While Dark Past Haunts Gruesomely
American actress Abigail Breslin has grown much since debuting in the entertainment industry as a child artist. From appearing in the movie, Signs at the age of five and tasting her nomination for the young artist award in 2003, she has done much to establish herself as a talented artist.
But success is not all Abigail gathered for her life journey notoriously includes many dating rumors and bitter of all- worst experience with her ex-boyfriend. As of now, she is an established actress, who shares a blissful dating life with a boyfriend, more like a best friend.
"Boyfriend Makes Her A Princess"; Valentine With "Favorite Man"
The 22-year-old actress has been dating, Ira Kunyansky from April 2017. The actress has kept her relationship with her boyfriend to the utmost privacy.
However, the Zombieland actress updates her social media sites with her romantic time with her boyfriend. She first shared the glimpsed of her boyfriend on Instagram in June 2017 where she remained silent on their connection. But her followers had already made speculation about Ira to be her boyfriend.
Read Also:- Jodie Marsh Hid Husband Divorce Grief Behind Weird Celebration! Break Down, Lesbian Interest Now
Also after two months of hinting at her relationship status, she was quick to call the man in the picture to be her "favorite man." She took to Instagram with the picture of Ira playing with Abbie's cat, which she captioned as:
"My 2 faves being my2 faves.❤️"
Moreover, their relationship is getting on the smooth path. They were also spotted getting cozy which looked adorable.
Since the couple has shared many appealing pictures on the internet, she could not wait to share the bigger teddy gift on social media. Her boyfriend surprised her with the big teddy bear on the 2018's Valentine's day.
Also known as the singer, Abigail claimed that she only asked for a teddy bear this year, but she got more what she had bargained for.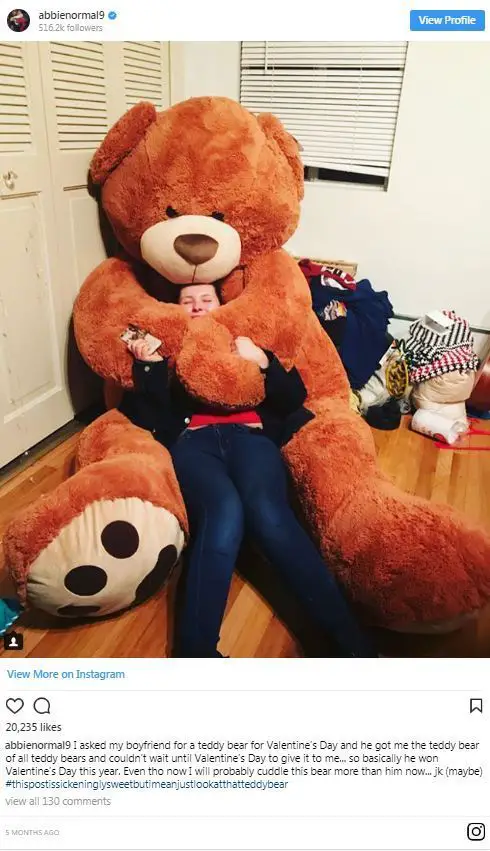 Abigail Breslin's Valentine's gift, a big teddy bear by her boyfriend, Ira (Photo: Abigail Breslin's Instagram)
In addition to the surprises and beautiful moments, Abigail and Ira completed their one year of their relationship. She posted a snap with her boyfriend of one year, referring him to be indifferent in the picture. She further described he is only his boyfriend but also a best friend who makes every moment special and makes her happier.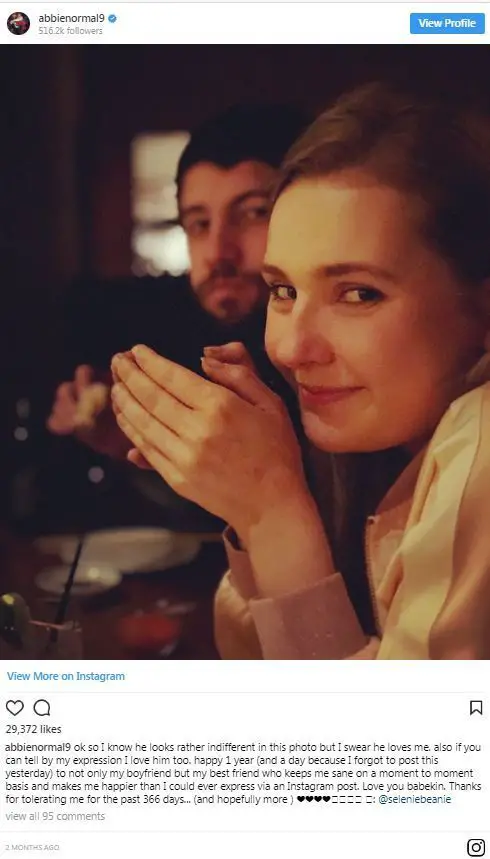 Abigail Breslin and Ira celebrated their one year anniversary (Photo: Abigail Breslin's Instagram)
Since Abigail found the qualities of a best friend engraved in her boyfriend, her followers also regard her to be lucky for getting the caring and loving boyfriend. However, before indulging into the relationship with the Ira, she had a history with the celebrity.
Multiple Dating Rumors; Exposes Her Rapist Boyfriend
If there's adorable love for the Young artist award winner actress, then she also had bitter experiences in the past regarding the relationship.
The Rango actress was rumored to be dating British actor Freddie Highmore in November 2016. Like that of Abigail, the August Rush actor also claimed the stardom of navigating as the child actor first. Despite the similarity, the couple has not come up in public with their relationship even though many sites took far to reportedly claim as the couple.
Similarly, Abigail Breslin has also shared the romantic time with The Boat That Rocked actor Tom Sturridge in 2014. Previously, she was rumored to be dating All Time Low frontman Jack Barakat in 2013. Also in the same year, she was rumored to have hooked up with 5 Seconds of Summer band member Michael Clifford in fall 2013.
You may like:- ABC's Jim Avila Keeping Old Age Love Alive! Married For Years, Family Rock Solid​​​​​​​
But the most significant headlines were made after she came up with her personal exposition which says her ex-boyfriend raped her.
In April 2018, she took to Instagram to announce the darkest reality of her life that her ex-boyfriend raped her. She shared her experience in response to a commenter who wrote, "Reported rapes are the only rapes that count," in an infographic about the rape shared by the actress on April 2018.
The Scream Queen star shared her experience in detail. She says, she never reported the rape situation to police as she did not want to tag herself as a victim, so she pretended it never happened and suppressed in herself.
Also she stated, she was in a relationship with her rapist boyfriend and also worried if he would hurt her again. She did not want her family and friends to know what she'd been through. She said:
"I knew how hurt my family and friends would be after finding out and I didn't want to put them thru that"
Well, with her bitter past relationship, the beautiful actress surely deserves the caring and loving partner like Ira Kunyansky.
Eating Disorder; Defends Selena Gomez
Well, the beautiful actress not only was involved with the famous boyfriend but also she shares a good relationship with the Hollywood queen Selena Gomez.
Selena is very much aware of the figure and body and had been flaunting her curved figure on several bikinis while vacationing in Mexico. With her attractive body, her haters came with many criticisms, to which Abigail came to the rescue to defend the singer.
She reluctantly asked the commentators to celebrate the singer instead of insulting her. The Little Miss Sunshine star, who stands the height of 5' 1" with the weight of 61 kg, had raised an emerging issue of young girls ending an eating disorder.