Entertainment
Actor Josh Segarra And His Wife Welcome A Baby Boy To The Family!
What is more beautiful feeling than marrying the person you're in love? Being parents for the first time. And for "Sirens" actor Josh Segarra, it's good news one after another.
First, it was announced that he was cast to play Adrian Chase/Vigilante as a series regular in the fifth season of Arrow and now, his wife of two years has finally given birth to their first child, son Gus Maine Segarra on September 30, 2016.
Segarra first announced the baby news on his Instagram in the cutest way possible, featuring his loving dog Suzy.
The proud new papa took to Instagram again, announcing the birth of his son and with a long caption, expressed his undying love for his son and how proud he is, welcoming a new life into the world.
Josh first met the mother of his son, Brace Rice at a friend's birthday party, about five and a half years ago and with one froyo date at a time, fell in love with each other. Josh on his statement said;
"I thought, if this girl comes and dies, she can't even make it 15 minutes, I'm not going to lunch."
He added,
"She showed up, was gorgeous and killed the class. I played the music I love—a little hip-hop, a little party music, then we went to lunch and it was fantastic. I have loved her ever since."
And after dating for a while, he married his long-time girlfriend on October 17, 2014, in a beautiful ceremony held at Carillon Beach Resort, Panama City, surrounded by family and friends.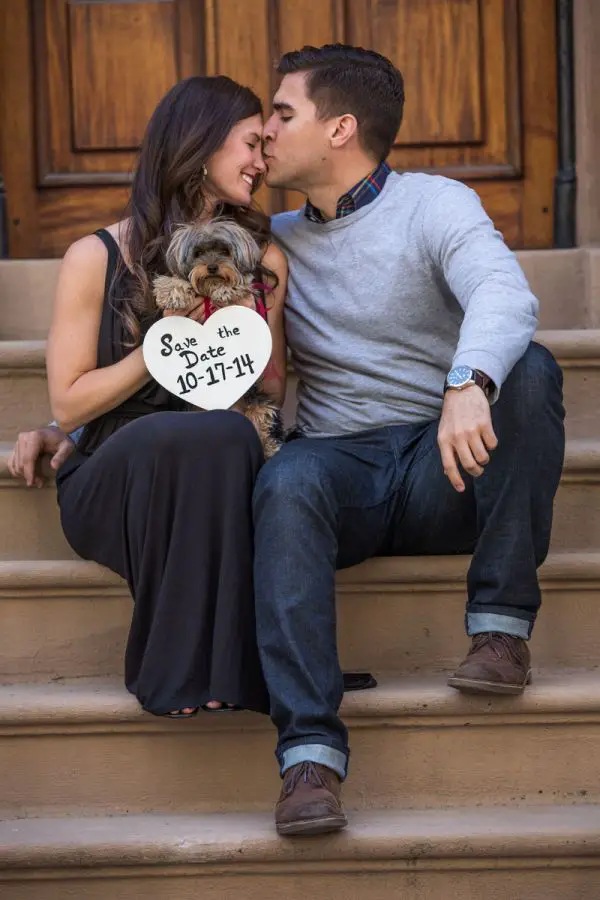 Caption: From Mr. and Miss to Mr. and Mrs. Josh and Brace posing for a picture with their dog Suzy, announcing their wedding date, October 17, 2014.
Photo Credit: weddingwire.com
More about Josh Segarra:
Besides a loving husband and father to his wife and son, Josh is a proud owner of an amazing dog Suzy, who is all over his Instagram and their lives revolve around her.
"Suzy is my precious monster. She's like big dog stuck in a little dog's body."
Josh (30) is also a hardworking actor who has appeared in some films, television series and broadways and theaters. He made his acting debut with Vampire Bats in 2005 and had made appearances in series like Homeland and Blue Bloods.
Josh was one of the main cast in 2014's Sirens and had a recurring role in Chicago P.D. He played alongside Amy Schumer in the film Trainwreck. He plays Emilio Estefan in the Broadway musical "On Your Feet!" since October 6, 2015. Recently, he got cast as a series regular on the 5th season of Arrow.