Entertainment
Attractive Actor Xavier Samuel's Dating: Get Acquainted To His Girlfriend, Affairs And More
The Twilight franchise was one of the greatest hit across the globe. This movie made lots of stars including Robert Pattinson and Kristen Steward who recently turned lesbian. But there was someone who played a role as Riley Biers in The Twilight Saga: Eclipse, Xavier Samuel.
Xavier is an Australian actor and is one of the handsome vampire twilights has seen. Previously, he was single, but what about now? Is he still on the single side or is he dating someone?
Xavier was single, but not anymore!
Xavier Samuel has managed to establish a frame and a long legion of ladies fan. But the Australian actor has failed to be struck by a single and firm relationship.
He recently spoke to Daily Mail Australia before his Q&A session for his upcoming movie, Love, and Friendship. The Australian actor also admitted that he is single and available in Market, and apparently not hesitating to date older women. Xavier, who doesn't use any social media, agreed,
"I am single, but I don't often talk about my private life,"
Meanwhile, the handsome hunk tried to keep shut about what characteristics he was looking for his partner, but he did slip out that he wanted one with a general sense of 'curiosity.'
In his upcoming movie, Love & Friendship which is based on Jane Austen's short novel, Lady Susan, Xavier portrays the character of 'toy boy' Reginald and Lady character of Lady Susan Vernon is being played by Kate Beckinsale.
An Australian-born actor even admitted that it was much fun to play the role of a younger lover in the movie. On the statement, he gave to dailymail.co.uk in July 2016, he said;
"Only in the movies... but not that I have any aversions to the idea,"
Moreover, he added:
'It's just not really happened for me... But you never know what the future holds...Love knows no boundaries.'
Jessica Gomes, an international model, went public with boyfriend Xavier Samuel in October last year. Their relationship was busted when Jessica Gomes and fellow Australian Xavier Samuel after the couple were spotted kissing in Los Angeles.
And life looks to be going accordingly for Jessica Gomes, as she spoke to The Daily Telegraph about her plans for a family. Gomes, 32-year-old said, before adding she's 'very happy' in her relationship.
'I definitely want my children to know and understand Australia,'
Moreover, she added:
'I really hope that when I have a family I can travel a lot with them and be able to kind of move around .I definitely want my children to know and understand Australia.
Caption: Jessica revealed boyfriend was asked when he will purpose!
Video Credit: Dailymail
Earlier in February 2017, Xavier Samuel made an appearance at Today's extra show. The 33-year-old Twilight star revealed as to whether he plans on proposing to girlfriend Jessica Gomes after she stunned on the catwalk in a bridal gown. He said to Today Extra co-hosts David Campbell and Sonia Kruger:
'He was getting asked all of that,'
On the other hand, Jessica added:
'He's been seeing all the press [of the David Jones runway show],
Insisting that the pair is content as they are, Jessica added: 'We're happy. We're having fun.' '
Girlfriends? Affairs? Gay?
His Past affairs?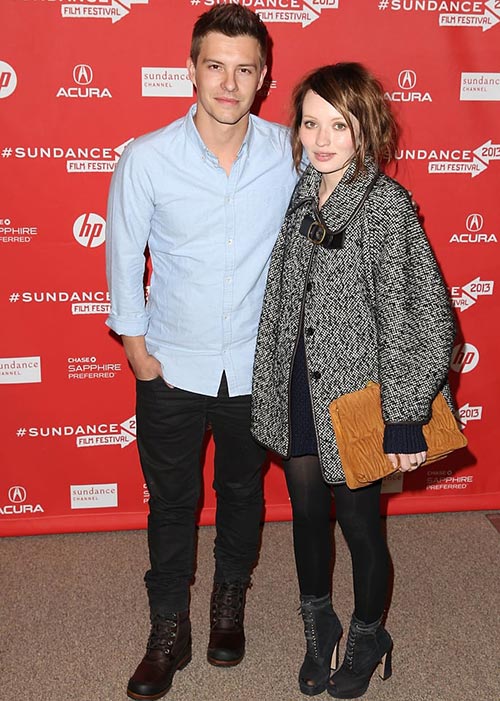 Caption: Xavier Samuel and Emily Browning at the Sundance Film Festival in 2013.
Source: popsugar.com
Xavier had dated various other celebrities including Shermine Sharivar and Phoebe Tonkin and Emily Browning. Xavier started dating Shermine Sharivar back in 2010, but the couple split in 2011. Xavier again began an affair with Phoebe Tonkin in 2011, but they split in the same year. Moreover, Xavier was seen with Emily Browning in 2012, and the couple ended their relationship in 2015. After all these relationships, we can assume that he is not gay.
Emily has been in a relationship with this guy after her breakup with Xavier Samuel. She has posted an image of her current boyfriend in Instagram.
Her Instagram posts assure one thing that he has moved on and moved on well. All the best to Xavier and Jessica!