Entertainment
Actress Sarah Greene Still With Her Boyfriend Or Already Ended Her Soon-To-Be Married Relationship?
The occurrence of a twist in a relationship is natural. Sometimes the twist comes in the form of a wedding, and sometimes the twist comes in the form of separation.
The love life of celebrities is sometimes like an illusion as they are full of twists. Some celebrities clear the air by opening up about their relationships, whereas the rest of the celebrities keep quiet keeping the public in a dilemma.
Talking about Sarah Greene's love life, her fans crave to know if she has ended her long-time relationship or is on the course to get married?
Sarah is single or was secretly engaged?
Beautiful actress Sarah Greene was in a relationship with Poldark's star Aidan Turner. The couple first met at the Gaiety School of Acting and then started dating soon after that.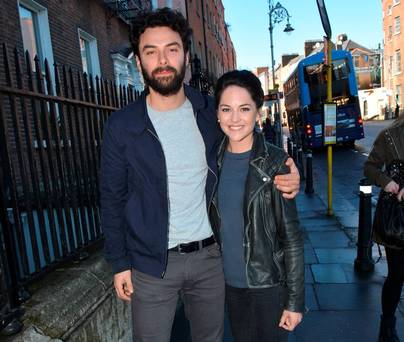 Caption: Sarah Green with her long-term boyfriend, Aidan Turner.
Photo Credit: Independent
In 2015, rumors about Sarah getting engaged to her long-term boyfriend Adian went viral all over the media, which in fact, made many of Aidan's fans disappointed.
@AidanTurner im not believin the news that youre engaged bc im not wearing a ring and im ot happy yet lmfao

— ? (@stilinskeep) March 31, 2015
As per the rumor, the couple was all set for their wedding after their secret engagement. A source even commented that the pair was so close and would be perfect as husband and wife. He spoke,
"They are a really close and happy couple, and marriage is the logical next step for them.
"Sarah is perfect for him; she's very protective. Both of them don't really go for the glitzy side of showbusiness; they're happier spending quiet evenings playing Scrabble."
But while the rumors were still circulating, Sarah and Aiden ended their affair. Sarah maintained silence regarding their break-up, whereas Aidan revealed the news of their separation with The Telegraph. However, he refused to reveal further details of their break-up. Talking about the split, he said-
"I like to keep my private life private for my own head."
"It's important to me that people don't know too much about me because I'm trying to play characters. Sometimes you see actors who are really good, but you have trouble separating that actor from the celebrity profile."
Although they are not lovebirds anymore, Sarah and her ex-boyfriend remain close friends. On April 2016, the pair attended Jameson Dublin International Film Festival where Sarah revealed they are still close. In an interview with RSPV magazine, she stated-
"Me and Aidan are the best of friends, I was in LA with him last week."
"We are still the best of friends and we ended the relationship with a lot of love, so I love him to bits."
Despite a very long relationship, although the pair failed to take their relationship to the stage of marriage, they remain best of friends till date.