Entertainment
Who Is Alyson Stoner Dating? Change In Sexuality - Preferring Girlfriend Now?
American actress Alyson Stoner is famously known for her role as Max in The Suite Life of Zack & Cody and Caitlyn Gellar in Camp Rock. Along with her outstanding acting skills, Alyson is also famous for her dancing talents, through which she has already garnered a huge fan following.
Now if you are a fan of this lady, then you would probably love to know what's going in her life behind the cameras and get familiar with her on the personal level.
So, through the following article, grab all the current information about Alyson's personal life that can not be missed!
Alyson Stoner's Personal Life In Detail!
Beautiful Alyson Stoner, who has been in stardom since a very young age, was dating the Riverdale star, Cole Sprouse at the time she was 11 when both of them were starring at The Suite Life of Zack & Cody.
Opening about her relationship with Cole on the Night-Time Show Podcast, Alyson revealed that the first boy she had a crush on and dated was Cole Sprouse. The two were cozily dating when Cole, on Alyson's birthday, ended their affair saying that their relationship was not going to work.
As for now, Cole is allegedly dating his beautiful co-star Lili Reinhart while Alyson seems to be not interested in making boyfriends. Well, not to be mistaken, it is not due to her childhood love failure, but probably because Alyson has found herself to be a lesbian.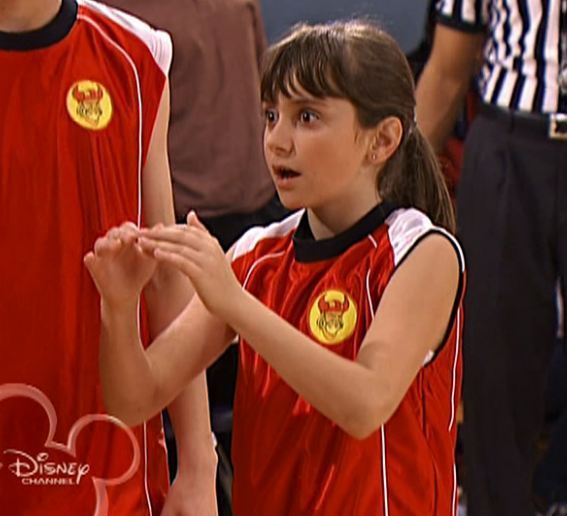 Alyson Stoner at the set of The Suite Life of Zack & Cody (Photo: teenidols4you.com)
Yes, Alyson herself accepted the fact and even have spoken openly about her fluctuated sexual orientation. In an essay written for the Teen Vogue in 30th March 2018, Alyson penned her emotions regarding how she fell in love with a lady dance instructor she met at a dance workshop, and how it helped her re-define her identity.
The poignant essay reads that Ayson felt intimated and mesmerized when she first saw her instructor, and soon with the sway of the time, she found herself experiencing feelings she never felt before.
She walked toward me to correct my form. My heart raced wildly and my body grew hot. Was I breathing heavily from being out of shape? Her smile was the most electrifying thing I'd ever seen.
Alyson further detailed her experience saying that after the dance class she texted her mother and best friend to tell she met a woman whom she thinks will be for a long time in her life. The pair started elaborating their friendship through texts and meetings before finally cuddling and sharing kisses with each other.
But Alyson, who got fantasized with the presence of the woman in her life, had her barriers of faith and religion. Alyson, through her heart touching words, admitted that she took years extended therapy with her pastors to figure out the source of attraction she had for women.
Moreover, Alyson mentioned that her stardom as a celebrity and of course her dignity too made her hesitant to open about her sexuality. Being told that her career and all her life accomplishments would fade away, Alyson concealed her feelings until when her woman, whose name she has not revealed, inspired her to discover her true self without judgment.
Afterward, Alyson openly quoted that she is attracted to a soul that can belong to any gender and said that love and support is the most important thing that makes sense in a relationship. Alyson even encouraged other people to be open and be proud of their identity. She quoted:
if you're questioning or struggling with your sexuality, gender identity, or anything else, know that I and so many who've gone before us are with you. Whatever your identity, you are lovable and wonderful and enough.
Alyson's latest single, "When It's Right" was released on the same day her essay got published. The song, inspired by Alyson's woman, tells about Alyson's experience of falling in love with someone and knowing that it is right despite the world opposing it.
Alyson, who had her early reign in the entertainment world, has released numerous music videos played in about 50 movies and had several animation voiceover roles.
With a strong dedication, Alyson has accumulated a healthy amount of fortune that helps make her net worth, which currently stands at $1.5 million.