Entertainment
Amanda Crew Might Just Be Dating! Who is Her Partner-in-Crime Boyfriend?
Falling for a certain person is natural and is not in one's hand. We meet different people on this journey, and somewhere in between, we might find a person perfect for us. However, not every person is lucky to meet the special one on this journey.
Most of the people prefer maintaining privacy in their love life and in the context of celebrities, their dating affair is usually open. And the actress from Silicon Valley, Amanda Crew has fated with the same destination as she seems to be one of those who found her soulmate while she was busy inclining her acting career.
Amanda Crew Finally Flaunting Her Dating Affair
The beautiful actress of 'Silicon Valley,' Amanda Crew has been very private when it comes to flaunting her love life. When asked about her boyfriend, she has always managed to remain silent in an impressive way.
Back in 2013, Amanda bemused us by sharing a picture with Lego on Instagram where she mentioned it as her boyfriend. The actress captioned,
"I'll never Lego of my boyfriend."
Though Amanda was successful in confusing her fans by sharing a photo with her Lego boyfriend, she has been active in exhibiting her relationship with her co-star Dustin Milligan, which hints their possible love affair. The 31-years-old actress is usually seen talking about Dustin or posting his pictures.
The pair has not just appeared in movies together, but also has been seen in different social media posts. On July 28, 2015, Amanda shared a picture of Dustin on Twitter wishing him his birthday.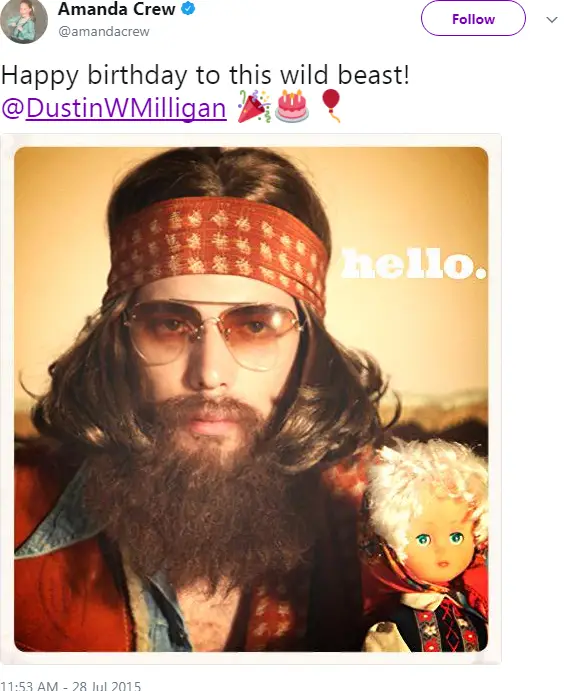 Caption: Amanda Crew wishes Dustin on his birthday on 28 July 2015
Photo Credit: Amanda Crew's Tweeter
Their closeness was not only for the year 2015; it enlarged more as time passed. Being co-stars, the pair made many public appearances together. They even attended Emmy Awards back in 2016.
Amanda and Dustin are not just co-stars and friends but seem to be a couple enjoying a romantic relationship. And their relationship was confirmed in September 2017, after the pop duo, Aly & AJ tweeted saying that they are lucky to call Dustin's girlfriend Amanda their beloved victim.
Amanda and Dustin together have appeared in the movies like Final Destination 3 (2006), Repeaters (2010), Sisters & Brothers (2011), Ferocious (2012), and Bad City (2014). And even after appearing in a number of movies and making several public appearances, the pair hasn't been open about their relationship. Neither they have talked about their plans for getting married.
Amanda Crew's Short Bio:
Beautiful actress Amanda Crew was born on 5 June 1986 and grew up with her legal secretary mother and telecommunication worker father. Born in Langley, British Columbia, Canada, Amanda Crew attended Brookswood Secondary School in Langley.
Her acting career started long ago when she was in her fourth grade in elementary school. She then appeared in the musical,"Dragon Tales." Likewise, she performed in a Coca-Cola commercial and acted in stage plays like "Stalling," "Cardston Courts," and "Langley, the Musical." To flourish her acting skill, Amanda attended the American Academy of Dramatic Arts.
As an accomplished actress, she went through a lot to achieve the success. In the start of her acting career, she limited her diet to have a perfect body, and by the age of 21, she was deep into an eating disorder.
However, Amanda recovered with a lot of therapy, and now after 11 years, she wants to encourage the young girls that self-love is necessary and rather on outer-appearance, they should focus on their brains, creativity, and passion.
Well, she is now a confident actress. Following her debut in the movie, Final Destination(2006), she is best known for her work in the film, Silicon Valley. In 2017, she appeared in the films like "Table 19", "A Crooked Somebody," "Isabelle" and "American Murderer."