Entertainment
Lewis Hamilton List Of Dating Affair, Each Girlfriend Gives Heartaches; Latest?
On the night he got crowned Formula 1 Champion for the fifth time, Lewis Hamilton didn't indulge in any form of excess to mark the momentous occasion. But instead, the Mercedes driver opted for a quieter time as he mourned the loss of his grandad.
All in all, the year 2018 proved quite a blessing for Lewis. From starting a clothing line to collecting colossal net worth from the championship win as well as endorsements, the Hertfordshire native's net worth reached unprecedented heights in a matter of a year.
Has the success permeated throughout the romantic aspect of his life as well? How close is he to turn his girlfriend to a wife? Read along to find out his detailed dating history as well as his relationship with parents!
Present Girlfriend To Be Wife?; Lewis Hamilton's Dating History
At age 33, Lewis continues to live by his "playboy image" to the fullest!
The latest woman to fall for the F1 racer's British charm is none other than the Queen aka Nicki Minaj. Initially pictured together in September 2016, Lewis and the Moment For Life rapper, age 36, ignited the dating rumors when they attended TommyxLewis Launch Party held in New York in September 2018.
Nicki Minaj Love Interest:- "No Love" Singer August Alsina Princess Daughter, Not From Girlfriend Or Dating Affairs
Suffice to say that the duo's relationship has escalated since then. Whether it's sharing the hotel or vacationing in Dubai, they look poised to become the next "it couple."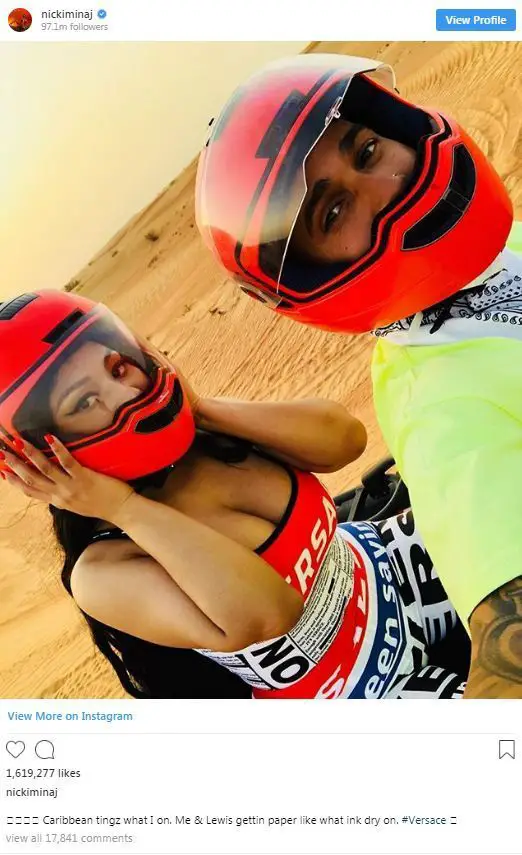 Lewis and his girlfriend Nicki Minaj enjoy a vacation in Dubai on September 2018 (Photo:- Nicki Minaj's Instagram)
But as far as upgrading their relationship to that of husband and wife go, it is less likely to come to fruition anytime soon. 
All because, for the 33-year-old, his girlfriends will always have to play second fiddle to his passion for speed cars -- an attitude which led to the breaking off his engagement from girlfriend-turned-fiancee Nicole Scherzinger.
Between 2007 and 2015, Lewis and the Pussycat Dolls front lady became a constant source of gossips because of their tumultuous nature of dating. Since parting ways, the latter has been dating tennis ace Dimitrov Grigor.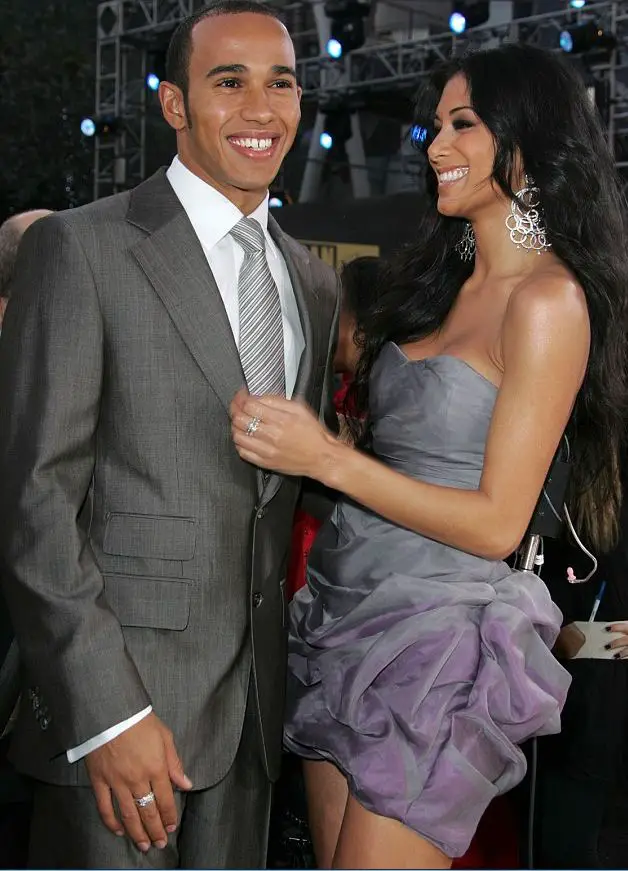 Lewis attends an industry event with his wife-to-be Nicole Scherzinger back in the olden days (Photo:- thesun.co.uk)
The five-time F1 champion, for his part, has ventured into a dating spree of a sort. His list of conquests runs long & includes famous faces including socialite Sofia Richie, models Winnie Harlow & Barbara Palvin, as well as songstress Rita Ora.
More On Barbara Palvin:- Dylan Sprouse Reportedly Dating! Girlfriend Barbara Palvin, Caught At Event
As for his relationship before Nicole, Lewis dated not one but two beauty queens, namely Lotta Hintsa and Vivian Burkhardt. Going further back in time: before bursting into the F1 scene, he was madly in love with his childhood sweetheart, Jodaia May for four years before their split in June 2007.
Now, Is his parents' failed marriage to blame for his erratic dating life?
Lewis Hamilton's Relationship With Parents; 2018 Net Worth
Raised in a single parent household, Lewis shares an excellent relationship with his mother, Carmen Larbalestier; His father, on the other hand, not so much.
When he turned 13, his mother shipped him off to his father's to stay with his dad, Anthony Hamilton, step-mom, Linda and half-brother & fellow racer Nicolas. Some thirty years on, his parents - who parted ways when Lewis was still a toddler - appeared to be relatively on good terms.
In 2015 interview, referencing the managerial split from his father - who acted as his manager - taken place five years earlier, he explained:-
"It had to be a hard break at the time. That bridged a gap between us that was, like, the Grand Canyon."
At the time, the division may have dampened their relationship, but in hindsight, it proved to be the right decision. Since sacking his father from the managerial role, Lewis has gone on to win four more F1 world championships.
Interesting:- Aquaman Clobbers Box Office! Late 2018 'Billionaire' Movie Reviews
Apart from being one of the most decorated athletes in British history, he is also easily one of the wealthiest. Boasting a reported net worth of $164 million, the Mercedes driver pockets a staggering $50 million in salary per annum as per his most recent contract.
Outside of his endorsement deals with popular brands including IWC, Monster Energy Drinks, L'Oreal, Bose, Puma, MV Agusta Motorcycles and Bombardier Recreational Products, Lewis' newest clothing line - a collaborative effort with US designer Tommy Hilfiger released in 2018 - TommyXLewis is likely to be the driving force behind his burgeoning net worth.