Entertainment
Amazing Trumpeter Chris Botti Brings His Trumpet's Vanquishing Stockpile to Orchestra Hall on Minneapolis Tour!
You know who rocks with a trumpet all year long. We're not talking about Jason Derulo's Trumpet song. We are talking about a trumpeter famous for his round the year tours and skills. Chris Botti is a renowned trumpeter and composer, and today, we will be talking about his winning repertoire to Orchestra followed by his married life and dating history.
The Minneapolis Tour:
On November 18, Friday night at the Orchestra Hall in Minneapolis, Chris Botti helped on getting most of the seats get occupied with his music and as we say it in a metaphorically, 'killed the show.' Botti presented a 90 minutes performance; a dramatic crystalline rendition of 'Concierto de Aranjuez' by Spanish composer Joaquin Rodrigo.
In addition to that iconic piece of music, he played one of his hit ballads which after some notes, Botti fans instantaneously recognized. The mix quickly followed brassy midrange riffs over a funky electric tune showcasing the group's drummer, Lee Pearson.
The 54 years old also honored Leonard Cohen, a singer-songwriter who recently departed by playing Cohen's signature piece "Hallelujah" while spotlighting guitarist Ben Butler.
Caption: Chris Botti Concert, Nov 2016 - Minneapolis
Chris Botti: Dating? Married?
The Grammy Award-winning trumpeter as we know is not a married man and surely, does not have a wife, but amid of his busy schedule and all the tour hours, he did take the time to date some women. In 2012, Brandi Glanville from Real Housewives of Beverly Hills revealed that she dated Chris Botti and they didn't sleep together but did have a fun time. She said,
"Clearly her misinformation wasn't taken to heart because I did eventually have a date with the handsome Chris Botti, and NO we didn't sleep together, but we did have a super sexy fun time. Sadly for me he is always traveling or working, but we do keep in touch and are friends."
Moving on from Brandi Glanville, Chris Botti also dated Katie Couric few years back, but again his tours and shows came in the way. Chris revealed that he remains good friends with her and also revealed how he cannot have relationships; not because he is a gay man or anything else but because of his work.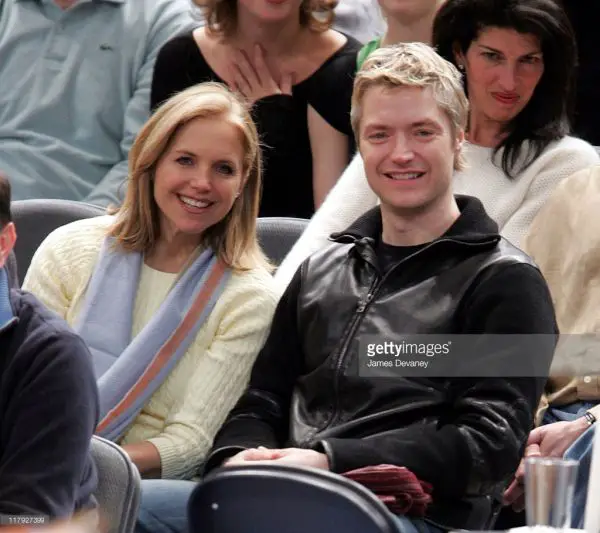 Caption: Chris Botti with Katie Couric at a basketball game in New York on 2006
Photo Credit: gettyimages.com
Chris even stated,
"That's very difficult—very, very difficult. Its fun if you just want to go have dinner with someone, be superficial, but a couple of times I've gone out and it's been really great, and the woman will be like, 'You're coming back when?' So that's been really hard."
He further explained how some of the musicians who get married are not being honest with themselves and said,
"I think a lot of musicians and actors get married, and they're not being honest with who they are or what they want, to have another person share in their life. This is hard for me to say in an interview but I think musicians at the core are selfish. The other person has to know that."
Now we know why Botti does not have an extensive list of girlfriends.
Botti On Tour and Net Worth:
As his past girlfriends explained how busy man he is, regarding his work, Chris Botti is again on tours starting this December 4 and is entirely occupied till the first week of May. In his entire career, Chris has earned himself a fortune from his shows and the 4+ million copies of his CDs that he sold and even from his concert tickets. Right now, he has a net worth of $8 million, and that is set to escalate with his current tour.