Entertainment
Angela Rye Does Not Have Boyfriend And Thanks To Her Metaphoric Married Life With Career; Blasted TSA For Misbehaviour
Angela Rye is a fizzy character, one not to take no for an answer. Reasons for her determination could be because of a man in her life she is hiding or perhaps she has given up on love that makes her such an amazing attorney.
As we go through her personal life, we unfold the mystery of what make her tick and to whom she has been dating recently and a particular incident that involves lawbreaking, more to read ahead.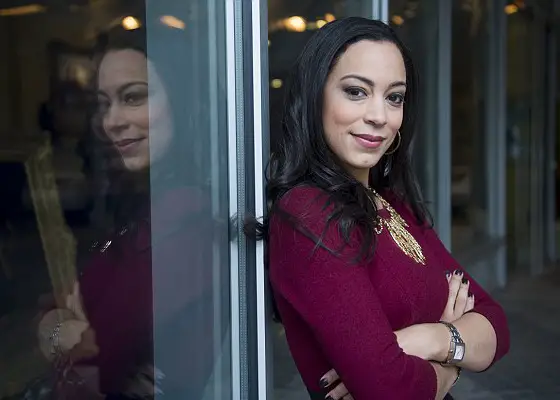 Caption: Angela Rye the CNN commentator and an NPR Political Analyst.
Picture Credit: dailymail.co.uk
Speak First, and Ask A Question Later is the name of the game for Angela here, an NPR Political Analyst who is good at her job but not so much upfront in her personal life.
With no information if she has ever dated or is dating anyone, (even at her high school) or if she is married, at least having a boyfriend would be appropriate at this point but none of that sort is given the only love she has is for her work and her work alone.
As for the law breaking, it was not Angela breaking the law rather a TSA officer misusing her right to check her. This one of her recent endeavor that involve a very loose pat down which had to happen on 15 December 2016.
She has said she was very upset about the fact she was humiliated during the process of the pat down and before the actual pat down she was comfortable and relaxed saying;
"I'd grow Randomly selected for additional screening? Child, please -- not "Diamond on Delta" me. So when I was selected in a nearly completely empty Detroit Metropolitan Airport last night, I thought it was ridiculous. I have grown accustomed to breezing through the security screening process in five minutes or less."
During which she had to deal with the progress of walking towards the metal detector to the backscatter X-ray machine. After which the TSA agent told her to spread her legs and asked why she had put her legs further than the suggested yellow feet imprint.
What happened next was the backscatter machine alerted to her right boot, three areas near her private area and one near her back, she knew she was about to be checked next she said,
"I didn't care about anything but one place on my body. I said in complete disbelief: "You know you aren't patting down my vagina, right? Like that's NOT happening."
The TSA officer said that her superiors insisted on the pat-down unless said otherwise and insisting again she refused, demanding the supervisor but either way she was not getting on without a pat down. Saying;
The pat-down began and was uneventful until she went down my leg, up my dress, and her hand sideways hits me right in the crack of my labia. Startled, I jump and feel a lump in my throat trying to hold back tears.
She added
She comes around to the front; I grow nervous and pull back a bit, afraid of the same thing happening -- and her sideways hand hits in the middle of my genitals again. I can no longer hold back the tears. The officer drops the phone to his waist. He tells me he is going to write up an incident report.
She had ended with a few words in mind, as she demands,
"Things don't change unless we ask questions and demand answers. We do not have to do something because it's always been done -- that does not make it right. Perhaps it's time for the TSA to invest in new equipment. It is definitely time for them to keep their hands away from vaginas."
The People who raised her!
She has not talked much about having a boyfriend, but she has made some effort towards the people who made her who she is today, her parents.
She comes from an extensive background of political history as her father being a community organizer and a small business consultant and her mother a retired college administrator. Nurturing the best quick-witted woman CNN has seen.
Angela Rye is a thirty-seven-year-old attorney who just recently joined C.N.N. She graduated from University of Washington and Seattle University School of Law and now is CNN political commentator and served many other publications such as Marie Claire, Ebony, Washington Post, C-Span, HBO, BET, The Root, The Grio, MSNBC and much more. Her long run career should be giving her a large collective net worth, but there is no official information about her exact net worth. Angela's salary is another mystery with no given data.