Entertainment
CNN Leyla Santiago Bio: Husband Finally Revealed; Height, Salary & More
CNN correspondent, Leyla Santiago is one of the few courageous reporters to have worked during natural calamities and disasters. 
Mostly secretive about her personal life, Leyla's married life came into focus when one of her co-workers spotted her husband during a live broadcast. The Puerto Rican native, whose bio reveals her as a hard-working and efficient person, now leads a loving relationship with her beau of years. 
Take a look at her private life along with the details of her age, birthday, salary, height, family, and more!
Husband Revealed On Live TV; Married Life Is A Blessing
Leyla's married life revelation first came through reporter Cambi Brown, who captured Leyla's husband Zac shopping for iPhone on live television. Cambi spotted Zac waiting in line for the opening of the iPhone 4s, while she was talking to Leyla who was on the sets at the time.
Discover:- Sara Shookman Wedding Vows Intact With Husband Who Proposed On Yacht?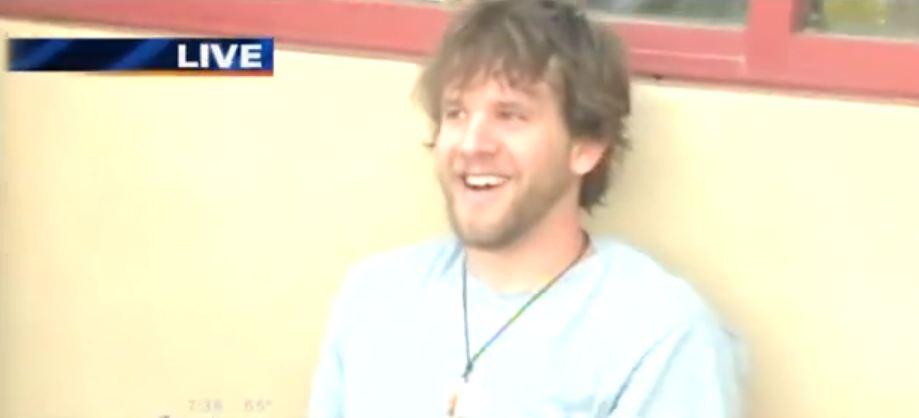 Leyla's husband Zac spotted on Live TV (Photo: Vimeo.com)
Later, Leyla posted a tweet directed towards the reporter mentioning that Cambi had ambushed her husband and even asked her followers to get to know Zac.
"EVERYONE... Please meet my husband Zac. @CambiBrown just ambushed him at AT&T LIVE on KBFX.."
Leyla, who lived in California in 2012, revealed the details of her married life sharing a tweet in which the TV correspondent mentioned that she and her husband were living a family life without any kids and pets.
"@yeswacki_ Loved Alaska, but have since moved to Cali. Married. No kids. No pets. Travel. And, made Harry Belafonte fall asleep (google it)"
Similarly, the Puerto Rican native is known to flaunt her romance through social media posts.
On 23 December 2015, Leyla shared a Facebook post revealing that her husband had given her an early Christmas gift, a vanity for her bathroom to be precise. She wrote on Facebook,
"Early Christmas gift from my super talented husband. Zac built me a new vanity for my bathroom. He chopped down a tree in our yard and used scrap wood. Then, he found a huge rock near the creek and made a sink out of it. I think it's AMAZING and I know I'm one lucky gal! I got him a new coffee machine. (Sigh)"
Recently for Valentine's Day 2018, Leyla gifted her husband Zac a coffee with a sweet message on it, "Be My Valentine."
Don't Miss:- Ricky Garcia Spent Valentines Without a Girlfriend! Desolated by Past Affair?
While Leyla's married life has been a joyful ride for her, the same can't be said about her family as they experienced a catastrophic event back in 2017. 
When Hurricane Maria hit Puerto Rico in 2017, her parents were still residing in the nation. Although Leyla's family was marked safe during the disaster, a lot of properties and lives were destroyed which has affected the country's economy to this date.
After the calamity struck, Leyla traveled to her native land and met her parents. It was a painful reunion for her as she never expected to see her family devastated. However, Leyla's family is safe now and trying to proceed with their regular day-to-day life.
Leyla Santiago's Bio: Age, Birthday, Height, Salary, And More
Leyla, who works as a CNN correspondent for Mexico City, first joined the news network in October 2016. For her work there, she is paid a salary ranging from $95,390 to $121,905 and averaging an annual salary of $109,633.
More From LiveRamp Up:- Real Madrid Ex-Coach Zinedine Zidane Age 46 Shocking Salary & Net Worth!
Before joining CNN, Leyla worked as an anchor-reporter for WRAL network located in Raleigh, North Carolina.
During her tenure at WRAL, the reported along with her team had won the prestigious award "Alfred I. DuPont" for their documentary titled The Journey Alone which was based on the lives of unaccompanied minors traveling to the states as illegal immigrants.
Leyla, who stands at the height of 4'11.5" and celebrates her birthday on 12 July every year, has also been praised for work traveling and reporting from Puerto Rico during the 2017 Hurricane Maria. Her bio suggests that she has also previously worked for other news networks including KBAK/KBFX, NBC29, and KTUU.