Entertainment
Ann Coulter Denies Having A Boyfriend !Is It Because She Shares Gay/Lesbian Sexuality?
When you are a public figure, you are frequently linked with several rumors and those rumors could be about your dating life as well as your sexuality. The same can be said about American conservative social and political commentator as she has been linked with dating and have a boyfriend in her life, and some even call her a lesbian. So let us see what the actual truth is.
Any The Dating Rumors?
Those who are up to date with what goes around in Ann's life, in general, might know that she was once linked to the rumors of her dating Good Times alum Jimmie Walker. It was a claim that was made by legendary sitcom producer Norman Lear earlier this year. Lear said,
"I love [Walker]; he's a wonderful guy, but I'll tell you something about him that'll astound you: He dates Ann Coulter,"
But the political commentator herself denied this allegation.
She took over her Twitter to deny this assertion of her dating and sharing a boyfriend-girlfriend relationship with Jimmie Walker.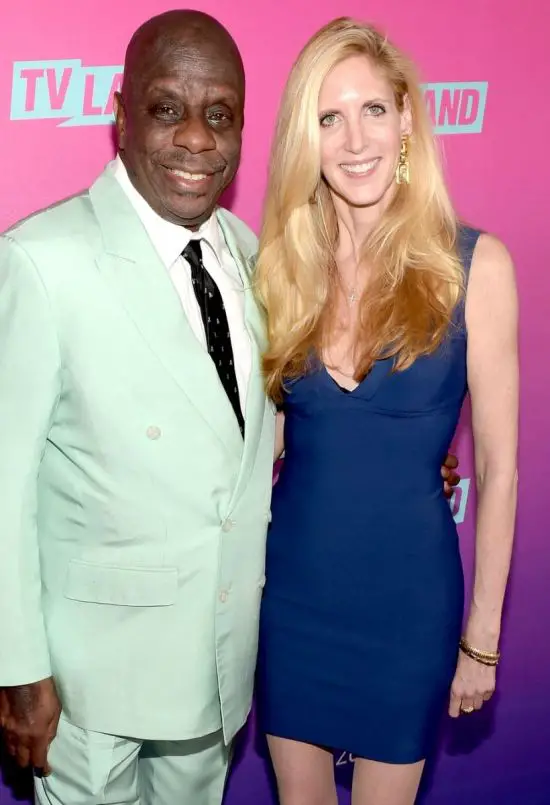 Caption: The closeness between Ann and Jimmie led to people speculating them about their relationship.
Photo Credit: liverampup.com
The closeness between the two led to people thinking about their connection but now that she has come forth to reveal that there is no romance between them, the rumors have subsided.
Is she a Lesbian/Gay?
Now that she has denied her dating Jimmie, people also question her sexuality, wondering if she is a lesbian. There have always been speculations of her being a lesbian and the biggest claim was made by Rachel Maddow (who is a lesbian too), who said she is a lesbian and is her ex-girlfriend. Maddow currently is in a relationship with her girlfriend, Susan Mikula. But the claims from Maddow has indeed raised major eyebrows on her sexuality.
Uploaded on Dec 7, 2008.
But Ann herself has not confirmed what her real sexuality is, and thus, no major conclusion can be reached in this regard at the moment.
However, Ann has always been pretty vocal about gay people and the love life of LGBT people. She is not a fan of same-sex marriage, and that is what she says. Well, she does not speak about her love life, but she talks about the love life of others. Interesting!
Moreover, for those who question if she is married and has a husband, well, like we previously said, she has not revealed any critical information in this regard as well. So, the answer might be only with Ann herself.
Ann Coulter was born on December 8 of 1961, in New York City and is professionally an American conservative social and political commentator. She is controversial, but she is quite good at her job which is why she has been paid a hefty sum of money in her professional career. As a result, she has a boasting net worth of $8.5 million.