Entertainment
Artem Chigvintsev Is Not Gay And Doesn't Have A Wife Either! But He Does Have Plenty Dating Affairs
Another handsome, big name in the entertainment field is being rumored to be "a gay man," just like the case with Matt Gutman(who is now cleared) and David Muir.
Right from the start, we claim that Artem Chigvintsev is not gay and also, does not have a wife – not now!
The 'Dancing with the Stars' star may not have a girlfriend right now and not be married, but there's a massive load of gay rumors on him that he is just sweeping away with his dating affairs and substantial evidence that might just sweep you off of your feet.
First Off – Artem Chigvintsev's Dating Affairs!
Artem Chigvintsev, a Russian-American professional dancer, has had a lot of dating affairs that can single-handedly crush all the gay rumors. The dancer who always has a woman as his dancing partner on TV screens has dated quite the desired ladies. Here's a list of them.
Carrie Ann Inaba
Artem Chigvintsev previously dated Carrie Ann Inaba, the 'Dancing with the Stars' judge for about 2 and a half years. The couple, who started dating in 2006, had a beautiful romance that came to an amicable end in 2008. Carrie revealed in a 2009 interview,
"I'm single. Artem and I broke up in the beginning of November. As much as our relationship was really good. It was very sad to let go of something that was so good on so many levels."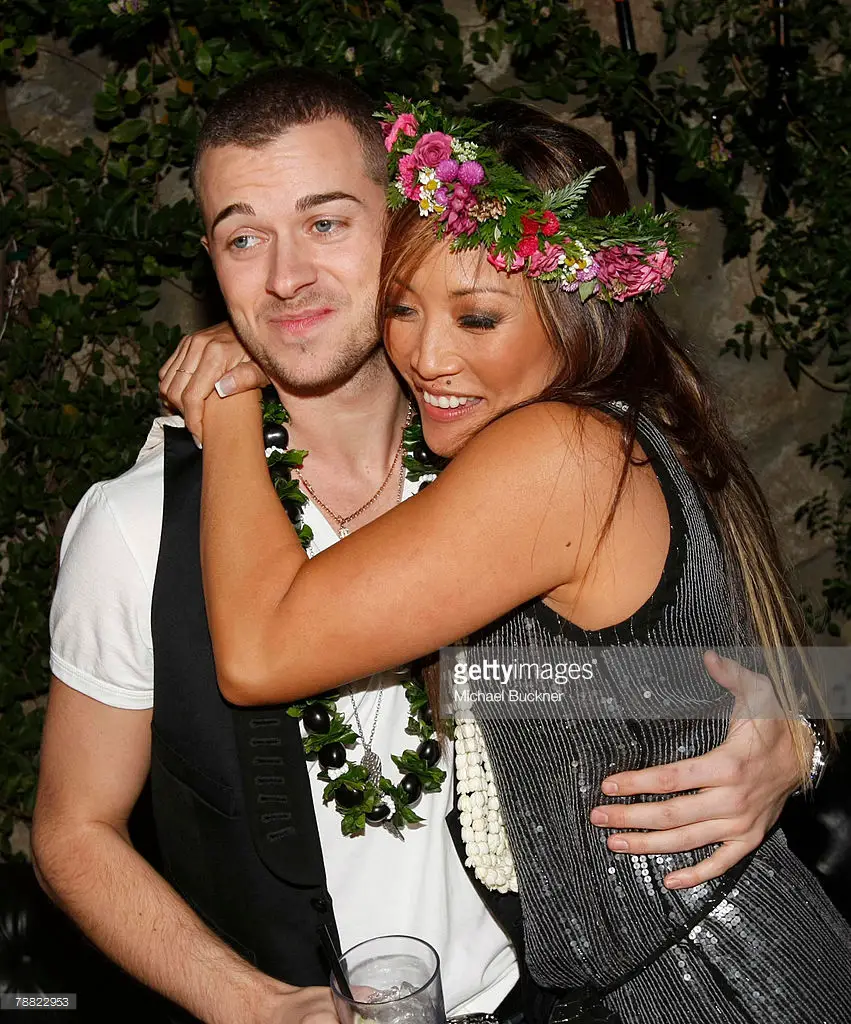 Caption: Artem Chigvintsev with ex-girlfriend Carrie Ann Inaba, celebrating her birthday in 2008
Photo Credit: gettyimages.com
The couple parted in friendly terms, and Carrie had some words of honesty for her then love and described Artem as,
"A fine gentleman. I have never gone out with somebody that grounded, always ready to talk it out. I'm very happy for him and the success he's having."
Kara Tointon
After amicably ending with Carrie, Artem started dating his dancing partner Kara Tointon from 2010. The couple, however, could only hold their relationship for a little over three years, as their split was announced on 2014 by Kara herself.
She said after keeping mum for a reasonable period,
'We are not together. We're fine, but we aren't a couple any more. The reason I haven't spoken about it is because I hate reading about myself in that way.'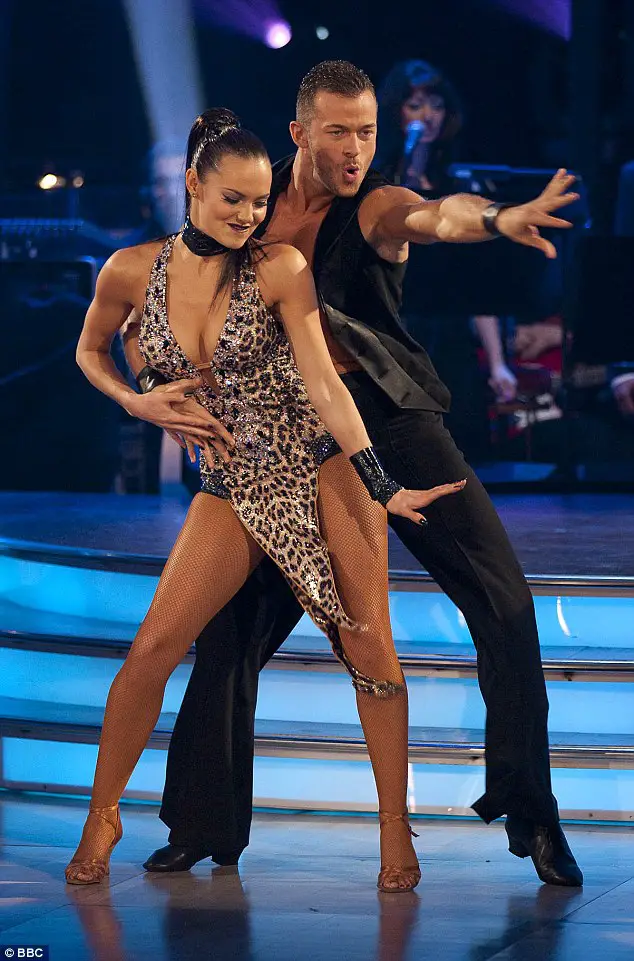 Caption: Artem Chigvintsev on stage with then Girlfriend Kara Tointon.
Picture Credit: Dailymail
Some call for privacy!
Torrey DeVitto
Artem most recently dated actress Torry DeVitto. The couple started dating in 2016 as their dating affair got confirmed after being spotted affectionately at Philosophy Hope & Grace Luncheon for Mental Health Month in L.A.
However, almost a year later, news of their split hit the media in May of 2017.
A source stated,
"Torrey broke up with him about a month or two ago, and Artem is pretty bummed about it. Torrey was over the relationship and the distance was a lot for them to handle. She has been in Chicago filming Chicago Med while Artem is in Los Angeles for Dancing. Distance was a main factor."
Not Now But Artem Was A Married Man!
We know, this has come out of nowhere but yes, Artem was once a married man, and unlike his dating affairs and relationships with girlfriends, his married life with the wife was a very short-lived one, as he split with her just eight months after getting hitched.
Artem got married to a ballroom dancer by the name Giselle Peacock in 2004. The revelation of his married life and perhaps what could be the other side of the flawless dancer Artem Chigvintsev came forth after his then-girlfriend Kara Tointon described him as a 'generous man.'
Giselle expressed on the matter,
"He was a sweet, skinny Russian boy when I met him but he became more and more obsessed with fame, success and money. Kara can have him. She's welcome to him."
Giselle claimed that Artem was a fame-obsessed person and only saw the possibility of fulfilling his thirst for success in marrying Giselle, who allegedly supported him when he had no money or place to live.
"He saw living in America as the fastest way to achieve his dream of becoming a huge success. Artem didn't have anywhere to stay, so I took him to my dad's house in California where we shared a room. He had no money so for the first eight months I supported him by buying all his food, clothes, dance classes and entertainment."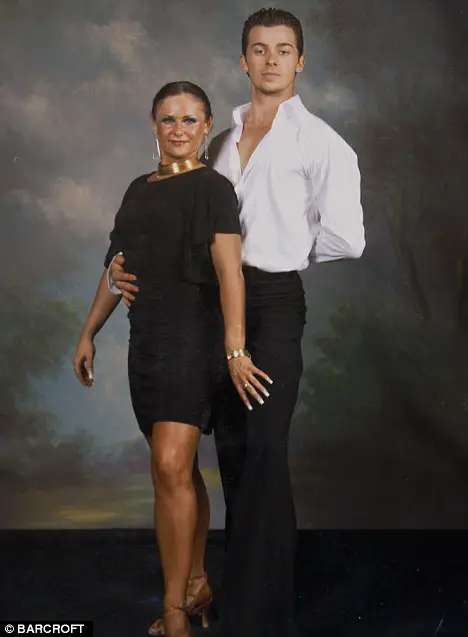 Caption: Artem Chigvintsev with then-wife Giselle Peacock
Picture Credit: Dailymail
Giselle's married life with Artem started a swamping countdown of the end after the couple auditioned for a show in 2005; the show that is now known as DWTS. She revealed that he got selected and she did not, and that changed everything.
"It instantly went to his head. I went home and Artem never came back. He literally disappeared out of my life and started staying with a friend. He stopped taking my calls. He never even went back to my dad's house to pick up his clothes. I was left to pay his outstanding bills and cancel dance lessons he had scheduled with his students."
It was after months that Giselle lost hope on her married life with Artem and asked him for a divorce over a voicemail.
"When Artem and I got married I believed it was for love. But for a long time after we split up I questioned whether underneath it all he was just looking for a Green Card, which is easier to get if you're married. In the end all I could do was leave him a voicemail message saying, 'As you won't talk to me, I thought I'd let you know that I want a divorce'.
Artem, who had already started dating DWTS judge Carrie Ann, didn't sign the divorce papers prepared by Giselle's father before November of 2007. Giselle said,
"To this day I don't know what the delay was."
Artem is currently in the season 25 of DWTS with dancing partner Nikki Bella, a professional wrestler. Dancing with the Stars Season 25 premieres on September 18 at 8/7c on ABC.
Stay with us for more updates on Artem Chigvintsev!