Entertainment
Artem Chigvintsev Is Not Gay And Doesn't Have A Wife Either! But He Does Have Plenty Dating Affairs
The Dancing with the Stars alum, Artem Chigvintsev appeared on the show, Total Bellas, while going on a date with Nikki Bella.
The very first show's teaser hitched many followers about Nikki's and Artem's possible dating life after Nikki's split with ex-fiance, John Cena. But, she still claimed that she is still in love with her ex-lover.
So, is Nikki dating her Dancing with the Stars partner or has she reconciled with her former fiance?
Dating History With DWTS Star; John Cena's Ex-Fiancee!
Artem Chigvintsev, a Russian-American professional dancer, has had a lot of dating affairs that can single-handedly crush all the gay rumors. The dancer, who always has a woman as his dancing partner on TV screens, has dated quite the desired ladies.
Artem Chigvintsev previously dated Carrie Ann Inaba, the Dancing with the Stars judge for about 2 and a half years. The couple, who started dating in 2006, had a beautiful romance that came to an amicable end in 2008. Carrie revealed in a 2009 interview,
"I'm single. Artem and I broke up in the beginning of November. As much as our relationship was really good. It was very sad to let go of something that was so good on so many levels."
The couple parted in friendly terms, and Carrie had some words of honesty for her then-love and described Artem as a "fine gentleman."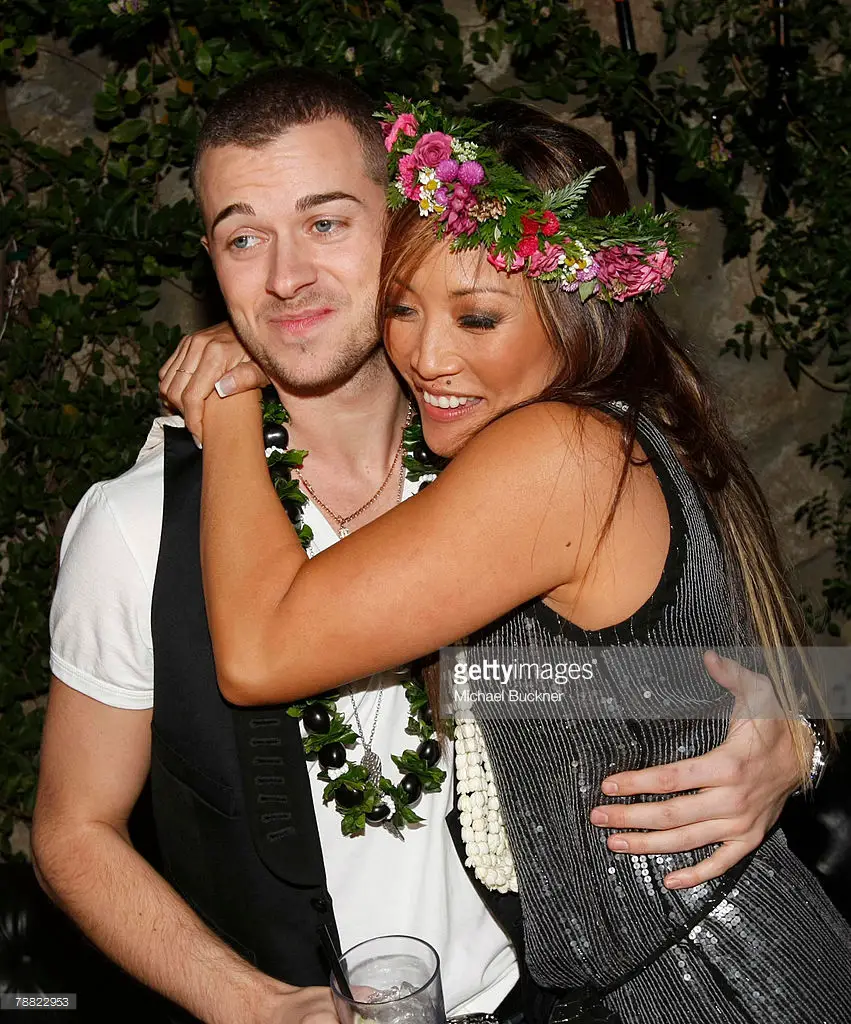 Artem Chigvintsev with ex-girlfriend Carrie Ann Inaba, celebrating her birthday in 2008 (Photo: gettyimages.com)
After amicably ending the relationship with Carrie, Artem started dating his dancing partner Kara Tointon in 2010. The couple, however, could only hold their relationship for a little over three years, as their split was announced in 2014 by Kara herself.
Then, Artem dated actress, Torrey DeVitto in 2016. Their dating life was confirmed after being spotted affectionately at "Philosophy Hope & Grace Luncheon" for Mental Health Month in L.A.
See Also:- Gymnast Shawn Johnson Post Wedding Love & Tragedy With Husband
However, almost a year later, news of their split hit the media in May of 2017.
With Nikki Bella
The Russian-American pro dancer later seemed to share a romantic life with the lady he became close with. Following the trend of his long dating history, he also went on a romantic date with John Cena's former fiancee, Nikki Bella who was also his DWTS dancing partner.
The now love bird hit the DWTS stage in the show's 25th season in 2017 but, was the sixth couple to get eliminated. The source claimed that the couple was still in touch after the season was over.
The couple didn't confirm their relationship status for a while, but they indeed were spotted together in the dinner date in January 2019. Also, the couple was riding a motorcycle together in the trailer of the fourth season of Total Bellas that premiers from 13 January 2019.
Also, in the show's teaser, Nikki admitted that she was having difficulty to get over her ex-fiance John Cena, whom she was in the relationship for six long years. Moreover, she also revealed that she has gone on a few dates, but it seemed that wasn't too serious date as she has been claiming herself as a "single lady."
Nikki disclosed that she was open about her dating life with ex-fiance John Cena. She claimed that she still had respect for him and hoped to get back with him someday.
But Nikki and John had separated for good, and there wasn't much of a possibility for the former couple to reconcile their romance. Then came forward Artem to become Nikki's new lover.
Although the pair had gone on a few dates, not many were hoping to see the duo as a romantic couple. Like it's said that even the flapping of a butterfly's wings can bring on a tornado somewhere far away. Maybe Nikki and John's split wasn't for nothing.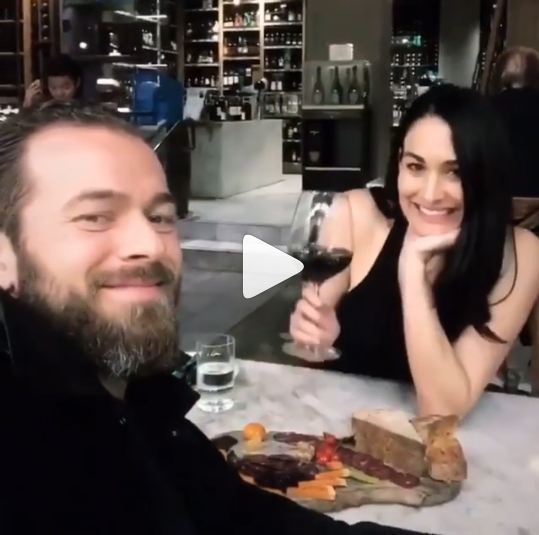 Artem Chigvintsev and Nikki Bella enjoy a dinner date in 2019 (Photo: Artem Chigvintsev's Instagram)
The couple later confirmed their relationship in March 2019 at the grand finale of the fourth season of reality series, Total Bella. At the finale, Nikki was seen driving off in her boyfriend's Ducati alongside Artem in her quest to explore the world.
Artem Was A Married Man; Reason Of Divorce!
While he struggled the identity crisis following the rapid gay rumors, his long dating history surely hit the rumors back!
But many few fans might be aware of his once married life. The 36-year-old dancer was married to a ballroom dancer, Giselle Peacock in 2004 after meeting in 2003.
The revelation of Artem secret married climbed the limelight after his ex-girlfriend Kara Tointon described him as a 'generous man.'
Don't Miss:- Bindi Irwin Engaged In Bliss! Perfect Boyfriend That Dad Would Surely Approve
During that time, Giselle came out in public with her tragic married life with Artem and claimed that Artem was a fame-obsessed person. She added that he married her for the prosperous future and he dumped her as soon as he found fame and success.
She claimed that he had no food and clothes, so she had offered the full-support for the eight months when he had no money or place to live.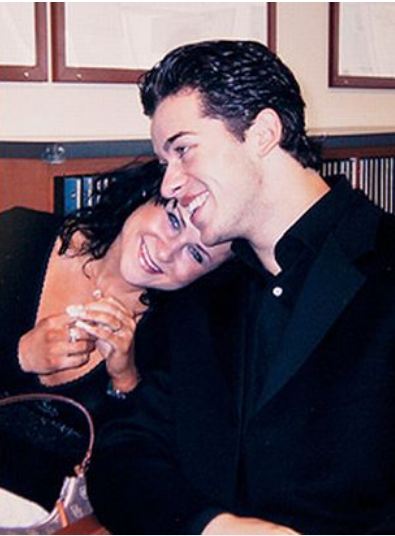 Artem Chigvintsev with former wife Giselle Peacock (Photo: mirror.co.uk)
Giselle's married life with Artem took a swamping countdown after the couple auditioned for a TV show, Dancing With The Stars in 2005 as he made through the audition round and she did not.
After she was turned down, she went home, but Artem never returned. She stated he disappeared from her life and she was left with the uncleared dues and had to cancel the dance class.
Dive In:- Bobby Bones Triumphs DWTS Title With Sharna Burgess! A Bio On Winner
She waited for a long time, but she lost the hope for her married life. So, after months, she asked him for a divorce over a voicemail.
Artem, who had already started dating DWTS judge Carrie Ann, didn't sign the divorce papers prepared by Giselle's father before November of 2007.
Well, the once married man, Artem has never openly talked about his married life and has never engaged in the married life after this!
Stay with us for more updates on Artem Chigvintsev!