Entertainment
Anastasia Kvitko Boyfriend Details, Family, Measurements & Bio
Russian glamour model Anastasia Kvitko is a star in her own right. 
With her alluring and plump curves, the fitness model has a fan following of more than 10 million on her Instagram. One look at her handle and no man or woman would dare avert their gaze away from her.
Also known as the Russian Kim Kardashian, her beauty has helped her to achieve celebrity status in 2019.
Dating Boyfriend Or Single?
Interestingly the model is quite single in 2019.
With no rumors gossip or photographic evidence of a boyfriend, her present status could be considered single. Throughout her Instagram handle, Anastasia has only shots of herself and nobody else.
About Another Relationship:- Katherine Schwarzenegger & Chris Pratt Wedding, Dating
Until the glamour model, herself sheds some light into the matter, for all we know, Anastasia is single and ready to mingle.
Measurements & Talks About Surgery
Talking about her curvaceous body, Anastasia rocks a solid figure of ratio 41-27-41. Her height is 5 feet 9 inches (1.75m), and her weight is 67 kg.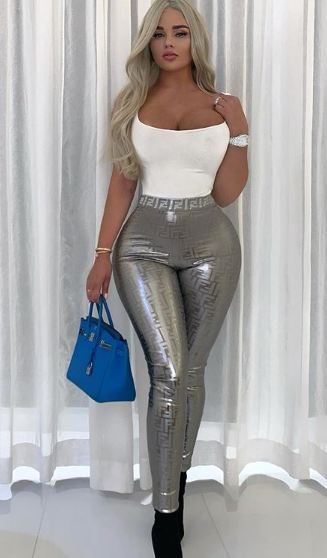 Flaunting her curves Anastasia Kvitiko in November 2019 (Photo: Anastasia Kvitko's Instagram)
With a bust size of 34 double D, Anastasia has always been targeted by internet trolls and the media that she has had plastic surgery on herself. A few even claim that they can prove that she has had enhancement surgery done.
Anastasia, however, denies the claims and allegations of surgery.
Bio: Age, Family
Anastasia was born on 25 November 1994 in Kaliningrad, Russia. Her father was a businessman while her mom was a primary school teacher. Raised alongside a sister, Anastasia was always physically active and self-aware. She enjoyed sports, working out, and followed a strict vegetarian diet.
Her natural beauty and physique grabbed attention early on. Many people and peers asked her to try a shot at modeling.
She initially scored minor gigs before applying for established modeling agencies. However, the agencies turned her down, asking her to lose weight. Denying to do so, Anastasia started posting pictures on the Russian social media website Vkontakte.
After rising in popularity in Russia, she moved to the U.S to Miami, Florida, to gain better career opportunities. Even in the U.S, she received the same backlash as agencies asked her to reduce her bulky bodacious curves.
Disagreeing once more, she began posting photos on Instagram from August 2014. Since then, her curvy figure has shot her to stardom. She eventually spread her name on other platforms like Facebook & Twitter.
Soon after, she became the brand Ambassador for Eliya Cioccolato and was named one of the sexiest women from modern Russia in 2016.