Entertainment
Bailee Madison, Previously Dating With Emery: Ex-Boyfriend Has Moved On, What About Her?
We meet the different person in our day-to-day life and not every person has the same opinion. As time passes, we realize who we are and the things we want and also realize that not every person around us sees the things the way we see them.
At a certain point, we find someone very attractive and after ." time, we realize the difference. Still, we will be searching for the perfect person for us. In this way, life goes on.
In this context, we are going to talk about American actress Bailee Madison and her relationship status. We are going to find out whether she has moved on like her ex-boyfriend Emery Kelly.
Bailee Madison's relationship with her Ex-Boyfriend: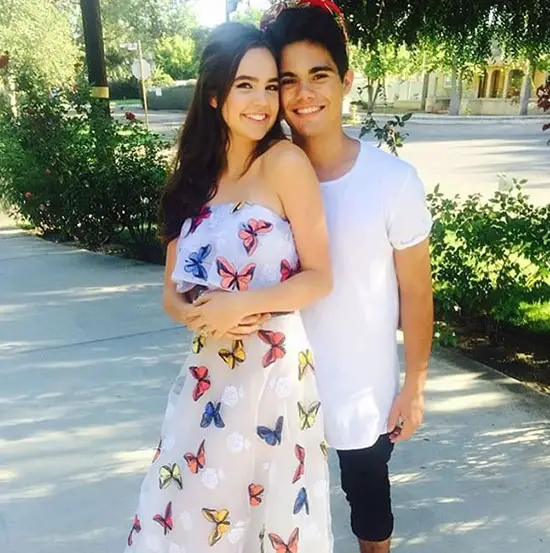 Caption: Bailee Madison with her ex-boyfriend Emery Kelly on 2015.
Source: m-magazine.com
Bailee was in a relationship with Emery in 2015 from May to November. Bailee has opened up about the relationship that she shared with Emery. She revealed to J-14 on 2016 that Emery called her "prude".
"The person who called me a prude was the first relationship I'd ever been in. I honestly didn't even know what that word meant; I had to look it up online. I made myself forget about it, but two weeks later, I was in Toronto shooting Good Witch and it came up in conversation again"
The couple abruptly broke up after a few months of dating and Emery was seen sharing a cozy picture with some other lady right after separating with Bailee. However, his relationship with this lady is not revealed. Perhaps he has moved on.
Caption: Emery with another young lady
Is Bailee Madison Dating Someone, has she moved on?
Well, the "Good Witch" star Bailee has now moved on from her not so long relationship with singer Emery Kelly. In an interview with teen celeb magazine, J-14, which she gave on 2016, Bailee said-
"The biggest thing that I've learned is to respect yourself enough to walk away from a relationship, a friendship, or any situation that isn't making you better and happier and challenging you to be a great person."
It seems that Madison is single right now as she is not linked up with any of the guys. Even if she is in a relationship, she must be making it private.
Bailee Madison's Short Bio:
Bailee Madison was born on October 15, 1999, in Fort Lauderdale, Florida. She was born to very supportive parents as the youngest of seven children. She began her professional career at the very young age.
She is mainly known for her roles in Bridge to Terabithia (2007), Once Upon a Time (2012-2013), Good Witch (2015-present), Don't Be Afraid of the Dark (2011) and Just Go with It (2011). Recently, she was also seen in few Tv series like The Fosters and Date with Love. Her movies Offer And Compromise (2016) and Different Folks (2016) are under post-production.
Bailee's net worth is estimated to be $4 million. Her profession has helped a lot to make such a huge net worth. At the age of 11, she appeared in the 2007 Disney film, Bridge to Terabithia which significantly increased her net worth. Since then her net worth has been increasing with the increase in her television appearance and film credits.