Entertainment
Barry Weiss Leaving Married Life And Time With Storage Wars - Both In Dust!
Even though many celebrities have already garnered success in their professional life, they wish to accomplish more achievements in the coming days. However, today we are talking about a celebrity who chose to step back from a popular show on his own will!
Well, he is no other than Barry Weiss who is famous for starring in A&E's popular reality TV series, 'Storage Wars' as 'The Collector.' Despite bidding goodbye to the show, he is also no longer together with his former partner. So, let's get to the core of everything about Barry Weiss along with the details of his bio!
Barry Weiss's Married Life That Didn't Last Long
Although Barry hasn't shared many details on his past married life, he has been divorced from his ex-wife since more than thirty years ago. He also has a daughter, Julie and a son, Jack.
But, despite his divorce, as per sources, he doesn't feel lonely and has even said in an interview that he has many friends, a girlfriend and countless wedding proposals from his loyal fans on Facebook. Regardless of the proposals he answered as
"I have plenty of stuff to keep me busy,"
Meanwhile, back in 2012, a source close to Barry shared to Hollywood Life that women of all ages wish to be with him,
"Wherever Barry goes, women flock to him. When the show is filming, beauties of all ages give their phone numbers to fellow cast member Dave Hester to pass on to Barry."
Additionally, Barry also shared that he was available,
"I've actually been single for probably the last 28 years,"
Well, on the other hand, it also proves that he is not gay!
Barry Weiss's Departure From 'Storage Wars':
Although Barry is widely recognized for starring in the popular reality series, 'Storage Wars' as 'the collector,' he left the show after the fourth season when he was at the peak of popularity.
Caption: Barry Weiss in Storage Weiss Season 2. (Published on May 27, 2016)
It was evident that he never took the competition on the show seriously. Barry gave his reasons for leaving the series and shared that although the show was fun, he had enough.
"I had a blast. It was fun, but I had enough and I kind of wanted to leave while it was still popular."
In the year 2014, Barry started his own 'spin-off' show, 'Barry'd Treasure.' However, the show got canceled within the same year, and Barry started to remain low-key ever since. He has also bid goodbye to social media and new TV projects.
Well, despite not being involved in any projects, Barry is financially stable as he enjoys a net worth of $10 million and has a collection of his favorite prized collection of cars, trucks, and bikes which are worth $500,000. His collection includes a Beatnik Glass Top Car, 1932 Ford, 1940 Ford COE Truck, Ducati Diavel and a customized Harley Davidson to name a few.
However, his most loved and favorite possession is the 'Cowboy Cadillac.' It is known to be worth from $10,000 to $50,000 and that it was first built by legendary car maker, Frank DeRosa.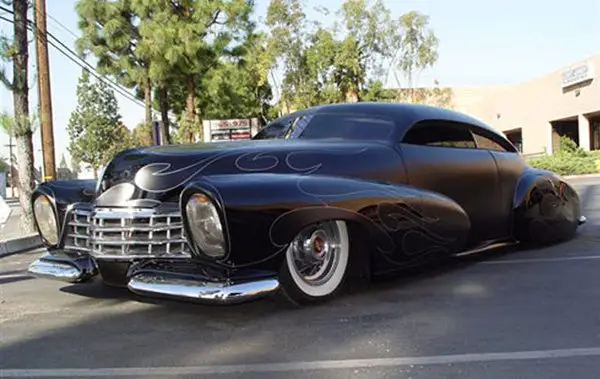 Caption: One of Barry's cars called, Cowboy Cadillac.
Photo Credit: TheRichest
Weiss purchased Cowboy Cadillac after he sold his purple Frank DeRosa custom 1951 "King of Mercs."
Indeed, a beautiful car!