Entertainment
How Much Is Jarrod Schulz Age 41 Net Worth? Loving Family & Wife | Bio
At age 41, Storage Wars' very own Jarrod Schulz is a formidable force in reality television. Ever since making his debut in the stated A&E reality series in 2010, his popularity only intensified when he and his longtime girlfriend Brandi Passante bagged a spin-off series of their own.
As expected, Jarrod and his wife prospect's combined net worth will leave some of the most affluent couples to cower in shame. Considering how successful the pair have been with their business endeavors, surely they would want their children to follow their footstep.
Delve into the reality star's bio to get acquainted with his family life with wife & kids!
Behind Jarrod Schulz's Net Worth; Mirrors Longtime Girlfriend, Brandi's Fortune
Along with reality stars Rhene Nezhoda, Darell Sheets, Mary Padian, Nabila Hannis, Barry Weiss, Dave Hester, and the rest, Jarrod and Brandi make up the cast of A&E series Storage Wars, which first aired in 2010.
Read Also:- ESPN's Ramona Shelburne Surprising Salary & Net Worth | Bio Uncovered
Since the show's inception, Jarrod along with his wife has remained the central figure throughout the hit reality series' 11 season lifespan. Impressed with the duo's chemistry, execs at A&E even handed them a spin-off family-centric series called Brandi & Jarrod: Married to the job.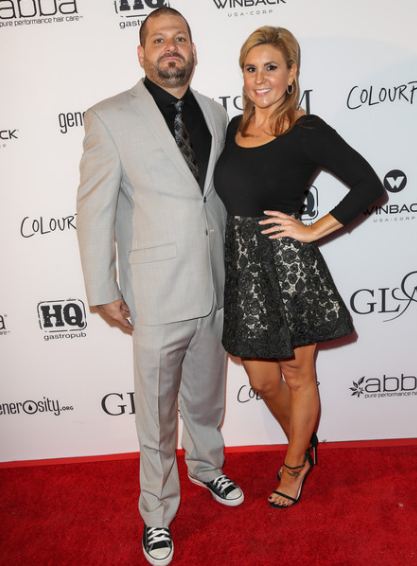 Jarrod and Brandi attending a red carpet event (Photo:- zimbio.com)
Storage Wars did more than make them overnight celebrities. Jarrod's clothing line Outlaw Apparel - the one he founded in 2002 with a friend - saw sales boost once he appeared on the show; so did the annual turnover at the now-defunct thrift store Now and Then located in Orange County California.
Today, both Jarrod and his longtime partner Brandi, age 38, boast $2 million net worth each. Considering how the pair's first mortgage business was a terrible fail, their current net worth is an astounding achievement.
Before beginning their mortgage business, they both worked at a carpet-cleaning company in Tustin, and where the Brandi and Jarrod star was the sales manager. Co-incidentally, it was also the place where they met. They have been together ever since(1999).
By Brandi's admission, it was her who pushed for a relationship by making the first move. Though in love for over a decade, they never married.
Interesting:- Billie Jean King, Lesbian Player Who Once Had Husband Plans Wife | A Bio
Jarrod Schulz's Bio Unveils Blissful Family Life With Wife-Like Partner & Children
All that changed when the Storage Wars stars suggested that they were now ready to settle down for good in the debut season of the series.
The then-hopeful bride even went to wedding dress shopping along with the Storage Wars' camera crews. Jarrod fitting looked exasperated as they ran through a pile of expensive wedding gowns -- a far cry from a romantic guy who had proposed using their pet dog Jhonny.
It's 2018, but Jarrod's much-advertised wedding to his prospect has yet to materialize fully. Either that or they've opted for a more private wedding. The long-term lovers, however, couldn't be happy with their family life.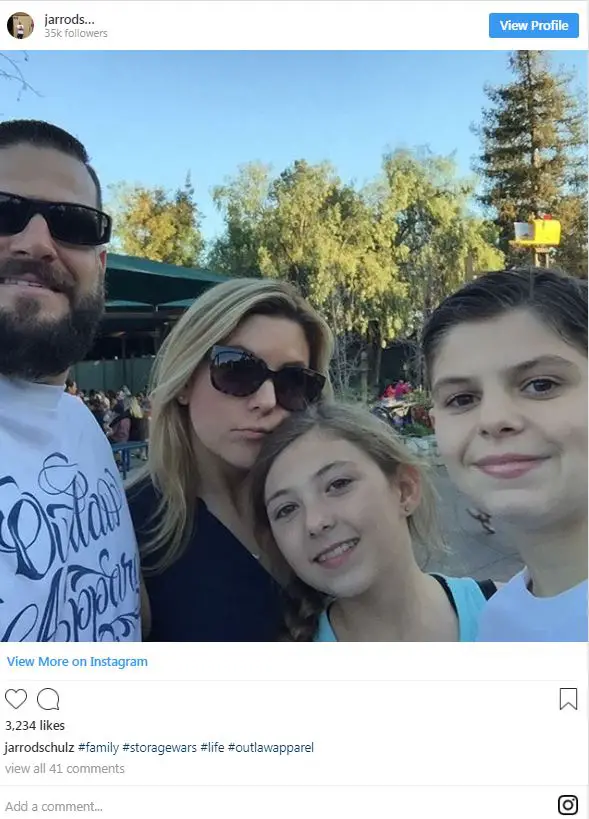 Jarrod along with Brandi and their kids smile for a selfie (Photo:- Jarrod Schulz's Instagram)
Parents to son Cameron and daughter Peyton, Jarrod and his wife-like girlfriend Brandi lead an exciting life with an unparalleled work ethic. And one that has seen their net worth soar to new heights with every passing year.
Don't Miss:- Dave Gardner Wiki: The Hunky David Beckham Agent & Partner Everybody Has Eyes On
Although their occupation has made both of them a multi-millionaires, they are firmly against their children following their path. Perhaps, the pair's line of work is too unforgiving for their liking.
Speaking of paths so and so should never cross, Jarrod's bio reveals that he had a few expensive run-ins with the law. In his late teens, he served 16 months jail sentence following his arrest on the charges of transferring narcotics and DUI.
Born on 15 October 1977 in Long Beach, California, Jarrod grew up disassembling toys cars which would eventually manifest itself in his fascination with storage lockers and safe.