It's easier for fans to label Andy Ritcher as the sidekick of late night talk show host Conan O'Brien... That said, how has the fame fare for him... Did it - in any capacity - derail his marriage...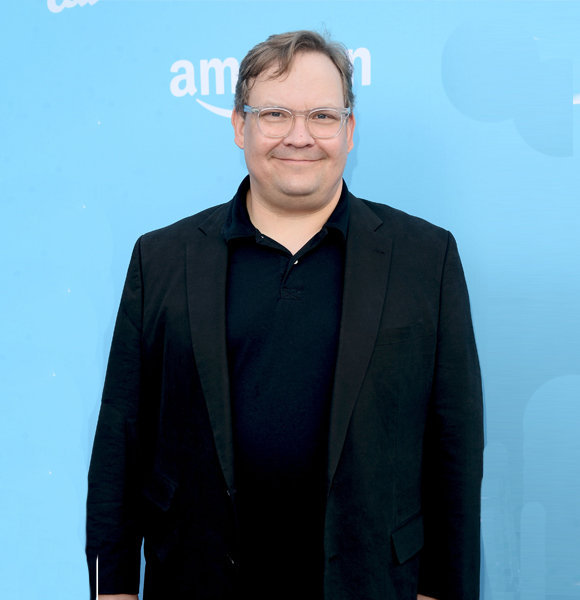 It's easier for fans to label Andy Ritcher as the sidekick of the late-night talk show host, Conan O'Brien. But, limiting his identity to the role of a supporting cast would tantamount to a crime.
An immensely talented comic, Andy excels at every endeavor he tries. Whether it's acting, voice acting, writing, and even as a stand-up comedian, there are no bounds to his abilities.
That said, how has the fame fare for him? Did it - in any capacity - derail his marriage? Read along to find out!
Net Worth & Salary
Andy announced his arrival in the show-biz world in the early 1990s through The Real Live Brady Bunch. Through castmate Beth Cahill and Melanie Hutsell, he got acquainted with writer Robert Smigel, producer of Late Night with Conan O'Brien.
Initially hired as a writer, Andy - within weeks - earned his promotion as Conan's sidekick. After the show ended, he went on to write, produce and act in numerous TV gigs including Andy Richter Controls the Universe, Andy Barker P.I., and Quintuplets.
He and Conan would reunite in 2009 following the inception of The Tonight Show with Conan O'Brien. While the talk show lasted for less than a year, Andy followed Conan when the latter returned with a self-titled TBS show.
Fellow Conan Collaborator:- Who Is Jordan Schlansky Fiance & Wife-To-Be? Wiki, Age, Salary Net Worth
Besides late-night gigs, Andy made numerous TV appearances including features in Malcolm In The Middle and Arrested Development. His most notable voice-over role is that of Mort in the Madagascar franchise.
Although there lacks an accurate figure on his salary from his shows with Conan, the Scary Movie 2 actor garners $15 million in net worth. 
Married Life Crashes: Divorce From Wife
No amount of wealth can save a drowning marriage - Andy and his former, wife Sarah Thyre are the living proof.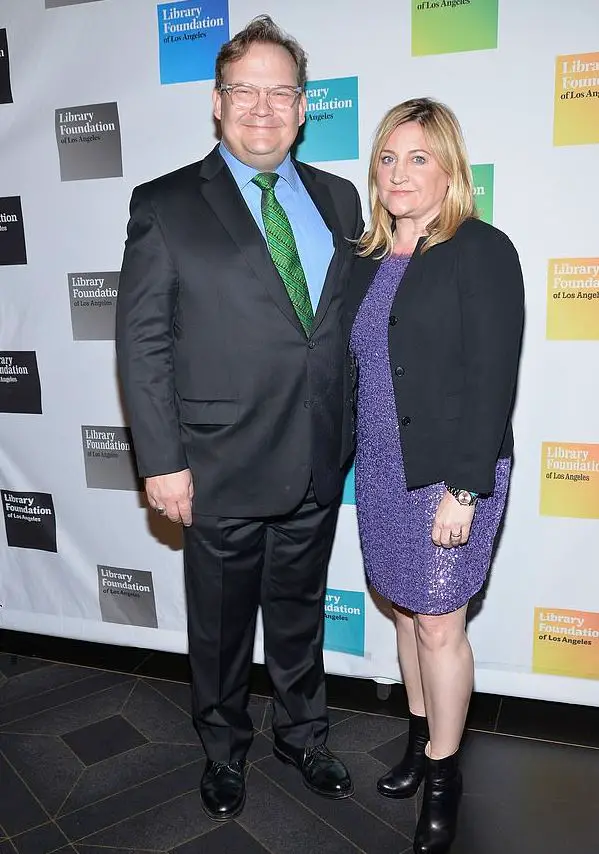 Andy Richter with his then-wife Sarah Thyre attend a GQ event in 2016 (Photo:- dailymail.co.uk) 
In April 2019, after 27 years as a married couple, the duo announced their separation. Taking to Twitter, Andy first broke the news of their divorce. He then followed up by writing:-
"We are extremely proud of the life we've built together and shared with so many friends over the years, and even though our marriage has reached its completion we will always maintain a loving friendship and parenting partnership."
His wife Sarah - best known for Strangers with Candy - too echoed similar sentiments while thanking family and fans for their support.
The former married duo crossed paths on the production of The Real Live Brady Bunch in 1991. The now-divorced pair eventually tied the knot in a 1996 wedding.
Other Notable Divorce In 2019:- Tom Ellis Gay, Married, Wife, Divorce, Children
Throughout their lives as husband & wife, Andy & Sarah explored their collaborative spirit to the fullest, working on Conan sketches as well as appearances on Upright Citizens Brigade.
Next Chapter In Life
The Divorce is Filed!
After announcing their seperation in April 2019, Andy and Sarah are the legal process for divorce now. The pair of nearly three decades shocked everyone with their seperation news. But, it seems they are parting ways on good terms.
Even though the divorce document reveals the reason for seperation as inconceivable differences, the couple has decided to split everything in half, including property and children support.
In addition to that, the comedian is ready to pay his share of spousal support to his ex-wife as well. Despite parting ways and living separately, Andy does not shy away from talking about his ex-wife and children in his social media.
As of late, he tweeted about taking his son to college and the difficulty he faced while sending his offspring. Adding to that, Andy was at his comic best when he decided to roast a passenger who was putting his barefoot in the screen of an airplane seat.
Children/Abortion Story
Of all their collaborations, none is more important to Andy and his estranged wife Sarah than their children: William, age 18 and Mercy, age 12.
A champion of Planned Parenthood program, The Mighty B! actor - in his 2016 speech at a fundraiser - opened up about the abortion in 1992 that the duo had done. In his profoundly emotional talk, he thanked the stated organization for allowing them the ability to pick the time to bring kids in their lives.
Age, Height & Weight
Born in October 1996 in Grand Rapids, Michigan, Andy is the second youngest of his parents' four kids. His mother Glenda Swanson was a kitchen cabinet designer while his father taught Russian at Indiana University.
At age four, his parents divorced. Following the separation, his dad came out as gay.
Raised By Gay Parents:- Grace Hightower Splits With Husband Of 2 Decades, Reason? It's Here
A graduate of the University of Illinois, Andy - now age 52 - stands 6 feet and an inch (1.85 m) in height. Meanwhile, he boasts 239 pounds weight.