Entertainment
Beautiful Soledad O'Brien: Know About Her Family Life, Ethnicity, Salary and Net Worth
With hard work, comes a life you always desired. And with a mind, body, and enthusiasm like Soledad O'Brien's, you are sure to reach the height of success that she has reached till date. Now let's take a look at her incredible journey as a reporter/producer, and her family as well.
Soledad O'Brien's Professional Journey, Salary, and Net Worth:
Soledad O'Brien started out her television career from WBZ-TV, in Boston as a news writer and an associate producer. She later joined NBC in 1991, where she worked as a field producer for the Nightly News and Weekend Today.
During her time at the NBC, she did a couple of shows like The Site, Weekend Today, Today Show, and NBC Nightly News. She also covered some big stories such as the Colorado School shooting and John F. Kennedy Jr.'s plane crash.
O'Brien then moved to CNN in July 2003, as a co-anchor of American Morning, along with Miles O'Brien. She was later replaced by Kiran Chetry due to low rating issue.
O'Brien moved on to hosting and producing the highly successful documentary series "In America," which included "Black in America" and "Latino in America." She was also the anchor of Starting Point, which she left in 2013 and established her production company "Starfish Media Group." March 29, 2013, marked her final day as an on-air anchor at CNN.
She joined HBO's Real Sports with Bryant Gumbel sports newsmagazine on June 12, 2013.
O'Brien has been able to bag a couple of awards for her hard work and dedication towards her work, including 3 Emmys, 2 Peabody, and an Alfred I. DuPont Award. She was also named journalist of the year in 2010 by the National Association of Black Journalist.
Moreover, the award-winning journalist, Soledad O'Brien shared the empowering stories regarding the issues of race, wealth, class opportunity and poverty through the personal stories.
Caption: Soledad O'Brien talks about the racial discrimination in the USA. ( Video published onSeptember 6, 2015)
Soledad O'Brien Signs Multi-year Deal With HBO:
As per recent reports on June 20, 2017, Soledad OBrien has signed a multi-year deal with HBO and will continue be a correspondent of the Emmy-winning series 'Real Sports with Soledad OBrien.'
The executive producer of Real Sports Joe Perskie had beautiful words to describe O'Brien.
"For the past four years, Soledad has delivered as a unique voice for the Real Sports franchise,'
Moreover, Joe Perskie added,
"Her ability to dig deep and report on multi-layered stories has made her a valued contributor to the series."
So how much does she earns you ask?
With her hard work and dedication, she has earned an annual salary of $3 Million and has accumulated a massive net worth of $8 Million.
O'Brien's Family and Ethnicity:
When you look at her, she looks a little European with a hint of that Latino flavor. And when we hear her name (her full name i.e. Maria de la Soledad Teresa O'Brien), we can be somewhat sure that she has Latino blood inside her. But wait, she has more to offer.
She belongs to a multi-racial family. Both her parents belong to a different race. Her mother, Estela Lucrecia is half Black and half Cuban, whereas her father, Edward Ephram O'Brien is an Australian who is half Irish and half Scottish. And if that was not enough, she is married to a white guy (what are the odds).
Although there is a mixture of a lot of ethnicity in her background, she is still an American, born and raised.
She married Brad Raymond, an investment banker, in 1995. She has four children with her husband, two daughters, Sofia Elizabeth (b. 2000), Cecilia (b. 2002) and twin sons, Charlie, and Jackson(b. 2004)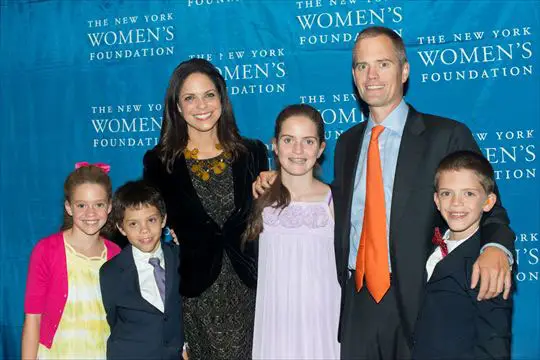 Caption: Soledad O'Brien with her family.
Source: liverampup.com
Soledad O'Brien's Short Bio:
Soledad O'Brien (real name Maria de la Soledad Teresa O'Brien) was born on September 19, 1966, in St James, New York. She is a broadcast journalist and executive producer. She graduated from Harvard University with a degree in BA.
She still works as an anchor ad correspondent for CNN, HBO, and Al Jazeera America. She is also the chairman of Starfish Media Group, a media production, and distribution company.
Along with Soledad O'Brien, her contemporary including Matt Lauer, Hallie Jackson, and Tamron Hall have set a standard for the aspiring journalist!