Entertainment
Bob Costas' Splendid Salary and Net Worth: Resides in Crystal Cove House with Wife
As the quote by Berthold Auerbach states,
"To acquire money requires valor, to keep money requires prudence, and to spend money well is an art."
Sportscaster Bob Costas shares a similar story and has earned a splendid net worth in Millions. Just think, where would you invest your money, if you have millions of net worth, just like sportscaster Bob Costas does? You will probably invest in something valuable, right? Well, let's find out about his splendid salary and his life a little more.
Career Highlights and Net worth:
Costas majored in Communication at Syracuse University, and the journey of a broadcaster started in college as an announcer.
From covering boxing, golf, baseball, basketball to the Olympics, he has been an active and an incredible reporter since the very beginning. He joined NBC at the age of 28. He hosted National Football League and covered the NBA for many years. Costas became the host of Costas Tonight with the introduction of the NBC Sports Network.
Bob Costas has been a top name in Olympics coverage for NBC since Barcelona Olympics in 1992. Altogether he has hosted 10 Olympics and is now about to host the 2016 Olympics in Rio, making it the 11th time.
We all know Bob Costas as a sportscaster for NBC Sports and the prime-time host of the Olympic Games. He has been in the television business for about 30 years.
With a lot of experience in his bag, we can assume he is one of the highest paid sportscasters in the firm. Costas earns a yearly salary of $7 million, making his
net worth a whopping $45 million.

Caption: a view of Bob Costas $4.7 million Crystal Cove Mansion.
Photo Credit: wordpress.com
If you have been wondering where does he spends all his cash, then the answer might be flipping houses with his wife, Jill Sutton.
Bob Costas loves investing his hard earned money buying fancy houses. In 2013, Bob was seen paying $10.8 million for a Central Park West Condo. He now owns a $4.7 million Newport Beach Mansion, located in the Crystal Cove neighborhood where he resides with his wife of 13 years, Jill.
Retired as NBC's Prime-Time Olympics Host:
Costas shared the news of his retirement from NBC's Prime Time Olympics host after 24 years, and he shared his feeling in an interview in February 2017.
"It just felt to me like the right time and it's felt like the right time for a while,"
Moreover, he added,
"This was a good time to step away, while I could still do it,"
Married Life, Wife, and Divorce?
Costas dated his wife Jill Sutton for a couple of years, before getting married to him on March 14, 2004, and are living a blissful married life in their paradise.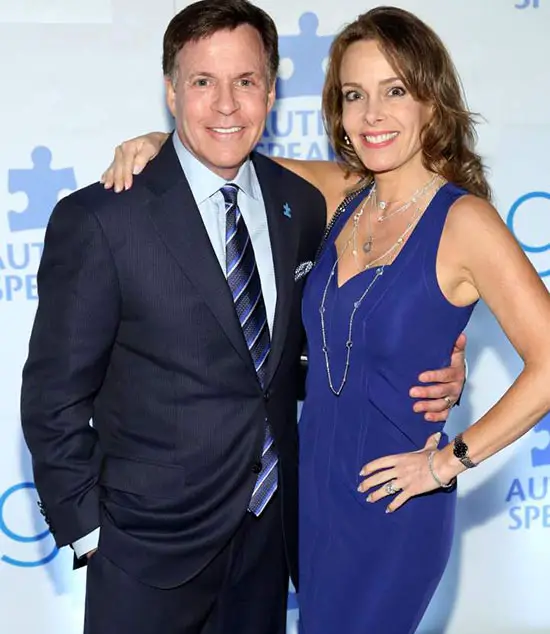 Caption: Bob Costas with his wife Jill Sutton at Lead Off For A Cure at The Metropolitan Museum Of Art on May 9, 2016, in New York City.
Photo Credit: heavy.com
Before Jill Sutton, Costas was married to Carole Randy Randall Krummenacher. Costas married his ex-wife, Carole Randy Randall Krummenacher in 1983 but their relationship could not survive beyond 18 years and suffered a split in 2001.
Costa's business manager Pam Davis confirmed their divorce in an interview with New York Daily News in October 2001 and said,
"The parting is amicable, they are devoted to their children, and Bob will continue to live in St. Louis to remain close to them."
And together they have two children son Keith (b. 1986) and daughter Taylor (b. 1989). Costas' both the children walked on his path and made their career in broadcasting and won awards too. Keith won two Sports Emmy Awards as the associate producer for "MLB Tonight" while Taylor won the award as the associate producer for Summer Olympics' 2012 coverage on NBC.
Plastic Surgery Rumors:
When you are in a show business then looking good onscreen is the part of your business. Even if a celebrity undergoes a plastic surgery to alter their appearance, which makes a visible difference, then also they deny them and the denial after the distinguishable changes is not cool!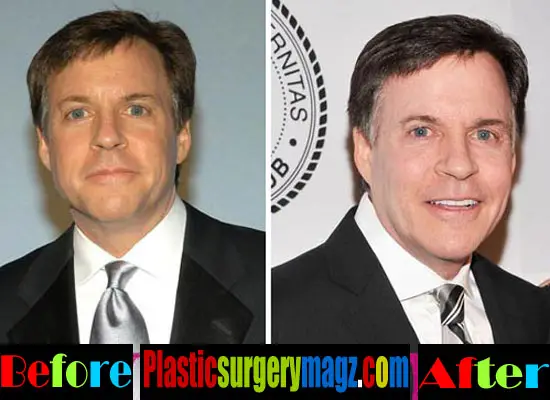 Caption: Before and after surgery photos of Bob Costas.
Photo Credit: plasticsurgerymagz.com
At the age of 64, Bob Costas still looks like he is no older than 30. The question is, how? He apparently denies that he went through any surgical procedures, but who are you fooling Bob when we can see the difference. We can't prove anything without the real evidence, but we sure hope you know the side effects of Botox if you have had any.
A Short Bio on Bob:
Bob Costas', birth name was Robert Quinlan Costas and was born on March 22, 1952, in New York City, New York. Graduated from Commack High School, Bob majored in Communication at Syracuse University. He started his broadcasting career while in college as an announcer.
He has been associated with NBC for about three decades. And he has covered many stories related to sports, including Major League Baseball, NBA playoffs and all-star games, NFL, NHL, and the Olympics. Also, He gave play-by-play commentary for MLB Network and hosts an interview program called Studio 42 with Bob Costas.
Along with Bob Costas, NBC's journalists including Charissa Thompson, Matt Lauer, and Stephanie Abram have contributed towards the growth of the channel.