One may experience a painful breakup with their beloved partner, but they will have to move on eventually. Such is the case of English actress Bonnie Wright, who faced not one but many heartaches in the past.
Moving on from one boyfriend to another, she never remained with one for long. But, what about the last boyfriend? Is she still dating him or has she gotten over him already?
Multiple Boyfriends; Husband?
Bonnie Wright has had a long history of boyfriends. While some of her affairs might have never got public, her known boyfriends include some famous celebs.
Her first publicized relationship was with Harry Potter and the Deathly Hallows: Part 1 actor Jamie Campbell Bower. The couple even got engaged in April 2011. But, Jamie wasn't lucky enough to be her husband as the couple eventually broke up in June 2012.
Soon-To-Be Married:- Scott Grimes Is Getting Married! Engaged With Girlfriend, Movies Star In Glee
After the surprising split, Bonnie soon moved onto her next. She started dating English businessman Simon Hammerstein in 2013 after they encountered at a dinner party.
The actress soon affirmed to the relationship and the duo was spotted on countless occasions, including at the London's club The Box owned by Simon.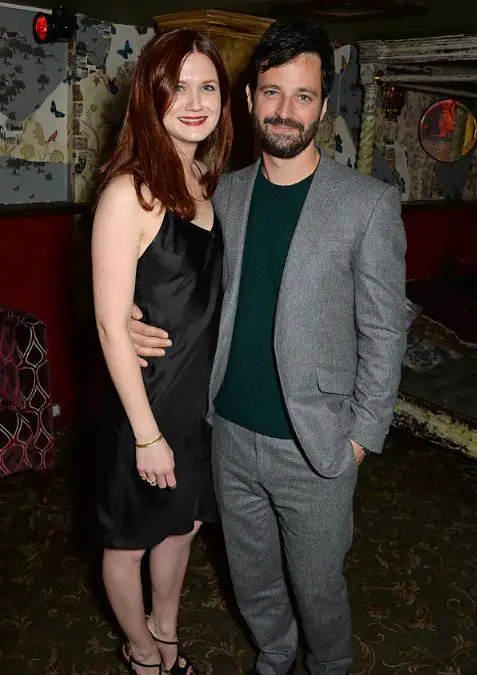 Bonnie Wright and Simon Hammerstein at his nightclub in 2015 (Photo: GettyImages.com)
However, the couple's affair turned silent as many supposed Bonnie and her boyfriend broke up. Later in 2016, a source claimed that the two were still together but didn't provide any evidence to prove the statement.
Further, Bonnie was rumored to be dating American actor Jacob Artist in 2013, but as the date coincided with Bonnie & Simon's affair, the gossips were dismissed as mere rumors.
Bonnie Wright's Bio: Age, Net Worth & More
Bonnie was born in London, England on 17 February 1991 as the daughter of parents: Gary Wright and Sheila Teague. After finishing her primary education from Prior Weston Primary School, she completed her high school from King Alfred School located in North London.
As an actress, the 28-year-old has performed in several movies and TV shows including the Harry Potter series, The Sea, After the Dark, Who Killed Nelson Nutmeg, Stranded, and more.
From her acting career, Bonnie has accumulated a considerable net worth, which amounts to $12 million as of 2019.
Body Measurements: Height, Weight, Feet
Apart from her talent as an actress, Bonnie is also appreciated for her beautiful looks. Standing at a height of 5 feet 6 inches, she has maintained a healthy figure.
She also keeps her weight in control as she weighs only 121 pounds (55 kg) with body measurements of 33-24-34 inches.
Actress With Equally Lovely Measurements:- Jamie Anne Allman Age, Measurements, Married
Other attractive qualities of Bonnie are considered her legs. Further, it's a fact that she wears shoes of US 7.5 size to keep her feets safe.