Entertainment
Bridgit Mendler & 'Husband Material' Boyfriend Halt! Talks Pregnant Rumor While Dating
American actress Bridget Mendler entered into the entertainment industry with the animated Indian film, The Legend of Buddha. But she gained her place among her fans from the Disney's Good Luck Charlie where she is starred as a high school student, Teddy Duncan.
Starring in the series, Good Luck Charlie not only awarded the most positive response but also she found the husband-like boyfriend. On the set of series, her on-screen love interest became her real-life boyfriend.
Disney's Couple Amid Pregnant Rumors; Split From Husband-Like-Boyfriend
Also the singer, Bridgit Mendler found her husband-like material on the Disney Channel's show, Good Luck Charlie after playing the on-screen love interest with Shane Harper.
She revealed about her relationship with Shane in an interview with Elvis Duran Show in September 2012. She was asked if she was dating Shane, she responded:
"It wasn't one of those…'you meet on a set and date instantly,' it took two years."
The couple met on the set where they were starred as a high school couple, Teddy Duncan and Spencer Walsh. The couple was just 16 when they met, and she did not want to be with him.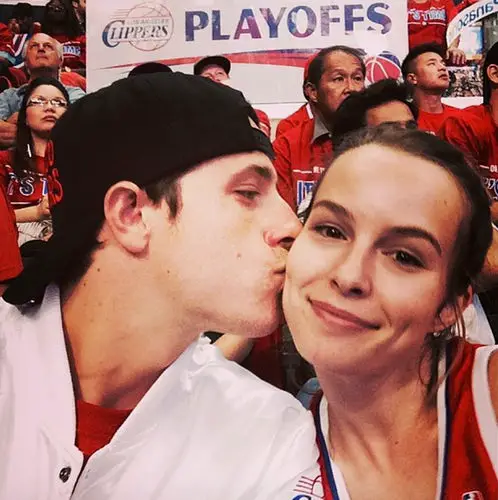 Bridgit Mendler, Shane Harper getting cozy (Photo: j-14.com)
The 25-year-old actress revealed on the Meredith Viera Show that she finds him annoying. She added:
"I don't know [why we didn't click at first]. I'm not going to say it was his fault, I think we were both young. We were 16 when we met. I don't know, maybe he was just too boisterous or something and I was just lame and I thought I was too good."
Working together surely has built up some chemistry. While working together, they became good friends and eventually, he asked her to go out. But Shane had to wait for two long years for being in a relationship with her. She stated:
"Two years later, we were just in the same friend group for awhile and he wore me down. Persistence. I think chivalry should never die. I think a guy should fight for a girl and wait for a girl."
Well, the couple had an excellent relationship, which gave birth to a rumor in 2013 which says, "Bridgit is Pregnant." The stories of her being pregnant were trending on the Twitter and in response to that, she cleared the confusion. She took to Twitter, writing:
"Kinda thought the twitter chatter would have died down by now but no, I'm not pregnant. Haha, you guys are kooks"
But after being in a relationship for four long years, the couple is officially off. While their fans and followers had already speculated about their split, the Undateable actress came forth that she's single. She said:
"I'm single, so I guess that means I'm undateable."
Following her separation from her teenage lover, the breakup hit her so hard that she wrote Atlantis frankly. All her feelings and emotion are gathered onto that song. Shane was her first love and losing first love is more having haunted nightmares.
She took to Twitter with the background behind the making of the beautiful song, Atlantis frankly. She wrote: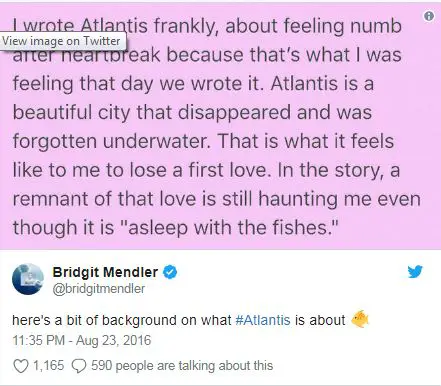 Bridgit Mendler's background on the writing of a song, Atlantis (Photo: Bridgit Mendler's Twitter)
Well, the split of the young lovebird not only affected the couple but also their followers were devasted learning about their separation. Their fans could not believe that their love angels have broken their heart. Many questions aroused about their breakup in twitter, some asked the reason, and some also requested them to get back together.
Though the fans want to see the couple together again, for now, it's not possible. The Hello My Name Is....singer, has already found another love interest. It seems she is over the broken heart and moved on with another guy. She took to Instagram on January 2017 where she was spotted with her prom night date.