Entertainment
Where Is Brittany Ashton Holmes Now? 2018 Personal Life Update Of Gorgeous Actress
Who would not love a cute and talented child actor?
Brittany Ashton Holmes, a former American actress, became a household name because of her famous role in the hit American comedy film, The Little Rascals in 1994.
Her cute and bubbly face with her superb acting talents not only charmed the audience but also made them her life-long fans.
The California-born celeb later took a diversion in her career; it's the story you will learn today from us, absent from her Wikipedia's one paragraph bio.
Initiates Career At Young Age
Brittany, born on 27 February 1980, went for the audition of the comedy film, The Little Rascals just at the age of five.
Even her parents encouraged her acting ambitions after they recognized the potential of their daughter.
Later, she got the part in the 1994 film to portray the role of "Darla" alongside the likes of Ross Bagley (Buckwheat), Travis Tedford (Spanky McFarland), Bug Hull ( Alfalfa Switzer), and more.
As one of the leading characters ''Darla" in the kid's romantic comedy, Brittany earned not only acting credibility but also the trophies and awards.
She was awarded 'The Young Artist Award' in the category 'Best Performance by A Youth Ensemble.'
Her debut role soon turned her into a household name and landed her TV series such as Ellen and Red Shoe Diaries in 1995. Likewise, she also got to work in commercials, including of Baby Guess and McDonald.
In 1996, she got to work in the three for adult movies, Death Benefit, Inhumanoid, and Humanoids From The Deep.
While rising as a famous child actor, she later stopped pursuing acting, but got later reunited with her The Little Rascals cast members in 2014, thanks to the famous celeb reunion production company, 22 Vision.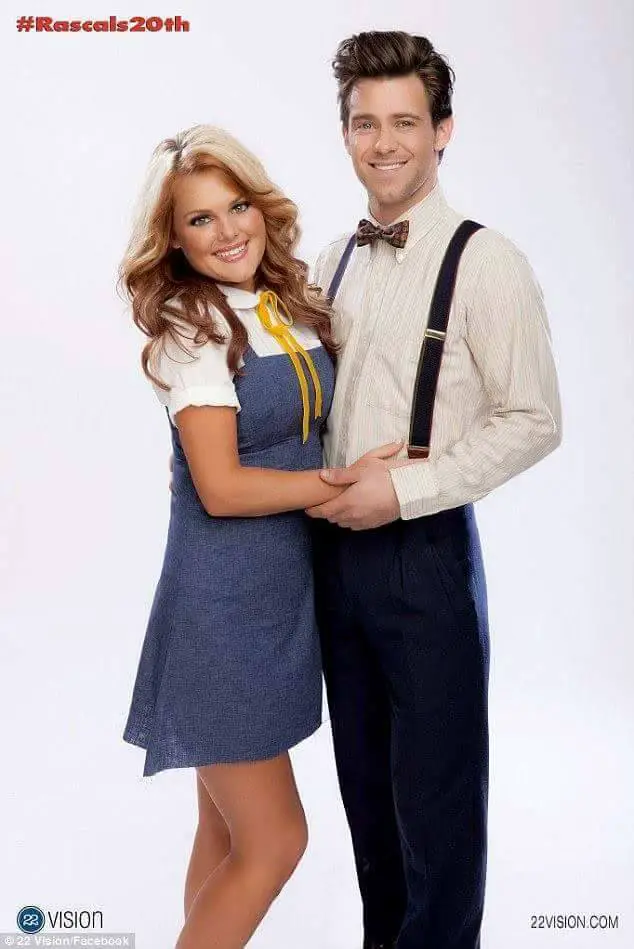 In the 1994 kids frenzy, The Little Rascals, young Alfalfa, portrayed by American actor Bug Hall, woos both the only boys club, "He-Man Woman Haters Club," and his love-interest Darla, portrayed by American actress Brittany Ashton Holmes, bringing both the parties to a mutual ground (Photo: 22VIsion, Facebook)
In December 2014, The Little Rascals' cast reunited for the first time on the occasion of twenty years anniversary of the film.
They even participated in the photo shoots that portrayed the cast "Then and Now" pictures.
Where is She Now?
The beautiful actress, who stands at the height of 5'3" (1.6 m), left acting completely post 2014.
She was returning to the screen with the movie, We Hate Paul Reverie, in 2014, but the AMC network canceled it the same year.
In 2005, she was attending a high school in southern California and playing for the high school soccer team. Then, she was also working for Starbucks.
When she grew older, she began to dislike her past on-screen roles and acting maneuvers. She even went to her Myspace page to display her acting disinterest, once stating,
"I was [an] actress when I was little and did this movie called Little Rascals. It's, like' really embarrassing to watch and I don't want to act anymore."
After her detachment from acting, she turned to academics.
According to reports, the then newly married, Brittany was living in Los Angeles with her husband in 2014. She had started pursuing a degree in political science.
The entertainment industry hasn't heard from her since 2013. She turned 29 in 2018.