Entertainment
Brooke Vincent To Get Married? Footballer Boyfriend Sparks Engagement Rumors With Instagram Post
Every person wants privacy at a certain point in their life. But for a celebrity, maintaining privacy in their personal life is something very hard to do. Even if they want to keep their personal life low-key, they can't stop their fans and followers to investigate on their personal life.
Brooke Vincent, who is gorgeous without any weight loss and plastic surgery, has a very exciting love life which has always been easy to read. But is Brooke engaged by now? Or is already married? Let's find out.
Brooke's romantic love life
After a failed relationship with Chelsea midfielder Josh McEachran, Coronation Street star Brooke started dating another footballer Kean Bryan. The 24-year-old actress sparked her new romance in April 2016.
Brooke was previously little nervous about her new relationship with twenty-years-old Kean, but now she is flaunting her love life all over her Instagram. She confirmed her relationship in June 2016 by sharing sweet pictures and videos with her new footballer boyfriend.
On June 21, 2016, she shared a video from her vacation in Barcelona with Kean with caption-
"My New Favourite City;Barcelona You've Been A Dream"
Now, after dating for almost a year, Brooke seems to be ready for the next step, i.e. to get married. It seems that Brooke is engaged to her boyfriend Kean as Kean has sparked the engagement rumors with his Instagram post.
On April 16, 2017, Kean shared an image of him hugging Brooke who was taking a mirror selfie. He also wrote 16.04.16 with an emoji of heart and ring in the caption. One can also see a ring on Brooke's engagement finger which intrigues their engagement.
Prior dating Kean, Brooke dated Josh Mc Eachran since May 2011. They first met through Reece Brown, their mutual friend. They even had a split more than once over the years. They dated for more than four years and finally separated in January 2016.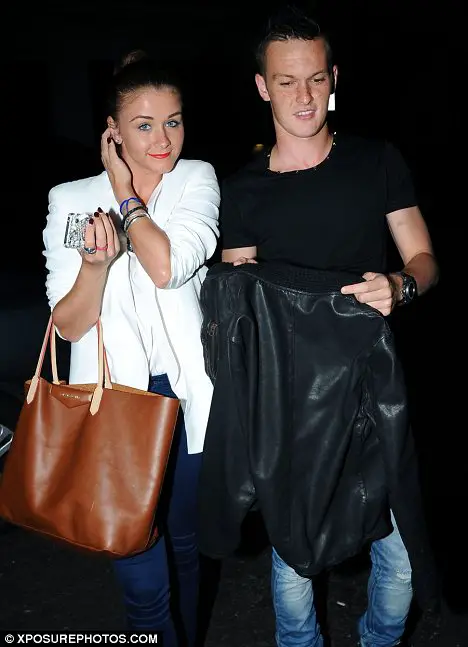 Caption: Brooke Vincent and her ex-boyfriend Josh Mc Eachran photographed at their romantic dinner date at Nobu in August 2012.
Photo Credit: Dailymail
The reason behind Brook and Josh' separation is believed to be the distance between them. According to a source-
"They tried to give it a good go but they've simply grown apart. He's down in London and Brooke is up in Manchester.The long-distance thing works for some people but not for them. Josh has been texting Brooke since the split but she's determined this is now the end and has told pals there's no going back."
"There's no bad blood between them. They've been together since they were teenagers and have vowed to remain friends."
No doubt Brooke is enjoying a beautiful relationship with her boyfriend, Kean Bryan. It seems that they are engaged but will Brooke turn Kean as her husband? Well, let's just wait to know the answer to this question.
Stay with us for the emerging updates on Brooke Vincent and Kean Bryan!