Entertainment
Did Caleb Landry Jones Turn Any Co-Star Into Girlfriend? Or Just Busy With Career To Be Dating?
Teen Choice Award-nominated actor Caleb Landry Jones is a successful and a good looking lad, and that has helped him attract a lot of females in his life.
Caleb has been a symbol of romance in some of his projects, but has this man ever turned any of his on-screen love mates to his real life love partner/girlfriend? What does the love life of this charming and cheerful actor look like? Does he have a girlfriend, or has sole focus on his career? Let us decipher that out!
The Sought For Love Life of Caleb Landry Jones: Dating Someone Or Is Busy With Career?
The love life of Caleb Landry Jones is as mysterious as it can be, as he has never revealed anything about his love life or dating affairs.
Caleb has been involved in many on-screen romantic pairings, but what about his real life dating?
In one of his movies, "Heaven Knows What," he has been involved in a romantic pairing alongside Arielle Holmes Harley. Arielle portrayed a young heroin addict, while Caleb essayed the role her boyfriend, Ilya, who keeps drifting in and out of her life.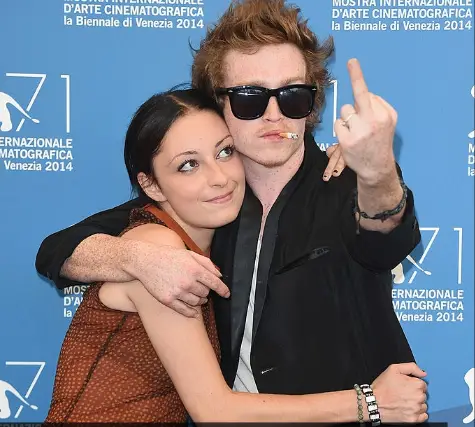 Caption: Arielle Holmes and Caleb Landry Jones at the 'Heaven Knows What' photocall at the 71st Venice Film Festival, August 29, 2014, in Venice, Italy.
Photo Credit: Getty Images
In an interview back in November 2014, Arielle revealed that Caleb made her adversarial relationship in the movie real to her.
It was pretty close. Pretty damn close. I mean a couple times during filming he got reactions out of me that only Ilya could get out of me before. Just very subtle things in certain situations, I thought it was amazing that that happened.
That shows how much chemistry they had with one another in the movie, but what about their connection in real life?
The two share a good bonding with one another, and people often wonder if Caleb turned his co-star into his girlfriend. But the star has not spoken a thing about their connection and his love life in general; which is why people could not reach the conclusions yet.
And even if they are not an item off screen, who is the actor dating right now?
The answer to that has been very close to his chest, so everything related to his dating life remains a mystery. Maybe he is just occupied with his career which is why he has no time to date, or maybe he does have someone in his life in a romantic fashion but is not willing to reveal anything about her. Anyway, we hope to know about the romantic aspect of his life.
Let us hope he reveals something shortly!
And did you know, Caleb has also portrayed an integral and pivotal role in Breaking Bad during the second and the third season? Well, now you do!
He portrayed the role of Louis Corbett in "Breaking Bad: Down" and "Breaking Bad: I.F.T."
Moreover, he has got a film lined up for the near future, "American Made" alongside Tom Cruise. The film, which is set to release and hit the theaters on September 29 this year, also stars Sarah Wright, Jesse Plemons, E. Roger Mitchell, Jayma Mays, Lola Kirke, Alejandro Edda, and Benito Martinez.
Caption: American Made Trailer Published on Jun 5, 2017.
Such a treat for his fans!
Stay with us for the latest updates on Caleb Landry Jones!