Entertainment
Camryn Grimes Bio Reveals: Married, Lesbian & Personal Life On & Off Screen To Net Worth Details
American actress Camryn Grimes received wide-acclamation playing Cassie Newman in the soap opera, The Young and The Restless.
Camryn, who had a long-running relationship with her boyfriend and was quite open about it, has suddenly stopped talking about her romance which has raised suspicion among her numerous fans if the actress has turned the lesbian way.
Similarly, the actress is also known to take up bold characters in her professional life and justifies her roles.
Learn about the personal life of Camryn Grimes along with her acting career and bio-related details.
Loving Relationship Suddenly Comes To A Halt
Camryn started dating Oliver Singer, the son of television writer Steve Singer, in 2012. However, the relationship was not made public until 2014.
TYATR Star:- Bryton James Age, 31, Dating Status! After Saddening Wife Rift, Single Or Taken?
On 22 June 2014, Camryn and Oliver made their first public appearance attending the 41st Annual Daytime Emmy Awards held at The Beverly Hilton Hotel in Beverly Hills, California. The couple even posed for a picture and looked comfortable enjoying each other's company.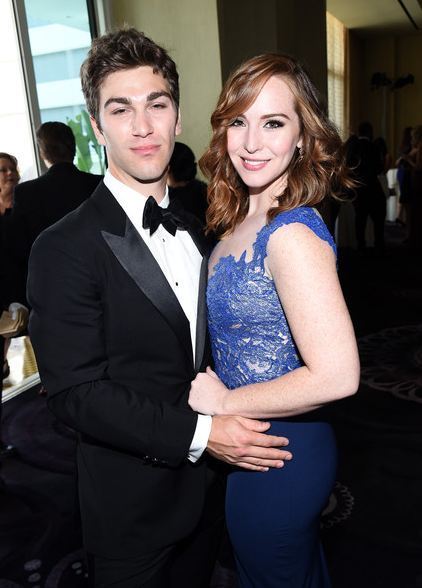 Camryn, along with boyfriend Oliver, attends the 41st Annual Daytime Emmy Awards on 22 June 2014 (Photo: Zimbio.com)
A year later, on 26 June 2015, Camryn revealed that the pair had been dating for three years and wished her partner on their anniversary while expressing her gratefulness towards Oliver. She wrote on her Instagram,
"1094 days 19 hours 2 minutes & 15 seconds spent with you. Every minute precious and every second important. I'm as grateful as ever to be able to laugh, live & love by your side. Happy Anniversary @oliver_singer!!"
The same year, the pair also attended a wedding near Lake Michigan; however, the duo didn't mention any plans of them getting married.
The couple was going strong in their relationship and Camryn regularly featured her lover on her Instagram. On 10 May 2016, she shared a picture alongside Oliver from their holidays in Sedona, Arizona.
See Also:- Dayanara Torres Goes Candid On Husband, Kids & Boyfriend; All There Is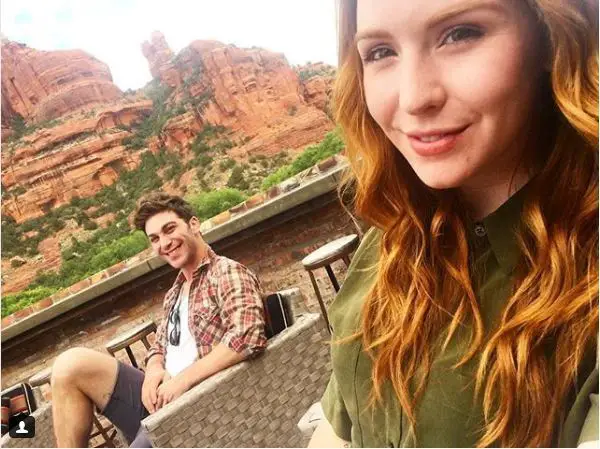 Camryn Grimes and Oliver enjoy their vacation in Sedona, Arizona (Photo: Camryn Grimes' Instagram)
That was the last photograph of the couple together. Camryn, who was always open to flaunt her romance on social media has not shared any more pictures after the date. While fans suspect that the pair could have broken up, neither Camryn nor Oliver has come forward to talk about their alleged breakup.
In the lack of sufficient evidence that can confirm their dating status, the actual state of the pair's relationship is hard to tell.
Goes Gay For Cait Fairbanks?
Camryn, who has lived the most of her adult life as a straight woman; surprised fans and the LGBTQ community when she kissed her The Young and the Restless co-star, Cait Fairbanks, in a 2017 episode of the show.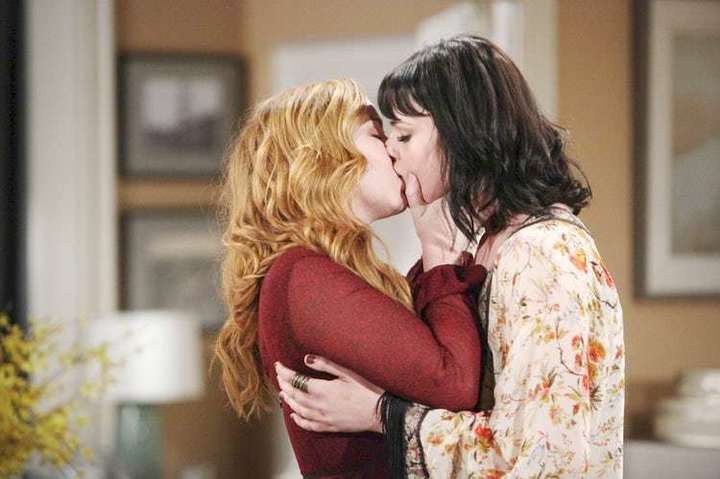 In the episode premiered on 3rd of August, Camryn's character Cassie and Cait's Tessa share a passionate kiss even though none of the characters are lesbian in the show. Their intimacy hinted towards a potential romantic relationship between the two, however, CBS executives refused to comment on the issue.
Lesbian Related:- Bryton James Age, 31, Dating Status! After Saddening Wife Rift, Single Or Taken?
Talking about her prospective onscreen love, Camryn mentioned that the romance between the two characters was "spontaneous and intense". She said in an interview,
"I think with a love like theirs, it was so spontaneous and intense and so strong that it caught them both off guard. This is new territory that they are exploring, and it comes with obstacles."
The rumors that Camryn could be a lesbian in real-life grew swiftly and the actress even had to post a tweet to clear her sexuality amid the fans. On 21 July 2018, she shared a tweet mentioning that she was not a lesbian and neither a part of the LGBTQ community. She wrote on her Twitter,
"Not gay, but if I was I WOULD SHOUT IT FROM THE FUCKING ROOFTOPS. Not one part of the LGBTQ+ community is a waste. Shame u can't see that."
This is not the first time Camryn has gone too serious with her onscreen role. Back in March 2017, she became fake pregnant to land a part in the upcoming series, The Get.
On 5 March 2017, she posted a picture on her Instagram showing her prop belly.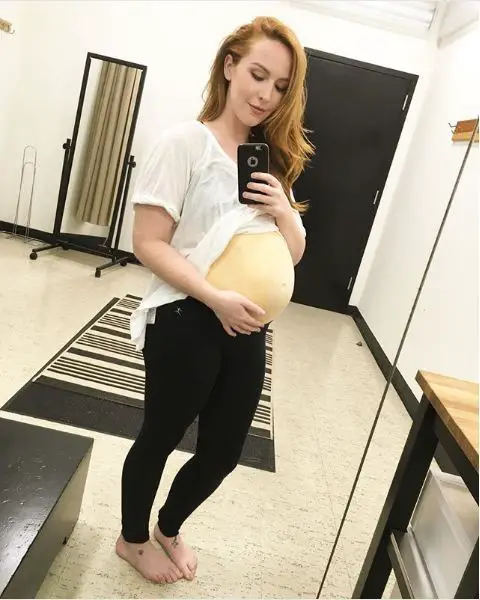 Camryn flaunts her fake belly on 5 March 2017 (Photo: Camryn Grimes' Instagram)
The show, which to set to feature Amy Brenneman and Camryn in the lead roles, is yet to receive approval from CBS. So, followers might have to wait a while to see Camryn in a pregnant avatar.
Short Bio; Career And Net Worth
Born as the daughter of Preston Lee and Heather Grimes, Camryn grew up in Los Angeles along with her six siblings. Her bio reveals that the 28-year-old actress was the youngest to receive Daytime Emmy Award for Outstanding Younger Actress in a Drama Series, which she was honored in 2000 at the age of 10.
Camryn, who initially played the role of Cassie Newman in the TV series The Young and the Restless from 1997 to 2005, later returned on the show in 2014 as Mariah. She even won a 2018 Daytime Emmy in the category of Best Supporting Actress for her role in the show.
You May Also Like:- Ashton Sanders, Gay Character Bond Revealed Amid Success Height & Awards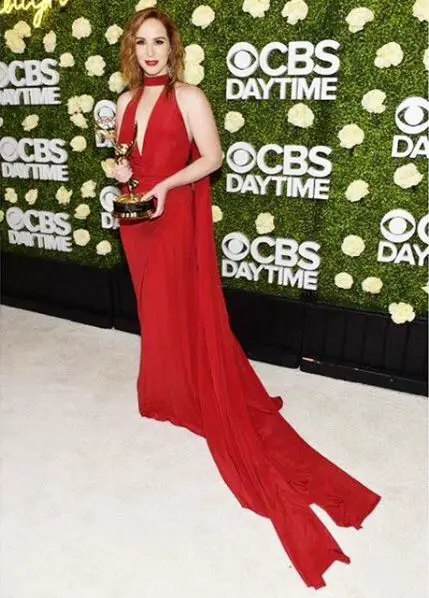 Camryn holds her Best Supporting Actress Award at the 2018 Daytime Emmy (Photo: Camryn Grimes' Instagram)
During her acting career, Camryn has worked with some famous actors including Hugh Jackman, Halle Berry, and John Travolta; with whom she worked in the 2001 movie Swordfish.
Although Camryn's exact value of net worth has not been disclosed, it is estimated that the 5' 6" (1.68 m) tall actress earns a salary averaging from $150K-$1M per episode as a TV-star. Further, she has also worked as a cast member in the 2012 movie, Magic Mike, which made an earning of over $167 million.