Entertainment
Dayanara Torres Goes Candid On Husband, Kids & Boyfriend; All There Is
Former Miss Universe 1993, Dayanara Torres is renowned for her seductive beauty and perfectly built body figure...After suffering a tragic split in her first marriage, the actress went through some tough times but has now bounced back with the love and affection of her latest boyfriend...She enjoys a content family which has been blessed with the presence of her kids...Unsuccessful Married Life, Husband Befriended After Alimony Battles For Kids...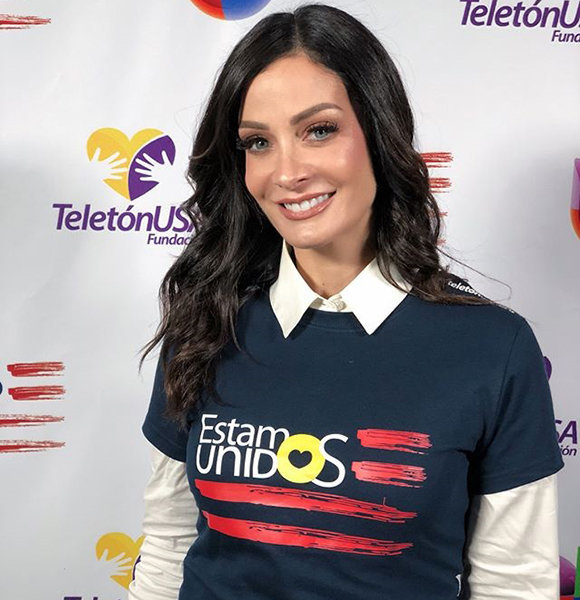 Former Miss Universe 1993, Dayanara Torres is renowned for her seductive beauty and perfectly built body figure!
Even after crossing four decades of her life, Dayanara still flaunts the charm like that of a twenty years old girl, being strongly active on her professional and personal front. 
But the surprise comes to know how It's Showtime actress bounces back with such grace even after suffering a tragic split in her first married life. She even went through depression due to the divorce of her first marriage but, the model seems to be totally healed from all!
She has been flaunting love and affection with her new boyfriend on her social media and leading a content family with her kids! 
Unsuccessful Married Life; Husband Befriended After Alimony Battles For Kids
Dayanara Torres' married life has its own quirks!
Tying the knot with singer Marc Anthony on 10 May 2000, the model renewed her wedding vows at a cathedral located in San Juan, Puerto Rico on 7 December 2002. 
And with the birth of her first child, a son named Cristian Anthony on 6 February 2001, the former beauty queen added numbers in her family. 
See Also:- Miss Universe Pia Wurtzbach Excited To Elevate Dating Status With Boyfriend
Similarly, Dayanara and her husband became parents to a second child named Ryan Anthony Muniz on 16 August 2003. Her children, who age respectively 18 and 15, are now in their teen ages and are also regularly featured on her social media account.
On 7 August 2017, Dayanara posted a picture alongside her two kids getting ready for the swimsuit season.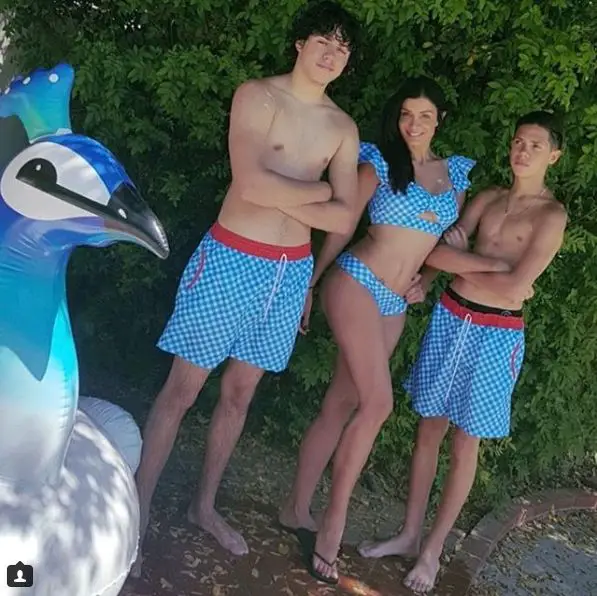 Dayanara along with her two kids: Cristian (right) and Ryan (left) (Photo: Dayanara Torres' Instagram)
For such a lovely family of four, Dayanara's family struck a tragedy in 2004,  which broke the couple's married life apart. After married for four years, Dayanara and her husband eventually divorced in 2004. 
While the divorce was hard for Dayanara, which also caused her depression, the former Miss Puerto Rican's ex-husband got married to singer-actress Jennifer Lopez, just after four days since the divorce. 
Dayanara's husband and Jennifer even welcomed fraternal twins namely Emme Muñiz and Max Muñiz in 2008.
After remaining married for seven years, Marc announced in 2011 that the marriage between him and Jennifer was over but they had to wait until 16 June 2014 to be legally divorced. 
Post the divorce of Marc and Jennifer, Dayanara mentioned that she wanted an added amount of $100,000 (a total of $113,000) as she was having hard times raising her kids and even had to sell her house to fulfill their needs.
She further accused her ex-husband of paying a huge amount of alimony to Jennifer despite her status and riches. 
You May Also Like:- Top 5 Most Common Reasons for Divorce And Its Effects On Children
However, the issue has now been solved as the former couple is now on friendly terms. Marc along with the pair's two sons even surprised Dayanara on her birthday while she was competing in the dance show Mira Quién Baila in 2017.
Apart from that, Dayanara has also been successful in establishing a successful relationship on her own.
Dating Life With Boyfriend
After more than a decade of her failed marriage, it seems like Dayanara has finally found a new love interest!
Dayanara's dating rumors first surfaced in September 2018 after she posted a picture on Instagram in which she could be seen holding the hand of a man. Further, she had also talked about having a boyfriend after shooting the Mira Quién Baila. 
She said,
"My heart is taken and I'm so happy. It's mostly because I have a lot of respect for my sons. Just a small number of people have come into my children's lives. I have to know someone a long time to know, because at the end they're my priority but yes, we're all very happy."
Dayanara, age 43, is dating Marvel Studios' Co-President Louis D'Esposito. Louis is also the executive producer of some major commercially successful movies including Ant-Man, Iron Man, and Captain America: The First Avenger.
The dating relationship between Dayanara and Louis first became public when her boyfriend uploaded a photo of the two together on a date in LA on 1 October 2018.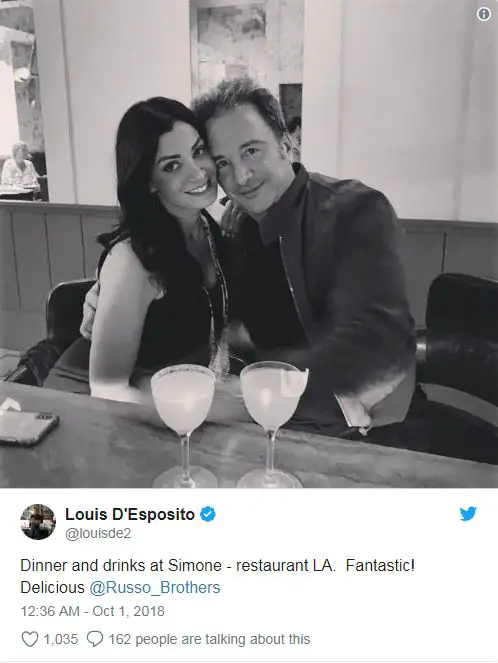 Dayanara enjoys a romantic date night with boyfriend, Louis on 1 October 2018 (Photo: Louis D'Esposito's Twitter)
Later on 3rd October 2018, Dayanara shared another picture of the couple; this time for the occasion of National Boyfriend's Day when the two were about to take a ride in a private plane. 
More From LiveRamp Up:- Benedict Cumberbatch & Wife Sophie Hunter Expecting 3rd 'Batch' Of Baby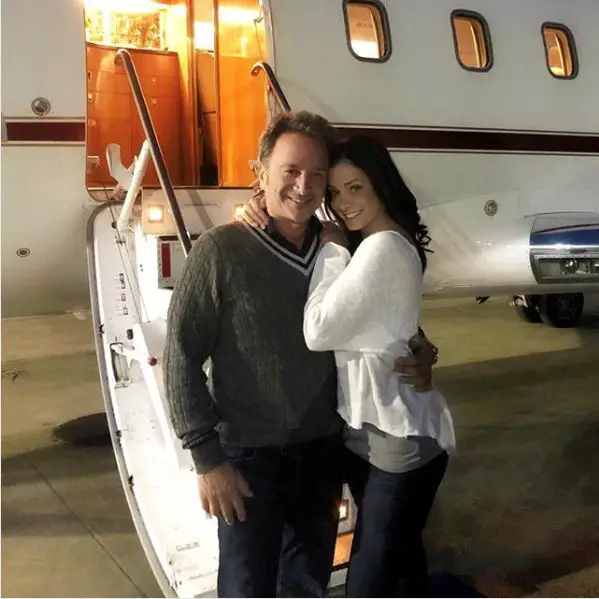 Dayanara and boyfriend Louis about to embark on a romantic trip on 3rd October 2018 (Photo: Dayanara Torres' Instagram)
Dayanara's boyfriend is also a father of two like his partner and has two daughters of his own. The couple has not mentioned their plans for future but it seems like they are happy living in the moment.