Entertainment
Cara Maria Sorbello Age 32 Bio Uncovers Family Identity & Dating Status
Cara Maria Sorbello is mostly known for her frequent appearance on The Challenge holding the record for most appearances by a female in the show. While Cara makes a name for herself in the entertainment world, she has been bashed by many at the same time.
All the bashing, as well as the acceptance, came for her behavior in the show along with her unstable romantic life. Cara has her name tagged along with few men since she began appearing in the show.
Cara previously shared on again off again relationship with her former boyfriend but parted ways after she cheated on him with another man. With the end of their romance, Cara has flings with other men as well.
Well, Cara did share complicated relationships in the past. Here is what her bio reveals about her romance along with few details on her family!
On And Off Relationship With Previous Boyfriend
Cara Maria Sorbello, who was born and raised under the wings of her car racer father, once shared a romance with her former boyfriend Abram Boise. The couple first met during the Cutthroat edition of The Challenge during its shooting back in 2010.
The romance sparked between the two and soon they were dating. They even moved in together as Cara Maria moved to Montana to be with Abram. While they were together, the pair had their share of ups and downs in their relationship leading to their on again off again romance.
Read More: Cara Maria 'Refreshingly' Dating DJ Boyfriend! The Challenge's Star Romance
The duo dated on and off for about six years until Cara cheated on Abram with her hook up with Thomas Buell. The couple had even appeared on Battle of the Exes where they had their relationship on the rocks even though they had quite broken up.
Back then, Abram wanted to take their relationship to a next level while Cara was wavering in her decision. In no time, the pair moved their separate ways parting ways ending their relationship officially.
Since the end of their relationship, Cara had a fling with Kyle Christie form the UK's Geordie Shore. She hooked up with Cara during the season Invasion.
Rumors With Paulie Calafiore - Still Together Or Parted Ways?
Likewise, Cara, who celebrates her birthday every year on 12th May, currently shares romance with Paulie Calafiore, the reality television star. Cara and Paulie hooked up while they were filming The Challenge: Final Reckoning.
Back then, Paulie was still dating Danielle Maltby but cheated on her with Cara causing an uproar in the media.
You May Also Like: Tony Raines & Girlfriend Alyssa Giagone Engaged! The Challenge Star's Ring
Months later, Paulie and Cara admitted of being in an open relationship. Sometime later Paulie professed his love for Cara during an episode of How Far Is Tattoo Far? During the episode, Cara defined her relationship with Paulie saying,
"We're seeing each other. I guess we're dating, but it's not exclusive. It's not commitment. We're just enjoying each other while we have each other."
With the wrapping for the season 33 of The Challenge Paulie and Cara has remained inseparable since then. They have even posted pictures on their social media showering love for each other. Both Cara and Paulie posted pictures from their time together at Disney world.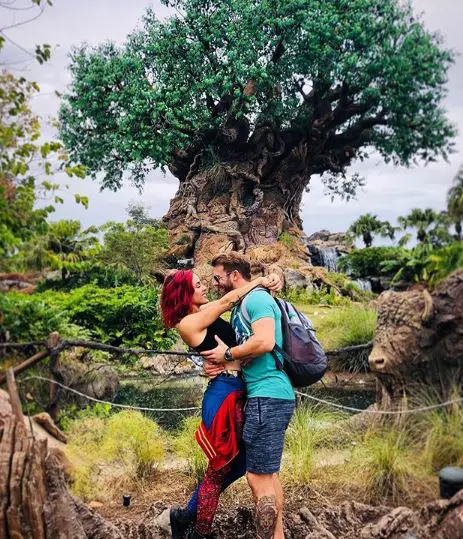 Cara Maria Sorbello with boyfriend Paulie Calafiore. (Photo: Cara Maria Sorbello's Instagram)
Just as the post surfaced the media, Paulie's former girlfriend Danielle opened up about her side of the story. She even claimed that he was spending time with Cara only for television.
According to Danielle, Paulie claimed of loving her and would soon make things right between the two. In other words, Paulie seems to be claiming romance with both Cara and Danielle.
In his defense, Paulie opened up saying that he was only in contact with Danielle to help her get through the situation. As for Cara, who stands at the height of 5' 5" (1.65 m), she has not made any comment on the matter but turns out she has unfollowed Pauile on the social media.
Don't Miss: Camila Nakagawa Bio: Father & Ethnicity Detailed - Personal Life Facts
Turning the speculation into the reality, Cara broke the silence about her split with Ex on the Beach/Big Brother alum Paul Calafiore. The pair broke up after she found out her ex-boyfriend was double-timing her and his ex Danielle Malby. She told:
"There were two completely different realities. I lived in one. Danielle lived in the other."
Well, with the ongoing ups and downs in Cara's relationship, she doesn't seem to have any plans to getting married any time soon at the age of 32.