Entertainment
Cara Maria 'Refreshingly' Dating DJ Boyfriend! The Challenge's Star Romance
If it's fame and fortune, American reality star Cara Maria knows no stopping in gathering them since her debut in the world of the reality show. From her appearance in Fresh Meat II (2010), she was involved in subsequent seasons of Battle of the Exes along with Rivals, and Bloodlines.
Already the sixth times' participant, Cara has become the winner of the series, The Challenge: Vendettas for three times. And it is the reality shows that have blessed Cara with dating life. She has been involved romantically with men around her; be it a loving relationship or just a fling.
As of now, she has finally come forth with the loving relationship that she shares with her lover who also is her co-star.
Six Years Of Dating; Cheating Ends Romance
Cara Maria, who is also a social media star, has been involved with her co-stars for a long time. Previously, she shared a much longer relationship with one of the reality star Abram Boise, a tattoo artist.
Cara was involved with Abram since 2010 and they had been inseparable since then. The couple was also going strong with their love through several seasons of The Challenge.
You may also like: Camila Nakagawa Bio: Father & Ethnicity Detailed - Personal Life Facts
The couple even appeared in Battle of the Exes, and while their time there they admitted that they were facing "issues" in their relationship. Despite it, the pair was going strong with their relationship for almost six years until Cara cheated on her lover.
While she was shooting the TV series, "Battle of the Bloodlines" Cara crossed the line and cheated on her lover of six years which brought their relationship to an end.
Well, Cara moved on from the broken relationship and had flings with co-stars. It has been reported that Cara had a former fling with Kyle Christie, the cast member on the hit MTV UK reality series Geordie Shore who appeared as a newbie in The Challenge.
However, their dalliance came to an end.
"Refreshing" Dating; Empathetic Boyfriend
Cara, who earns a massive amount of net worth, has come forth from her relationship after her short fling with Kyle. Cara was previously rumored to be dating Paulie Calafiore, who is also one of her co-stars in The Challenge.
Their romance speculation first started when the pair was spotted at a Challenge Throwdown for the Cause event. During that time Paulie was dating Danielle Maltby the Bachelor in Paradise alumna.
Despite his relationship with Danielle, it has been reported that the romance between Paulie and Cara started soon after spending quality time with each other.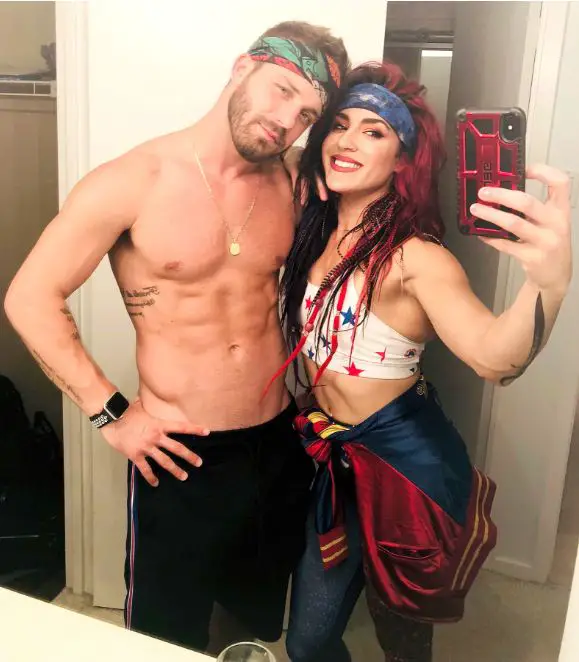 Cara Maria and boyfriend Paulie Calafiore. (Photo: usmagazine.com)
However, after much effort to dodge the rumors at the bay, Cara finally cleared the rumors as she expressed the romance she shared with Paulie with US Weekly on the "Watch With US" podcast.
According to the podcast, Cara, who is a family person, made clear that she does share feelings with Paulie. She expressed that that thing she loved about Paulie is that he does not get jealous of anything and is not a control-freak.
Well, having free-spirit as her, it sure is necessary for her lover to not ask millions of questions. She clearly said,
"The thing about him that I love is that he's not jealous at all about anything. He's not controlling. He doesn't ask me a million questions. It's refreshing. On top of that, he's really affectionate. It's not like he's not asking about these things or not acting jealous because he doesn't care, because he actually does."
Adding to it, she even shared that it was electric being with him and she never felt anything like that with someone else. Cara admitted,
"When he's with me, he's hands on. Holding my hand, telling me I'm beautiful even when I'm a disgusting first thing in the morning. You can feel the adrenaline pouring out of his skin when we touch. It is electric. I've never been with anybody in the bedroom like him, and I haven't had anybody treat me like he does, which is amazing. I'm enjoying it, but I still am holding on to that 'I need to be single' and I want to be single, but he's really, really great."
Well, seems like there is a new lovebird in the block.
Kyle Sends Paulie Over To 'Redemption House' - Love Triangle?
Well, Cara along with her rival and partner Marie Roda steps into the final of The Challenge: Final Reckoning and vies for the $1 million prize. On the other hand, Cara's love interest Paulie along with his partner Natalie Negrotti has been eliminated and sent over to the redemption house.
See also: Ashley Mitchel, 28, Has Boyfriend? Dating Status of The Challenge Winner
While Cara is longing to reach the height of success, her lover has been taken away from the chance to do so. Some sources have revealed that Kyle eliminated Paulie because he disliked Paulie flirting with Kyle.
Even though Cara only had a fling with Kyle prior to her romance with Paulie, it seems that Kyle shares some soft spot for Cara as Paulie's elimination has been directed towards his romance with Cara.