Entertainment
Carissa Culiner Parenting with Husband! A Wedding that Started it All
Every relationship that exists in this world has its own essence. Likewise, getting married, escalating a love relationship has its distinct significance; however, experiencing parenthood with your better half usually strengthens the already efficacious bond.
The E! News correspondent, Carissa Culiner also was recently blessed with the opportunity to experience the parenthood with her husband. Her family life has just gotten started and all thanks to the wedding that eventually brought her this far in their relationship.
Let's see through to get acquainted with the life of Carissa that seemingly is overloaded with happiness as of now.
A Glimpse at Carissa Culiner's Wedding and Parenthood with Husband:
Carissa, the E! News correspondent got married to the love of her life, Shannon Culiner on 3rd of June 2015. The E! News even featured an article dedicated to Carissa's wedding blog, where Carissa described thoroughly on her big day.
Carissa, who seemingly is in her late 20's or early 30's of age, describes her wedding day to be just perfect,
"We did it, Shanon and I got married! I know it's cheesy and everyone says this, but our wedding day really was the best day of our lives! The whole day was just perfect."
Carissa walked down the aisle with her husband at 'The Islander,' A Guy Harvey Outpost in Islamorada, Florida. Michael Josephs, the stepfather of Shannon, was the officiator at their wedding. Carissa was overwhelmed as the wedding was officiated by a special person and gushed as,
"Shanon's stepfather, Michael Josephs was our officiant. He did an incredible job and it meant so much to us to have someone we love marry us. It made it personal and less nerve-wracking."
Moreover, after officially becoming husband and wife, the couple was busy taking the pictures, while the guest enjoyed cocktail hour with drinks and live music. Carissa described that the guest appeared to have a good time,
"After we officially became husband and wife, our guests enjoyed a cocktail hour with drinks, hor d'oeuvres and live music by Rusty Lemmon and steel drummer, Van Bertie. The steel drum was great because it gave the event that chill, island vibe (completely what the Florida Keys encompasses). Unfortunately for me and Shanon, we were too busy taking pictures to actually enjoy this part of the night, but our guests appeared to have a great time catching up with one another."
Not only was her wedding day perfect but the wedding reception turned out exactly how she had imagined. Carris gave away details of her reception,
"The reception was beautiful beyond belief. I was so impressed with how everything turned out! Our wedding planner, Liz Seligman with Island Life Events, did a terrific job bringing together the theme of romantic, beachside elegance. Pink linens covered the tables, all of the centerpieces contained gorgeous white, pink and green flowers and each table had a different kind of arrangement. I loved the variety. The wooden chairs and hanging overhead lighting added extra charm to the whole setting. It was exactly what I had envisioned!"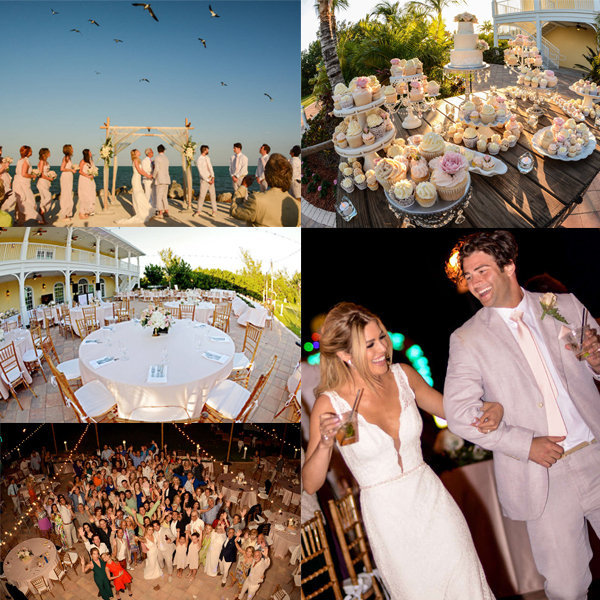 Caption: Glimpse of Carissa's wedding and her reception day.
The couple's smile in their wedding snap says it all about the happiness they shared in escalating their relationship.
However, the gaiety didn't stop for the two anytime soon as on November 30, 2017; they welcomed their bundle of joy, their son, Chase Culiner to this world. The parents to be, gave away the news of expecting their baby boy via Twitter in a dramatic manner,
And when their baby turned a month old Carrisa shared the picture of her son and expressed that "Life is happier, crazier and so much better" with his presence in their life.
Additionally, Carrisa might as well take lessons on parenting her child from her parents who raised her to be a successful woman that she is today.
A beautiful bond which turned into marriage and indeed brought the joy of parenthood in their life!