Entertainment
Caroline Flack Reveals Boyfriend In Multiple Instagram Pictures; Alleged Dating Affair With The British Royalty Turned Out True?
The English television and radio presenter Caroline Flack have cemented her name as one of the accomplished presenters. She has appeared in various shows, and along with her substantial work, she has also been in the news with her controversial affairs of which she hasn't talked about much publically.
But she has now come up with all the unfolded chapters of her life in her autobiography titled 'Storm In A-C Cup.' Let's see what she has revealed about her life and also we will dig her more recent affair.
Publicizing her new boyfriend?
The Strictly Come Dancing is now besotted with her new artist boyfriend, Blue Logan. She has been sharing many posts on her Instagram to show the loving gesture with her boyfriend.
The two were spending quality time in L.A. in evident to that we can check the feeds of her Instagram, with one of his pieces of art at LA restaurant Delilah. On which she captioned,
"Proud of this one ... yes@blue.logan."
A source close to the couple while talking about their relationship said;
"Caroline is so happy with Blue. They've been enjoying eact other's company and she's very proud of his work as an illustrator, not to mention how handsome she finds him.
Caroline Flack, the lady with animal paw print tattoo who is the winner of 'Strictly Come Dancing' 2014, during her LA trip, also managed to appear on the US version of 'Strictly Come Dancing,' 'Dancing With The Stars.'
The untold story revealed out open!
X-factor host Caroline Flack, who was rumored to date Prince Harry, has opened up about her royal romance in her new autobiography.
The 37 years old television presenter has claimed she met Prince Harry in 2009, got to know each other through mutual friend Natalie Pinkham, who organized a night out after Caroline had split with her then-boyfriend.
Details of her romance with Price Harry have emerged in her autobiography which was released on 22 October 2015.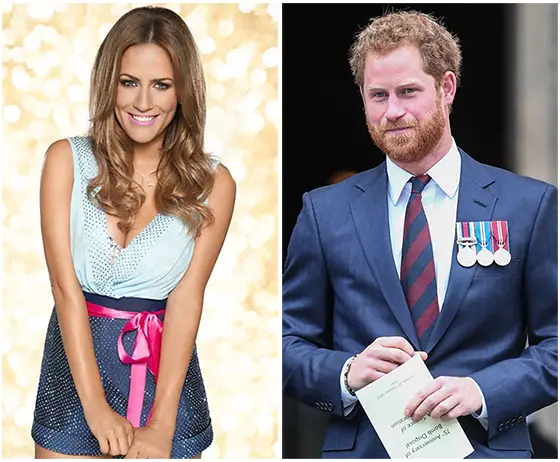 Caption: Caroline Flack opened about her royalty romance with Prince Harry through her autobiography 'Storm in a C Cup.'
Photo Credit: liverampup.com
On that book, Flack had explained how excited she was when she first met Prince Harry and spent hours laughing together. Flack has written,
"I knew she was friends with Prince Harry, and I'd never met him, so I thought, 'Oh, that's quite exciting,' and for a moment I perked up,"
The England-born presenter from the start has liked Prince Harry. She said,
"To meet a prince is so unlikely it would be weird not to acknowledge it. However, once the story got out, that was it. We had to stop seeing each other."
However, she has to call off her relation after 'the story got out' and known as 'a bit of rough.'
"I was no longer Caroline Flack, TV presenter, I was Caroline Flack, Prince Harry's bit of rough."
The alleged dating was then confirmed to be not dating as she has clearly stated in her autobiography and also while making her appearance on 'The Morning' on 2015, she mentioned,
"I've never said that I had a relationship with him and I still don't say that in there [her book].
Caption: Caroline Flack opened up about her relationship with Prince Harry while making her appearance on The Morning show (Published on October 26, 2015).
The TV personality who has an on-screen husband Olly Murs but in real life she has not planned about getting married, so far.