Entertainment
Chelsy Davy Not Considering To Date Anyone After Once Having Prince Harry As Boyfriend?
How many girls fancy Cinderella? Let's assume everybody because it is rare when you get the attention of a prince. Well, it so happens that there is someone who can be related to Cinderella in one way or the other because she too had the attention of the Prince.
But the prince we're depicting to is not the one on the fairy tale. Instead, we're talking about the prince we all adore, i.e., Prince Harry.
Chelsy Davy, an undoubtedly beautiful young lady had Prince Harry go all over her, and by the charming look she holds; there is no arguing why. However, Chelsy Davy backed off when she was so close to becoming a real-life princess and get married to Prince Harry.
But what drove her to take such a decision? Is she involved in a dating affair after the split with the royalty himself? Let's do some digging on that matter!
Chelsy Davy Once Had Prince Harry As Boyfriend:
Chelsy Davy, a native girl from Zimbabwe, and Prince Harry met in 2004 when Chelsy as a teenager, studying at Cheltenham Ladies' College.
The couple started getting along together during the gap year of Prince Harry in Cape Town. Later, for the sake of her studies and relationship with Prince Harry, Chelsy stepped inside the UK. It was a win-win for her.
However, as the relationship started in 2004, the couple always had the 'on' and 'off' labels on their dating affair. A source, however, told Telegraph,
''She is definitely marriage material, and Harry doesn't want to lose her. It irks him that some think they won't last the course. He thinks Chelsy may well be the one who will make a much better Windsor wife than Kate Middleton.''
While in the relationship the couple excitingly made the headlines from time and again, and Chelsy being called the princess-to-be. However, all of that went under the bridge when the news of the couple's split hit the media, which for everybody, was news that came out of nowhere.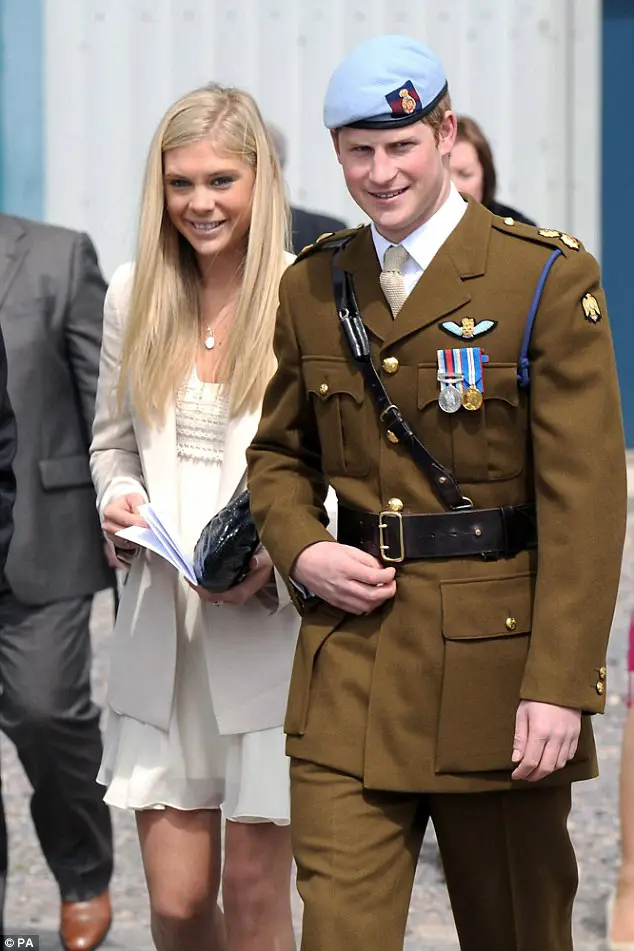 Caption: Chelsy Davy and ex-boyfriend Prince Harry pictured together shortly before the split in 2010.
Source: Dailymail
Although Chelsy and Prince Harry looked smitten in their pictures, they split and ended their relationship in 2010. The couple also previously split in 2007 and 2009, but 2010 marked the permanent end to their romance.
Not Dating Anyone After Royalty Boyfriend?
Even after the split with Prince Harry, who holds the net worth of $40 million [£30 million], the couple had an amicable relationship. In 2011, Prince Harry even invited her to the royal wedding of Prince William and Catherine Middleton as his plus one, allegedly in hopes to make their relationship bloom again.
But, Chelsy stated,
'There's no way we are getting married. It's not a life for me.'
However, years later, Chelsy discussed the reason for her split more explicitly which turned out to be all the media attention and the interference in her personal life.
"It was so full-on: crazy and scary and uncomfortable. I found it very difficult when it was bad. I couldn't cope… I was trying to be a normal kid, and it was horrible."
She got even more tensed up after seeing all the media reports on her split with boyfriend Prince Harry that she decided to go to Africa again.
"It was nuts. That's also why I wanted to go back to Africa. Now it's calm; it's fine."
The 32 years old, who says that she'll always remain friends with Prince Harry, is more of a hard gainer and likes to work for herself without being in the eye of the media 24/7.
"If you go out once, they take your picture, but they don't take a picture of you going to work every morning, it's of you falling out of a nightclub at 4 am."
She opened her Jewelry line after her split with the Prince.
While Prince Harry is now dating another princess-to-be, American actress Meghan Markle, there is no latest news about who Chelsy Davy is dating right now, and that's not even a surprise; given the fact that Chelsy split with Prince Harry because of the fame their relation was gathering.
But keep visiting us, as we'll be updating you as soon as anything comes out regarding the life of Chelsy Davy!